9 Travel Hacks You Need to Know
"Life is a journey, not a destination" —Ralph Waldo Emerson
Well, excuse me Mr. Emerson but when it comes to my vacation and the things that lie between myself and the beach with an umbrella drink, I have to say that travelling is often the darkness before the dawn (thank you, Thomas Fuller!)
Seriously though, when you're travelling, particularly if you are travelling with kids, the journey can sometimes be the hardest part. Whether by air or by road, getting from A to B with all the luggage, and your nerves, intact, is an unlikely turn of events. BUT there are things that you can do to plan ahead and be prepared so that you make the trip as pain free for everyone as possible!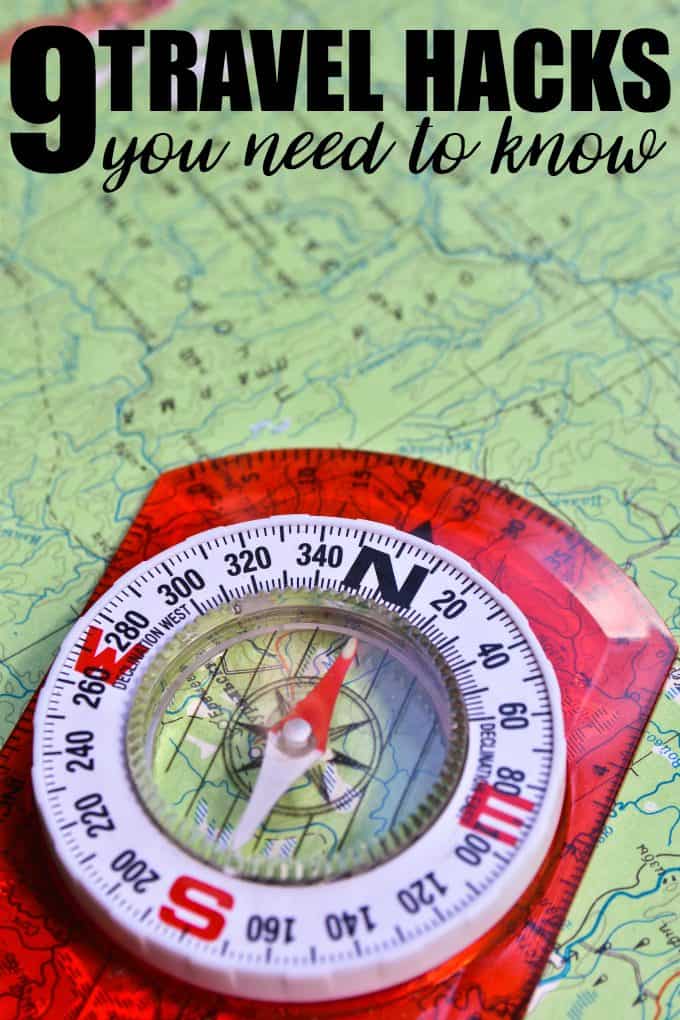 © travel image via Shutterstock
Hacks for trip planning
While some people enjoy the thrill of the unknown, choosing to throw caution to the wind, getting behind the wheel of their car and just going where the road takes them, I am not one of those people.
I like to have an itinerary, tickets, hotels and car rentals booked because, in my experience, a series of unfortunate events becomes more than the famous book. It becomes the funny story you tell to friends many, many, many years later. In the meantime, a lack of planning can really throw a wrench in your travel goals.
Hack #1: Clear your computer's history If you're booking a flight online. Dynamic pricing is the new black and if you've been checking an airline site several times to see what the best deal you can get for your getaway is, you could end up driving the price up for yourself. The online cookies that are tracking your visits to the site will automatically smell your interest in a good deal, not unlike the horse that smells fear on its rider, and it will buck you off that all inclusive special and into the a higher rate category.
Hack #2: Booking round trip tickets with the same airline, always assuming you don't have any connections to worry about, isn't always the best way to go. Instead, if you book one way tickets, you can often save money AND find more advantageous departure and arrival times. You know, the kind of times that sync up with nap times! And using the same airline in both directions isn't really advantageous either – look for the best deal at the best time!
Hack #3: If you're flying or driving to the USA from Canada, think about getting a NEXUS card. You'll need one for everyone who is travelling, though children under 18 are free, but it's worth it to guarantee quick lines at security / border control. Just don't break the rules regarding duty free limits or other importation restrictions or you'll ruin the NEXUS for the rest of us!
Packing hacks
Hack #4: Rolling, rolling, rolling, keep them doggies rolling… Rawhide! Sorry… I was on a roll there. Do you think you could roll with my train of thought? And now the hack: Roll your clothes before packing them: it saves space over regular folding and piling and the compression can actually help minimize wrinkles in your favourite summer wrap dress!
An alternative? Save the plastic from your dry cleaning and roll your clothes in it. It's like cling wrap and can minimize wrinkles even more! Use up all the empty spaces like the inside of shoes: you can store small items and socks in them, using less space in the rest of your bag.
Hack #5: Soft-sided bags for carry on are so much easier in the event that you have to squeeze it into the last tiny space in the overhead bin on an airplane, bus or train.
Hack #6: If you're going on an extended trip and particularly with little ones, it can be well worth the effort and expense to ship bulky items ahead of time. Like what? Formula? Diapers? Wipes? All essential at the destination and all incredibly bulky in your baggage. After all, an emergency trip to a store for extra diapers is one thing but you don't want to change brands of formula, mid-trip, or you could have yourself a kiddo with an upset stomach to cap off your plans!
A few other ideas
Hack #7: Pack ziplock bags. Lots and lots of ziplock bags. They can help you keep little things organized, like jewellery or chargers; keeping things that leak away from things that hate things that leak, like sunscreen versus your favourite sundress; keeping dirty shoes away from clean clothes; keeping wet or dirty laundry separate from the clean stuff, for the trip home.
Hack #8: Scan your documents, passport, tickets, travel permission letter—if you're travelling with the kids separate from your spouse, or as a single parent—ID etc. and put a locked PDF of the images on your phone. Most people carry their phone on them, in a pocket, while the other stuff is in a bag. If the bag goes missing or gets stolen, you have an 'offline' place to get the information for reporting to the various authorities. Better still, place a copy of said PDF in your cloud, as long as it is password protected, so that if your phone is gone too, the information can still be extracted from any web connected computer. Use good judgement when naming your file: 'Grandma Thora's Cookie Recipe' is better than 'ID and credit card information'.
Hack #9: If you forget the wall charger for your smartphone, but you just have the USB cable, you can use the USB port on your hotel room television (most flat screens will have one) to charge your phone. (That one came in handy recently, so I can attest to its workability!)
Do you have a favourite travel hack? Some little secret you can share with the rest of us to make the journey a little easier?