No-Bake Peppermint Pie
Hi friends, Heather here visiting from Food Lovin' Family. I am happy to be back with you today to share an easy No-Bake Peppermint Pie just in time for the holidays.
This No-Bake Peppermint Pie has quickly become a holiday favorite in our house. It combines subtle peppermint flavor with marshmallows, whipped cream and a chocolate sandwich cookie crust. The flavor reminds me of mint chocolate chip ice cream, YUM!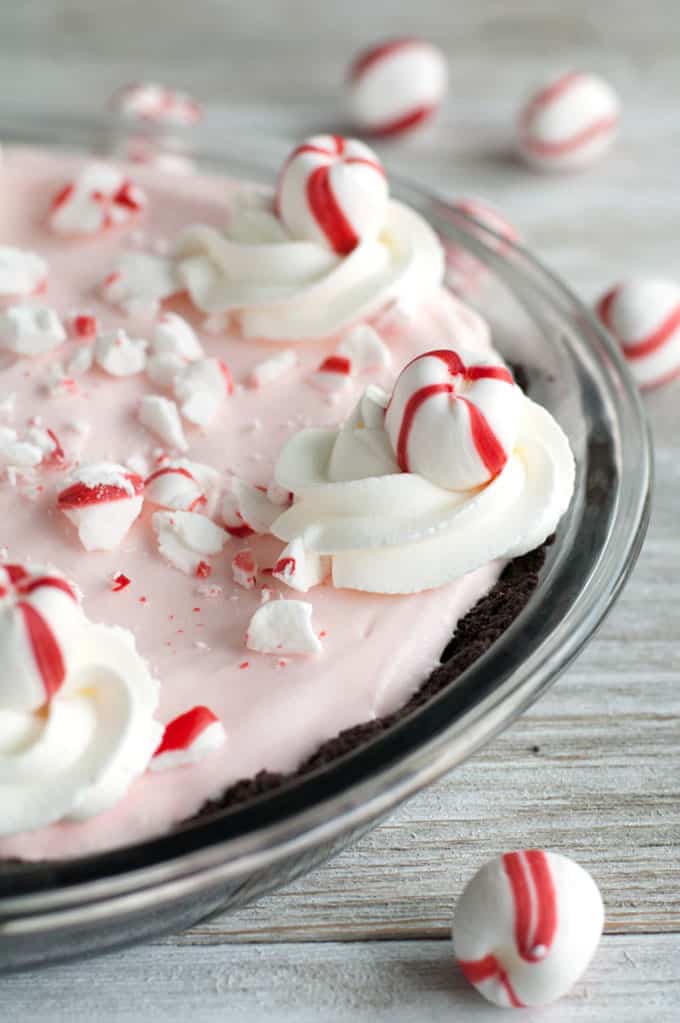 To make this pie I start with the crust. I crushed up chocolate sandwich cookies in the food processor. You may also place them in a sealed bag and crush them with a rolling pin. Stir the crushed cookies up with melted butter using a fork and press them in a pie dish to form a crust. Let the crust chill in the refrigerator for approximately 30 minutes. You may also choose to take the easy way out and buy a pre-made chocolate cookie crust but I promise, it is so easy to make your own.
While the crust is cooling, melt marshmallows and milk in a saucepan over low heat. Stir until marshmallows are completely melted and smooth. Remove the pan from heat and mix in peppermint extract, red food coloring and vanilla. About six drops of red food coloring will give you a soft pink color, you can add more color if you prefer it to be a little darker or leave them out.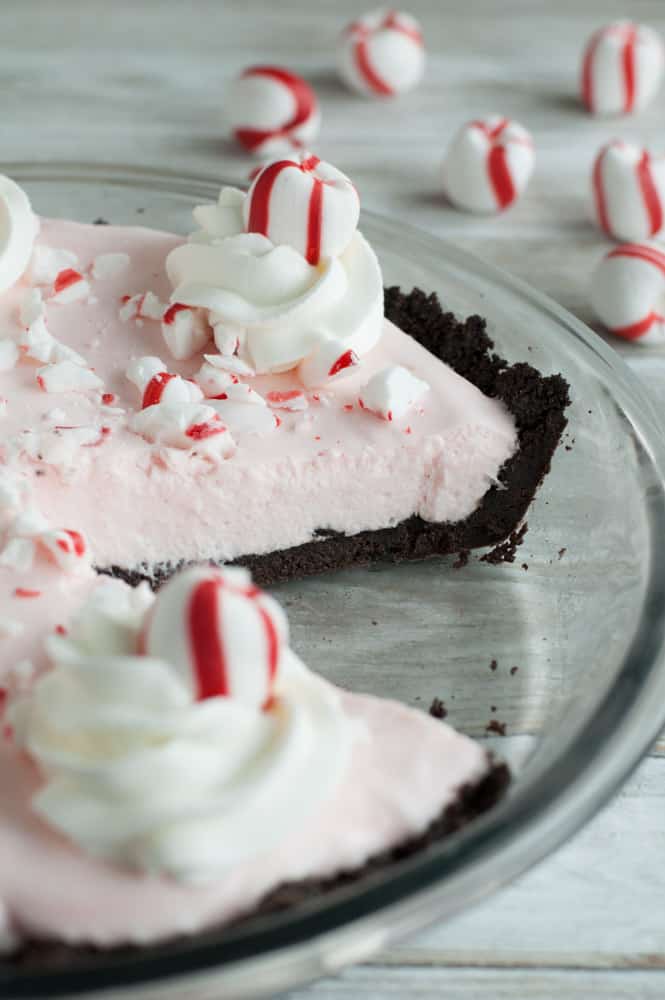 Let this mixture cool for 30 minutes, stirring every 10 minutes. Whip heavy cream until it becomes thick, about 3-5 minutes on high speed. Fold whipped cream into marshmallow mixture. Pour mixture on pie crust and refrigerate 8 hours or overnight. Top pie with whipped cream and crushed peppermint candy before serving.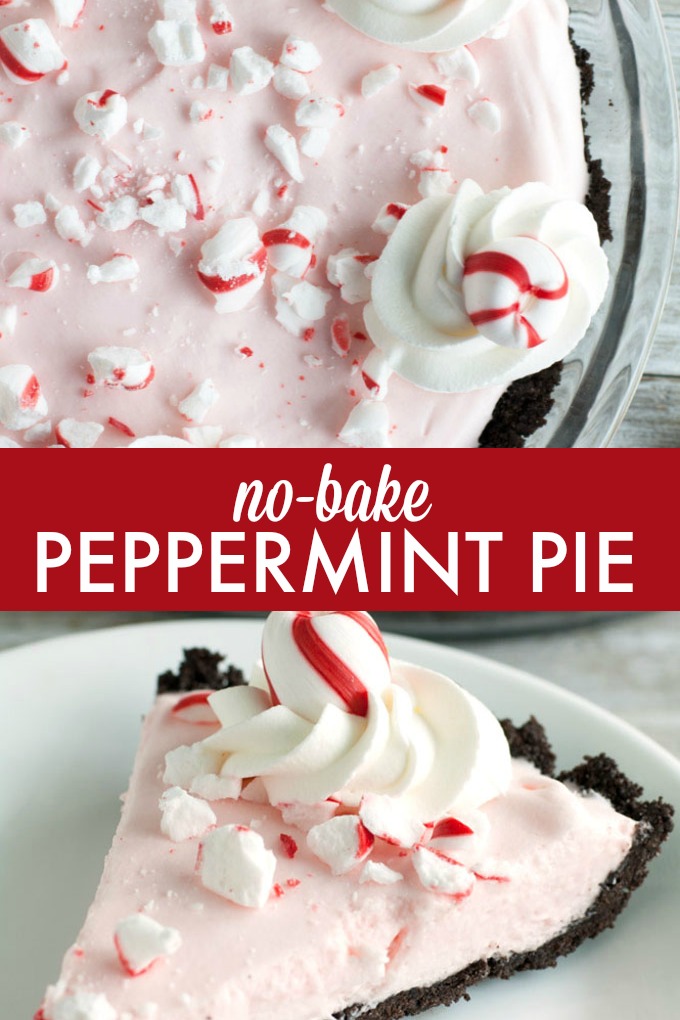 This Peppermint Pie makes a beautiful, festive dessert to bring to a holiday party. Happy holidays!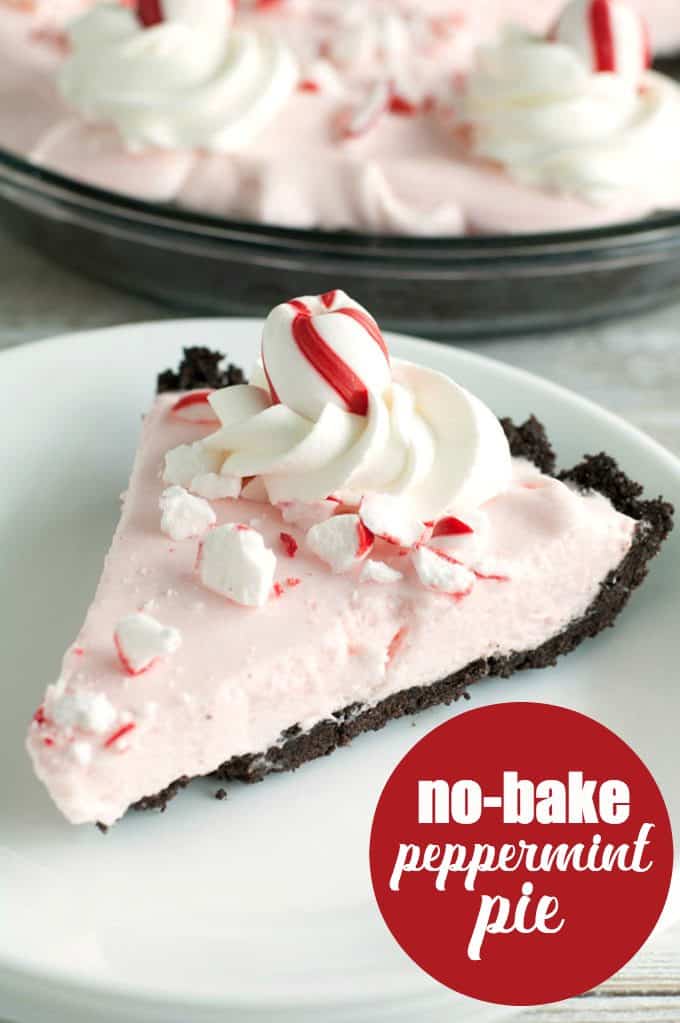 Do you like Peppermint Pie?
No-Bake Peppermint Pie
Yield: 8
Prep Time: 40 minutes
Cook Time: 10 minutes
Total Time: 50 minutes
This dessert recipe will quickly become a holiday favorite! It combines subtle peppermint flavor with marshmallows, whipped cream and a chocolate sandwich cookie crust. Yum!
Ingredients
25 Oreo cookies
5 tablespoons butter, melted
25 large marshmallows
1/2 cup milk
1 teaspoon vanilla extract
1/8 teaspoon salt
6 drops red food coloring
6 drops peppermint extract
1 cup heavy whipping cream, whipped
Peppermint candies
Instructions
For the Crust
Finely crush cookies. I used a food processor but you may also place cookies in a sealed plastic bag and roll over the bag with a rolling pin until they are crushed. In a small bowl, using a fork, stir together cookie crumbs with melted butter. Press mixture in a 9 inch pie plate forming a crust. Refrigerate for at least 30 minutes.
For the Pie
In a saucepan, combine marshmallows and milk over low heat.
Stir and cook until marshmallows are melted and the mixture is smooth. Remove from heat.
Stir in red food coloring, peppermint extract, vanilla and salt.
Cool the mixture for 30 minutes, stirring occasionally.
Fold in whipped cream. Pour the mixture over crust. Refrigerate, covered overnight.
Serve with extra whipped cream and peppermint candy for garnish.
Recommended Products
As an Amazon Associate and member of other affiliate programs, I earn from qualifying purchases.
Nutrition Information:
Yield: 8
Serving Size: 1
Amount Per Serving:
Calories: 425
Total Fat: 26g
Saturated Fat: 14g
Trans Fat: 1g
Unsaturated Fat: 5g
Cholesterol: 54mg
Sodium: 264mg
Carbohydrates: 47g
Fiber: 1g
Sugar: 29g
Protein: 3g