I went over a year without buying any new books. I wanted to finish up what I had on my bookshelf. That hiatus is over and I started filling up my shelves again. I've been writing book recommendations for a number of years and it's a post I look forward to writing each year. It's that time again, folks. Here are my picks for 30 must-read books for 2017!
30 Books You Should Read in 2017
Every year for the past few years, I've teamed up with my blogging pal, Crissy at Dear Crissy, to share our top book picks we think everyone should add to their TBR pile. My picks are the odd numbers while Crissy's are the even ones.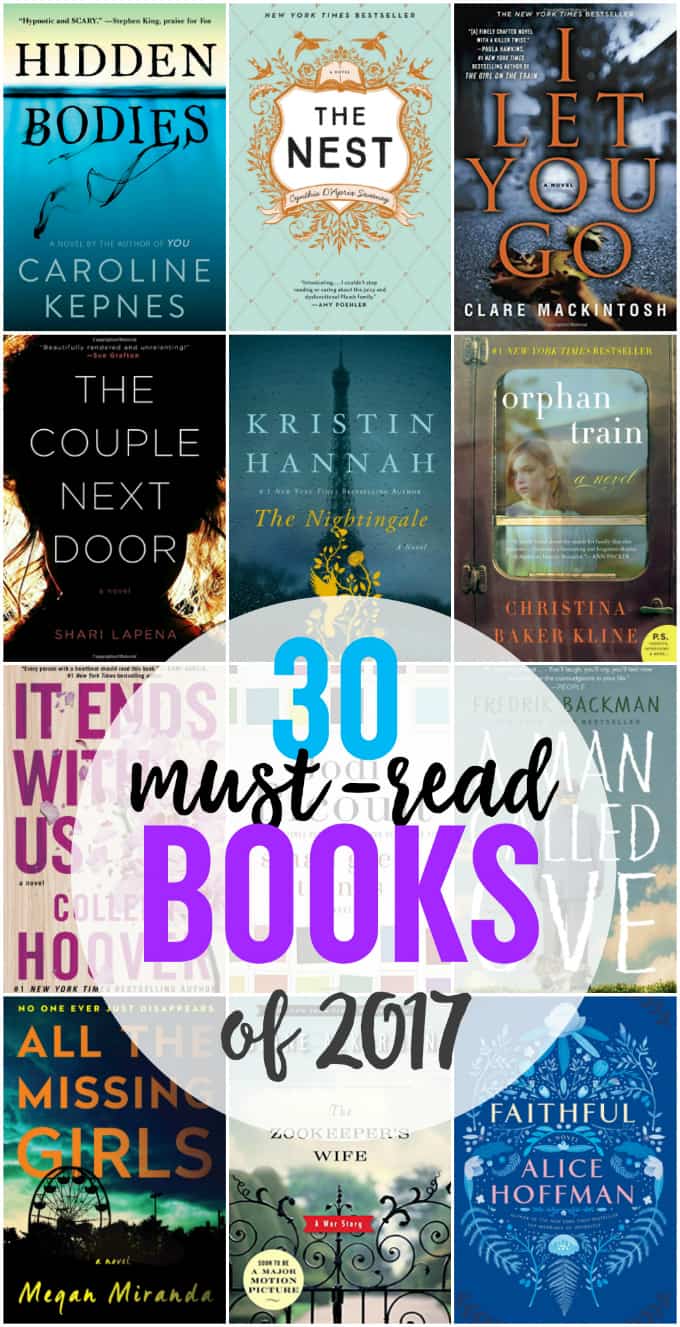 This post contains affiliate links.
1. Hidden Bodies by Caroline Kepnes
2. When Breath Becomes Air by Paul Kalanithi
3. The Couple Next Door by Shari Lapena
4. The Magnolia Story by Chip & Joanna Gaines
5. Dark Matter by Blake Crouch
6. You Are A Badass by Jen Sincero
7. I Let You Go by Clare Mackintosh
8. It Ends With Us by Colleen Hoover
9. A House Without Windows by Nadia Hashimi
10. A Man Called Ove by Fredrik Backman
11. The Nightingale by Kristin Hannah
12. What She Knew by Gilly Macmillan
13. All the Missing Girls by Megan Miranda
14. Faithful by Alice Hoffman
15. Small Great Things by Jodi Picoult
16. Carry On by Rainbow Rowell
17. Bring Me Back by Micalea Smeltzer
18. Moonglow by Michael Chabon
19. Me Before You by Jojo Moyes
20. The Zookeeper's Wife by Diane Ackerman
21. The Book Thief by Markus Zusak
22. The Dark Tower by Stephen King
23. The Tipping Point by Malcolm Gladwell
24. The Nest by by Cynthia D'Aprix Sweeney
25. Empty Mansions by Bill Dedman
26. Truly Madly Guilty by Liane Moriarty
27. The Reason You Walk by Wab Kinew
28. The Underground Railroad by Colson Whitehead
29. Orphan Train by Christina Baker Kline
30. Atlas Obscura by Joshua Foer
I hope these recommendations help you decide what book you should read next!
For more book recommendations, check out my lists from 2014, 2015 and 2016.
Which books from this list do you want to read in 2017?