5 Holiday Vacation Destinations
The holiday season is a great time to plan a vacation. Many families opt to take their big vacation this time of year and whether you're searching for a warm climate or hitting the slopes and snow, there is a vacation for everyone. Here are a few options to think about.
Although resorts and destination locations can be pricey during the holidays, a little planning will help. Determine your budget and start planning. Be flexible, if possible. Changing your dates even slightly can amount to big savings. Here are some favourite family destinations for the heart of winter.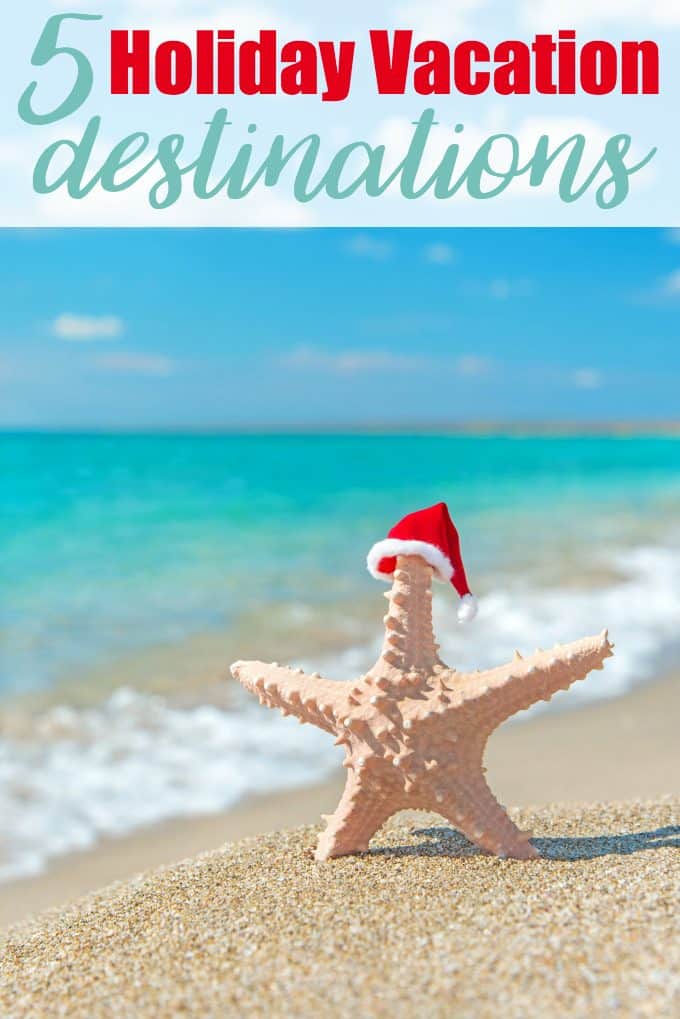 © Christmas travel image via Shutterstock
Holiday Vacation Destinations
1. Hawaii. There is nowhere more relaxing and hospitable than the Hawaiian Islands with its sand, surf and sun abound. The weather is warm and people are friendly. Consider a trip to the Big Island – there is truly something for everyone there. They even have snow! See the erupting volcanoes and walk across still-warm lava beds. Water activities include fishing, snorkelling and scuba diving. Or just laze around the beach or pool and get a wonderful tan. There are many condos and private homes available as vacation rentals, too. Make sure to plan far in advance so you can get the accommodations you desire.
2. Southern California. Although not as warm as Hawaii, it is a great place for a winter visit. No matter what your plans include, you can find it here. Palm Springs and the desert areas are warm during the day and cooler in the evening, but it is plenty warm for a variety of outside activities. The coastal areas will be much cooler, but it makes for a pleasant day if you plan on visiting the San Diego Zoo or even Disneyland. There are a lot of places to stay and visit; you'll have to narrow your list to determine the best places to stay for what your family wants to do.
3. National parks. With seventy-five percent of their visitors arriving during the summer months, Winter is the perfect time to visit National Parks. Whether it's Yosemite, Yellowstone or the Grand Canyon, smaller crowds allow you to enjoy your time at the parks instead of having to wait in lines for everything from parking to food. Stay at one of the grand old lodges and soak up the local lore. You can have picnics during the day and sit in front of a warm fire at night.
4. Florida. A Canadian winter fave! It has the sunshine and warm weather of Hawaii, but is much closer to visit. And, they have Disney World! Although many people visit theme parks on school breaks, it may be worth the time to go when it's seasonably cooler. Again, there are many types of places to stay and if you plan on visiting Disney, search out some of the package deals that also include your park tickets. Many also includes extras like early entry or vouchers for meals within the park. It pays to get online and also talk to a few travel agents to get the best package for your family.
5. Forget the destination cities. If you're trying to plan a budget vacation and really don't want to travel too far, consider staying in a hotel that is not in a destination city. Most hotels are nearly vacant for Thanksgiving and Christmas, and many will cut their rates by 50 percent or more. Consider having a family meet-up at a hotel. You may have the hotel virtually to yourselves and enjoy indoor pools and other amenities without having to fight crowds. Many hotels will allow you to use their meeting rooms for meals which you can have catered. This might be a great way to move the holiday festivities out of your house and create a new family tradition.
A family vacation should be enjoyable for all; consider some groups activities, but let older kids have some time to explore on their own. Everyone should have some input, and most importantly, relax and enjoy yourself!
Do you travel over the holidays?