LVNG With Lung Cancer
Uncle Ralph was one of my Grandma June's favourite brothers. He lived about an hour drive from her place and she would visit him every chance she had. I remember the first time she brought me over to his place while we were on a shopping trip in the city. We had a nice lunch together and I could easily see why Grandma was so fond of him. He was kind, funny and genuine. My grandma told me later on that Uncle Ralph really took a "shine" to me. This was her way of saying he really enjoyed our visit. She told me he often asked how I was doing in school and what books I was reading. Uncle Ralph was a bookworm like me.
You can imagine how devastated I was to learn that Uncle Ralph had lung cancer. He found out a couple months after our visit. It was a sad time for the entire family. He passed away a couple months after his diagnosis. Grandma June was also upset about losing her favourite brother.
Grandma June joined Uncle Ralph in heaven in 2012 and I think she'd find it interesting to learn about many of the advancements made around lung cancer testing and treatment. I know if she were here with us today, she'd be one to say to never give up hope.
I recently learned about the LVNG With Lung Cancer community and what they represent and it gives me pause. There is hope for people with lung cancer. I wish this initiative had been around when my Uncle Ralph was alive. I know he would gladly be a part of it.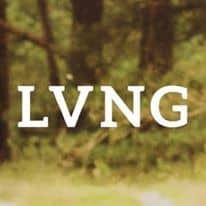 The LVNG With Lung Cancer community are made up of people who are facing lung cancer and who are working together to keep a positive outlook. They inspire each other to take it day by day living with authenticity, hope and humour. I love that they aren't simply just coping with the disease, but taking that extra step to live life to the fullest. They are working together to raise awareness around living with lung cancer and reducing the stigmas surrounding it.
If you visit the LVNG With Lung Cancer site, you'll be able to read personal stories of real people living with the disease, helpful tips on tackling finances, emotions, health & fitness, diet, etc and important topics about the disease itself like types of treatments, partnering with your doctor and genetic testing.
I was particularly interested in reading about genetic testing because that was something I had no idea you could do for lung cancer! I thought of my grandma and how she always said lung issues ran in our family and know she'd be very excited about learning this too.
Did you know that lung cancer is not one disease? I always thought of it as one, but learned that not to be true. It's important for people facing lung cancer to find out what type they have through genetic testing for specific biomarkers. Also, lung cancer can change over time with new mutations emerging so it's important to know what exactly you are dealing with. I believe knowledge is power.
Because there are so many different kinds of mutations, biomarker testing is often recommended so the patient and their doctor knows what they are dealing with and decide on the appropriate treatment. Two options for genetic testing are a blood-based test and tissue biopsy.
If you or your loved ones are facing lung cancer, please talk to your doctor about genetic testing and learn more about the treatment options available. LVNG With Lung Cancer has more info about this topic and I encourage you to read and learn more about it.
Do you have any personal experience with lung cancer?
Connect with LVNG With Lung Cancer on Facebook and Instagram.
Disclosure: I have received information and materials from AstraZeneca. The opinions stated are my own. This is a sponsored post.