Caramel Apple Cookies
Caramel + apple is the perfect fall dessert combination. Do you agree?
Caramel Apple Cookies
The Caramel Apple Cookies are the perfect blend of cinnamon, apples and sweet caramel glaze. They practically melt in your mouth.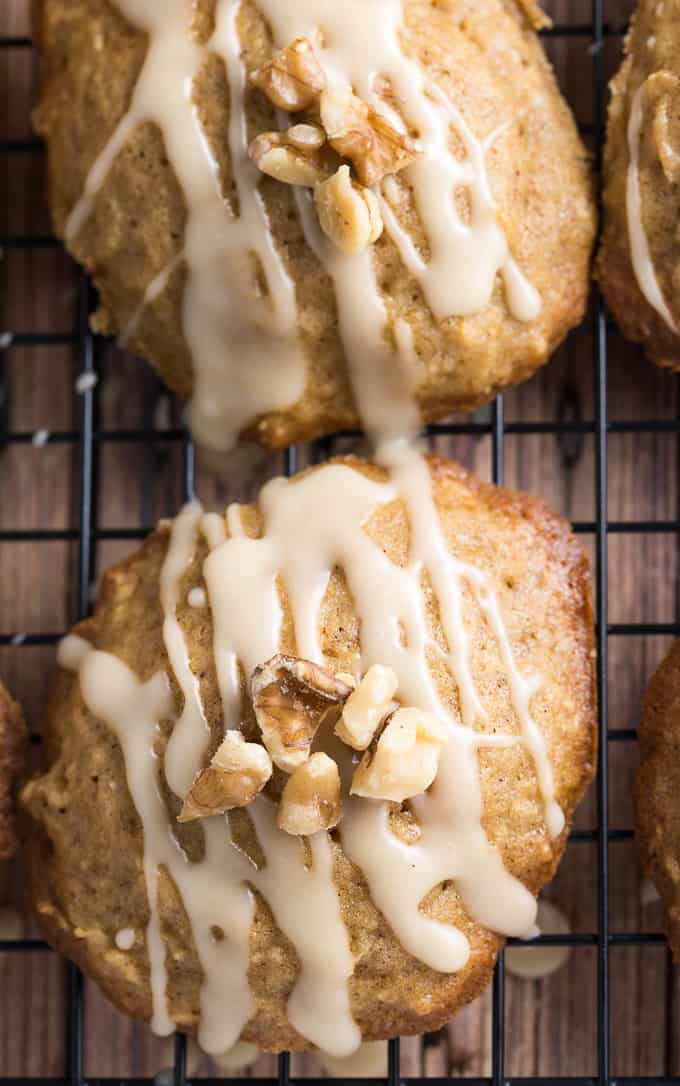 I love their soft cake-like texture. They are like little apple cakes!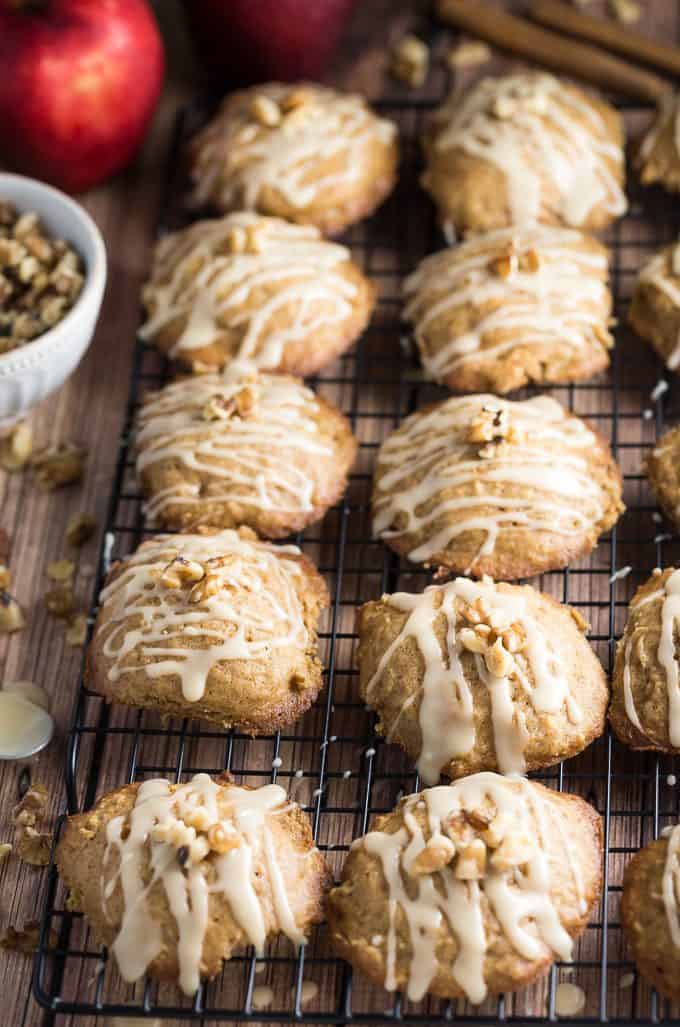 I topped them off with some chopped walnuts to give them some texture and to complement the spicy apple flavour. My cousin and I made this batch together. She brought some to the hockey rink afterwards and said her son's team loved them. They were devoured in a blink of an eye by some hungry teen hockey players. I'm not surprised because the ones I kept in my home did not last either.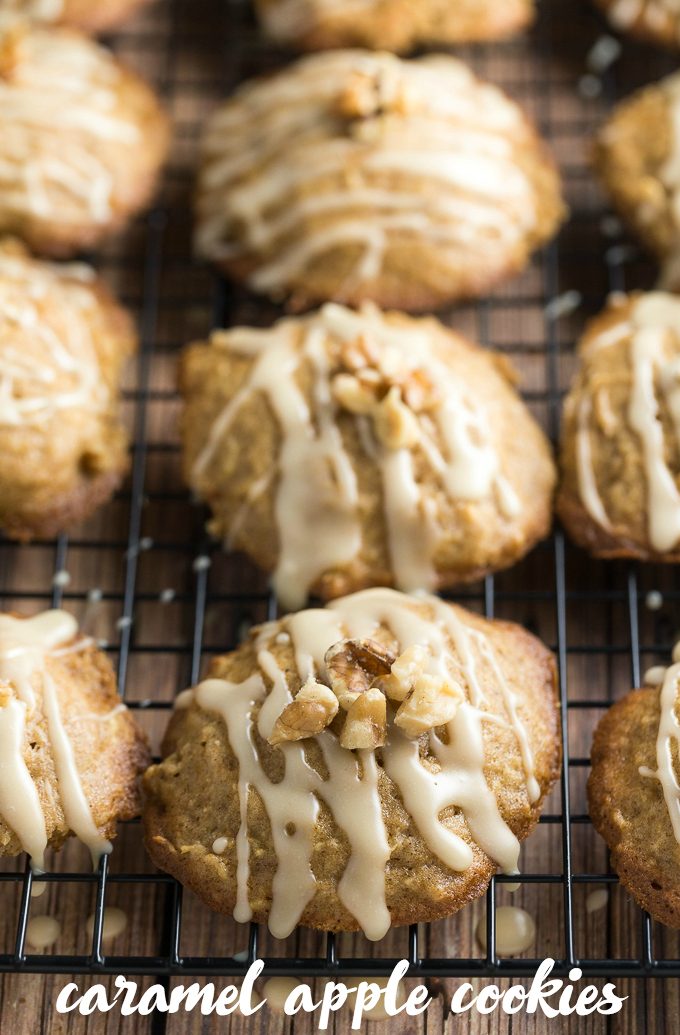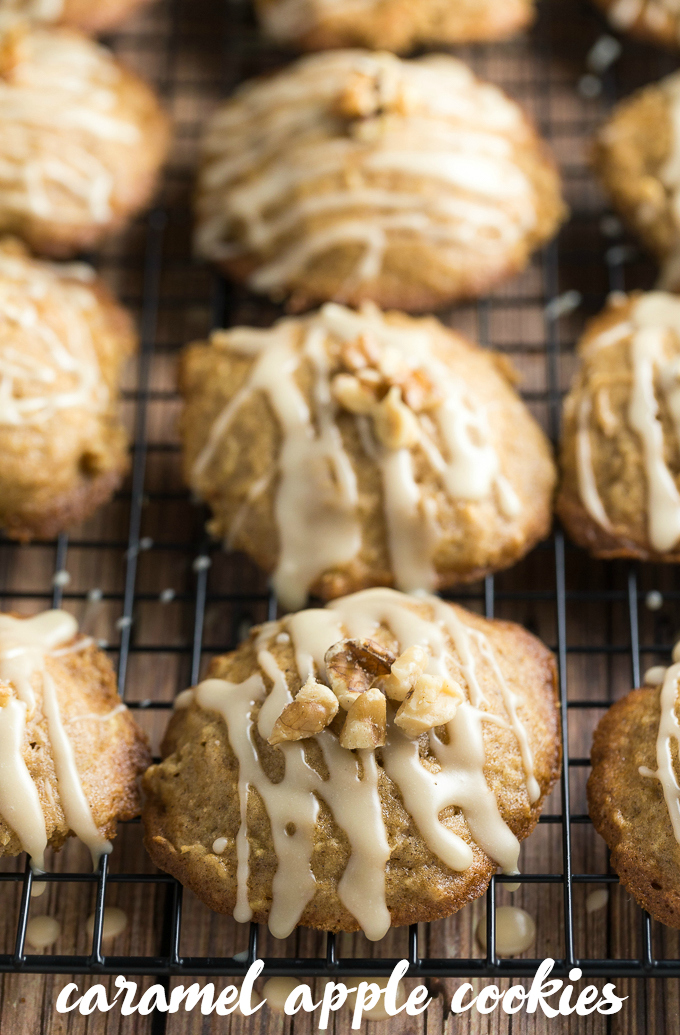 Use whatever kind of apples you have on hand. I had Red Delicious so that's what I used in this particular recipe. I'm not sure if it's considered a "baking" apple, but it worked for me!
You might also like this Caramel Apple Dump Cake or Caramel Sauce.
Do you love the apple and caramel combo?

Ingredients
Cooking spray
1/2 cup butter, softened
1 1/4 cup brown sugar
1 egg
1/2 cup apple juice, divided
2 1/4 cup flour
1 tsp baking soda
1/4 tsp salt
1 tsp cinnamon
1/4 tsp cloves
1 cup apples, peeled and shredded
Caramel Glaze
3 tbsp butter
1/3 cup brown sugar
2 tbsp water
1 1/2 cup icing sugar (powdered sugar)
2 tbsp milk
1/8 cup walnut pieces
Instructions
Preheat oven to 350F. Spray a baking sheet with cooking spray.
Add butter and brown sugar to a mixing bowl and beat on low until combined. Beat in egg and 1/4 cup apple juice.
Add flour, baking soda, salt, cinnamon and cloves to a large bowl and stir to combine. Stir flour mixture into butter mixture. Mix in 1/4 cup apple juice and apples.
Add a rounded teaspoonful of batter to the baking sheet, evenly spaced apart. Bake for 15 minutes or until a toothpick comes out clean. Let cool on a cooling rack.
Caramel Glaze
Add butter and brown sugar to a saucepan over medium high heat. Stir until the butter melts and the sugar dissolves. Remove from heat.
Stir in icing sugar and milk until smooth. Drizzle over the cooled cookies. Top with walnuts.
Recommended Products
As an Amazon Associate and member of other affiliate programs, I earn from qualifying purchases.
Nutrition Information:
Yield: 24 Serving Size: 1
Amount Per Serving: Calories: 174Total Fat: 6gSaturated Fat: 3gTrans Fat: 0gUnsaturated Fat: 2gCholesterol: 22mgSodium: 126mgCarbohydrates: 29gFiber: 1gSugar: 19gProtein: 2g