Join #CanadasGarage Winter Prep Twitter Party on November 2nd!
We had our first taste of winter this past week. I woke up to snow covering the yard and had to dig out my old snow brush to clear the snow off my vehicle. Good times. All I could think was that I'm not ready! Whether I like it or not, winter is coming and I need to start prepping for it now.
The snow melted thankfully, but it served as a reminder that I need to get my vehicle ready for winter. My winter tires need to be put back on soon and I have to start doing the tasks on my winter prep checklist. I can count on Canadian Tire to have everything I need to get the job done.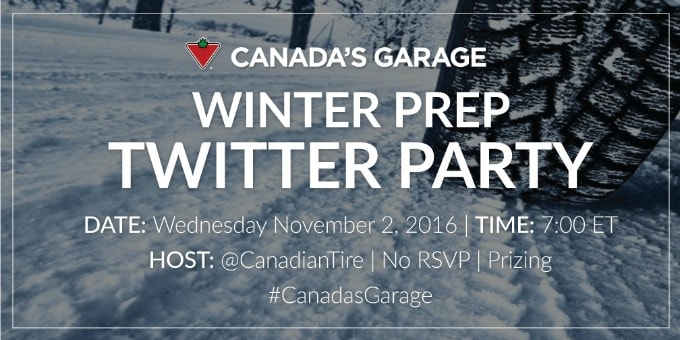 Here are some of the things I'm planning to do in the next couple of weeks:
Put on my winter tires
Top up fluids
Buy winter wiper blades
Pick up a new snow brush
Did you know that you can do all these things on my list and more at Canadian Tire? When it comes to preparing your vehicle for winter, it's a one-stop shop. Visit Canadian Tire Auto Service and have all your vehicle's needs taken care of. We've been customers of Canadian Tire for as long as I can remember. They helped us out when we broke down on a cross-country trip and got us quickly fixed up and back on our way.
I hope you'll join us on Wednesday, November 2nd for the #CanadasGarage Winter Prep Twitter party where we'll be chatting about getting set for the coming months. Now is the time to get prepared so I hope you'll come to this fun and informative chat!
Twitter Party Details
Date: Wednesday, November 2, 2016
Time: 7pm EST
Hashtag: #CanadasGarage
Host: @CanadianTire
Prizes: $1,000 in prizes
Eligibility: Canada only; excludes Quebec
No RSVP is required. Follow along on the TWUBs page if you like! See you there.
Disclosure: I was compensated for this post. All opinions are my own.