Chocolate Pumpkin Cheesecake
Fall will be here before we know it. And with the season comes cooler weather (yay!), gorgeous scenery and pumpkin everything. I cannot wait. I'm getting a head start today with a mouthwatering Chocolate Pumpkin Cheesecake.
Ready to satisfy your sweet tooth and pumpkin cravings. Here you go.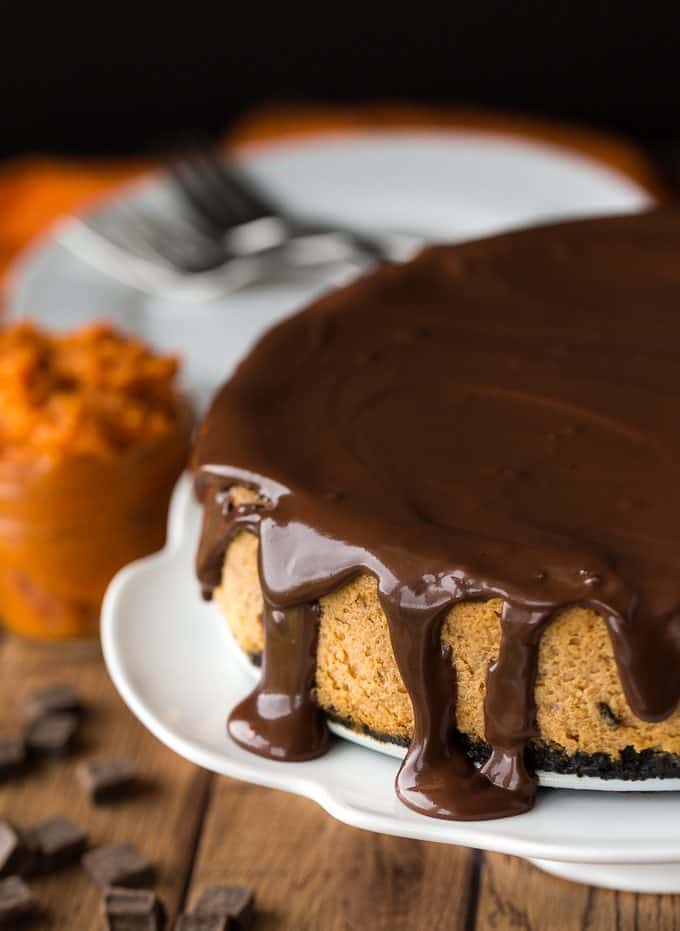 Chocolate Pumpkin Cheesecake
It's made with a chocolate cookie crumb crust and a creamy, smooth pumpkin cheesecake filling. Topped off with a thick chocolate ganache, this is one scrumptious cheesecake. It tastes even better than it looks!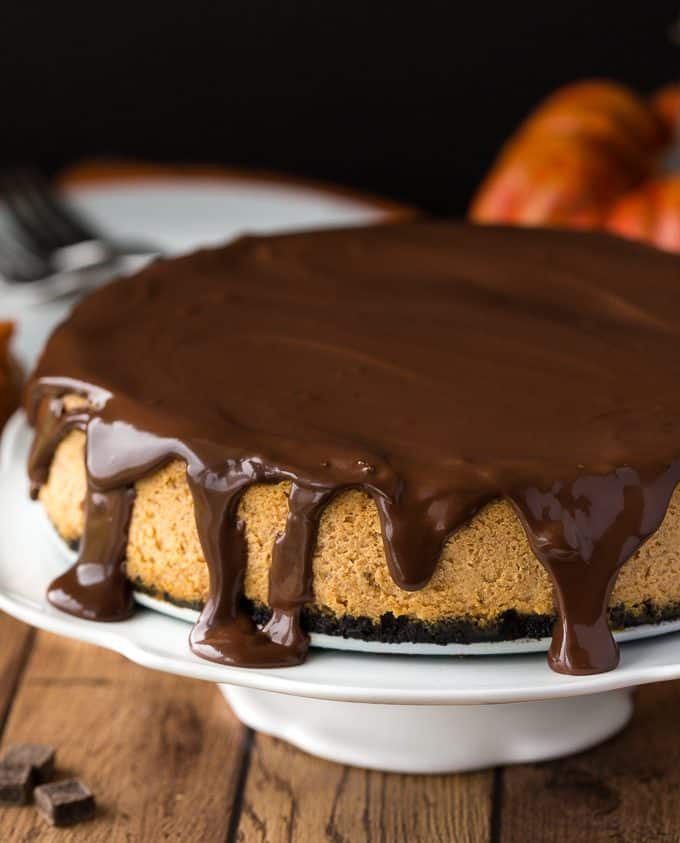 This post contains affiliate links.
I typically use the dry baking method for cheesecakes. I learned about the two ways of baking a cheesecake (wet or dry method) in my Show-Stopping Cheesecakes class on Craftsy. I find dry baking to be the easiest for me and I'm covering it with ganache anyways so it will hide any imperfections. If I wasn't topping the cheesecake, I'd probably use the wet baking method where you place the cheesecake in a water bath in the oven.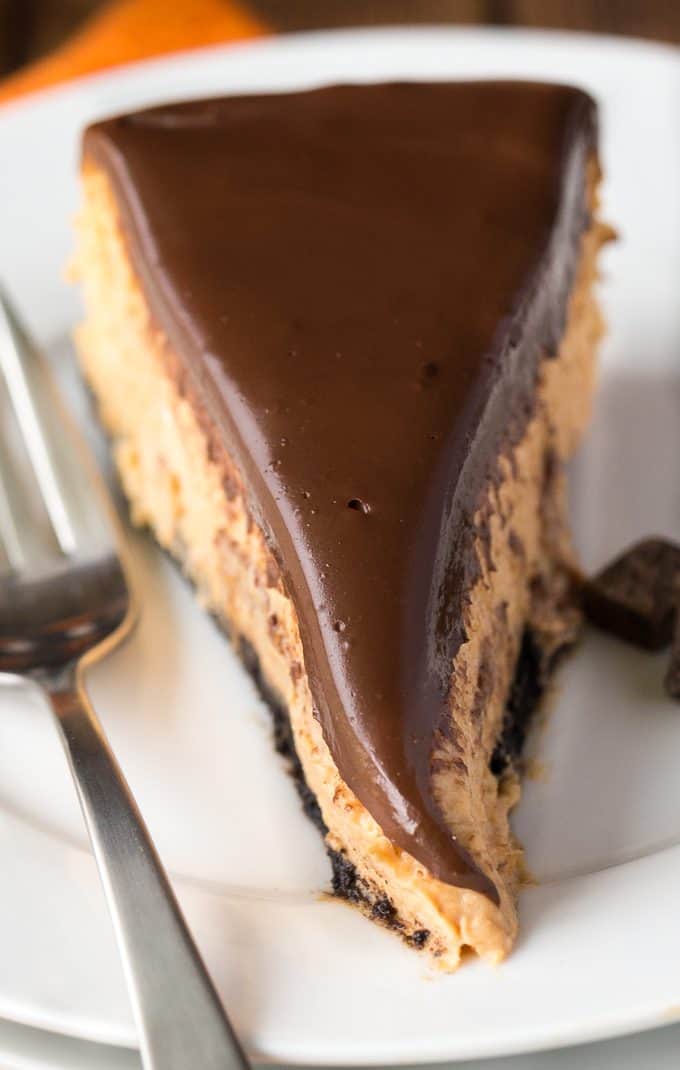 I stirred the ganache a little bit more than I normally do to make it thicker. You don't have to do this if you don't want to. I wanted to see what it would be like with a thicker topping. It was rich and divine.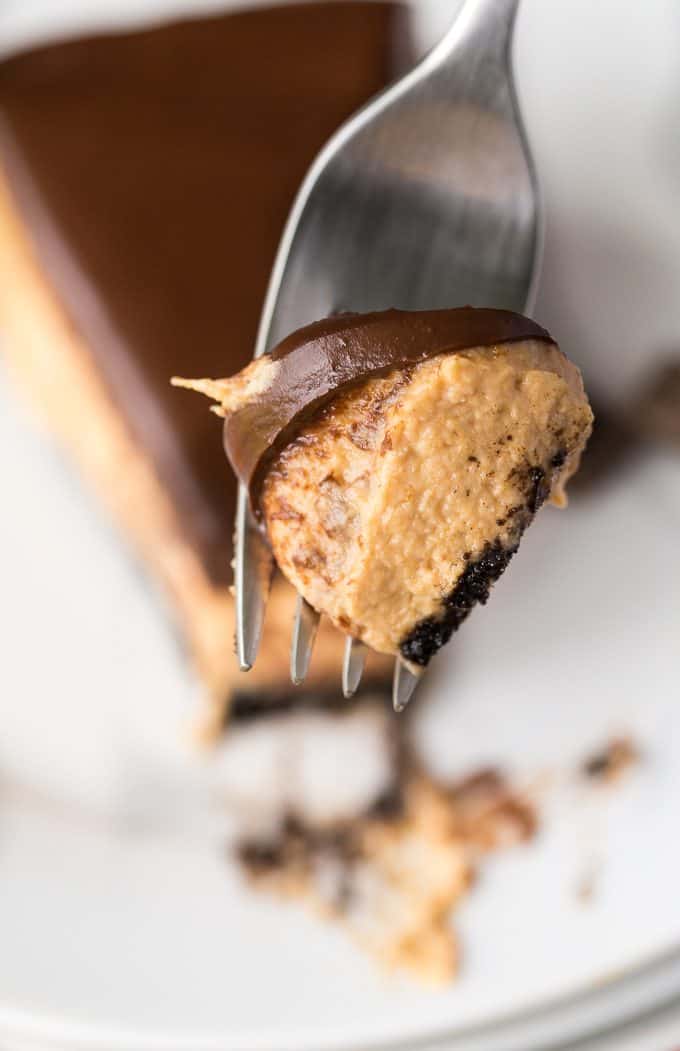 Each bite melts in your mouth. This dessert is a beautiful way to end a fall meal.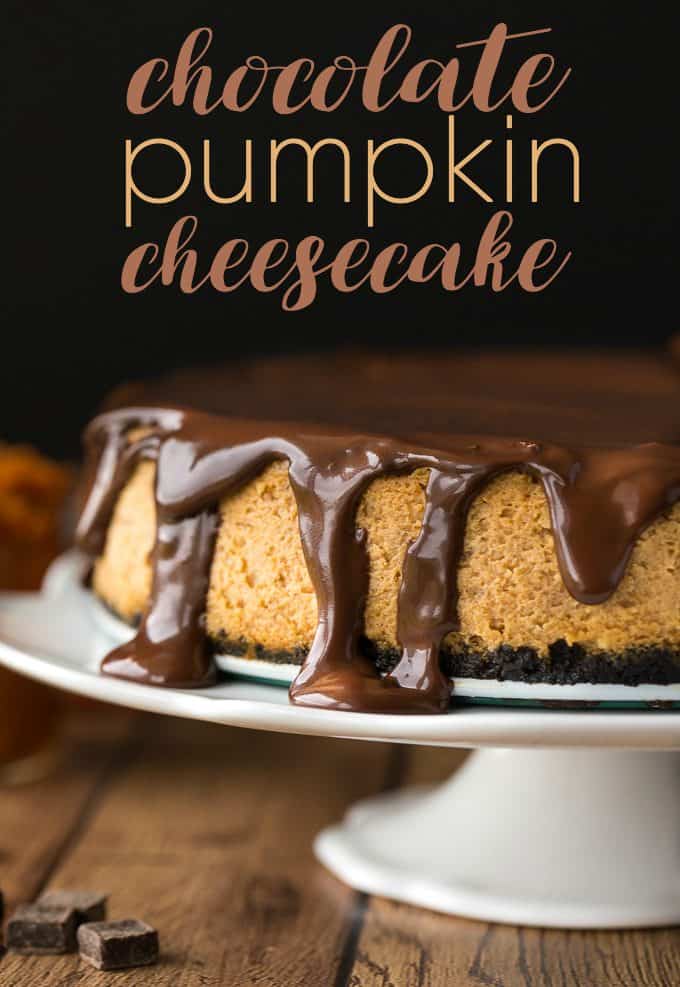 Craving more cheesecake? Check out my Brownie Bottom Cheesecake, Cappuccino Cheesecake, Pecan Pie Cheesecake, Reese Cheesecake, Saint Lucian Chocolate Cheesecake and Slow Cooker Chocolate Peanut Butter Cheesecake.
What is your favourite cheesecake?
Ingredients
Chocolate Cookie Crust
1 1/2 cups chocolate cookie crumbs
6 tbsp unsalted butter, melted
Pumpkin Cheesecake
3 – 250g packages cream cheese, softened
1 cup brown sugar
3 eggs
2 cups pumpkin puree
1/4 cup sour cream
1 1/2 tsp pumpkin spice
1 tsp vanilla extract
pinch of salt
Chocolate Ganache
1 cup table cream (heavy cream)
1 1/2 cups dark chocolate, finely chopped
1 tbsp unsalted butter
Instructions
Chocolate Cookie Crust
Preheat oven to 350F. Add chocolate cookie crumbs and butter to a bowl and stir to combine. Press into a 9-inch springform pan. Bake 12 minutes. Cool completely.
Pumpkin Cheesecake
Preheat oven to 375F. Beat cream cheese for 1 minute on medium speed. Scrap down the sides of the bowl and beat and additional 30 seconds.
Add in brown sugar and beat on medium for 1 minute.
Add eggs, one at a time, and continue to beat on medium speed. Add pumpkin, sour cream, pumpkin spice, vanilla and salt. Beat on medium for 30 seconds.
Pour the cheesecake mixture into the springform pan and place on a baking sheet. Bake for 20 minutes. Reduce heat to 300F. Bake for another 30 minutes or until set.
Remove from oven and carefully run a butter knife around the edge of the pan. Cool to room temperature. Place in the fridge for 5 to 6 hours before continuing with the next step.
Chocolate Ganache
Heat the cream in a saucepan over medium heat until it starts to steam. Turn off the heat and add in the dark chocolate and butter. Ensure the chocolate is completely covered by the cream by gently shaking the saucepan. Let sit for 3 minutes.
Gently stir until it's melted and smooth. Let it cool for 15 minutes and stir again until your desired consistency is reached. Pour over the top of the cheesecake and serve.
Recommended Products
As an Amazon Associate and member of other affiliate programs, I earn from qualifying purchases.
Nutrition Information:
Yield: 8 Serving Size: 1
Amount Per Serving: Calories: 976Total Fat: 73gSaturated Fat: 42gTrans Fat: 1gUnsaturated Fat: 24gCholesterol: 232mgSodium: 432mgCarbohydrates: 72gFiber: 5gSugar: 56gProtein: 13g