9 Must-Try Summer Beauty Tips
Summer to me means enjoying the outdoors with family and friends at backyard BBQs and spending days relaxing on the beach. It also means a few more beauty challenges. Looking fresh and put-together takes a little bit of extra effort, but it's nothing I can't handle. With some tweaks to my beauty routine, I can ensure I'm putting my best face (and body) forward.
These challenges aren't necessarily unique to the summer months. However, they are much more prevalent this time of year, at least for me. I'm talking about sunburns, sweaty skin and making sure your body hair is under control. You may be able to get away with not shaving your legs, armpits or bikini area regularly in the winter months. In the summer, it's a completely different story. Thankfully, it's not hard to stay on top of everything and look your best.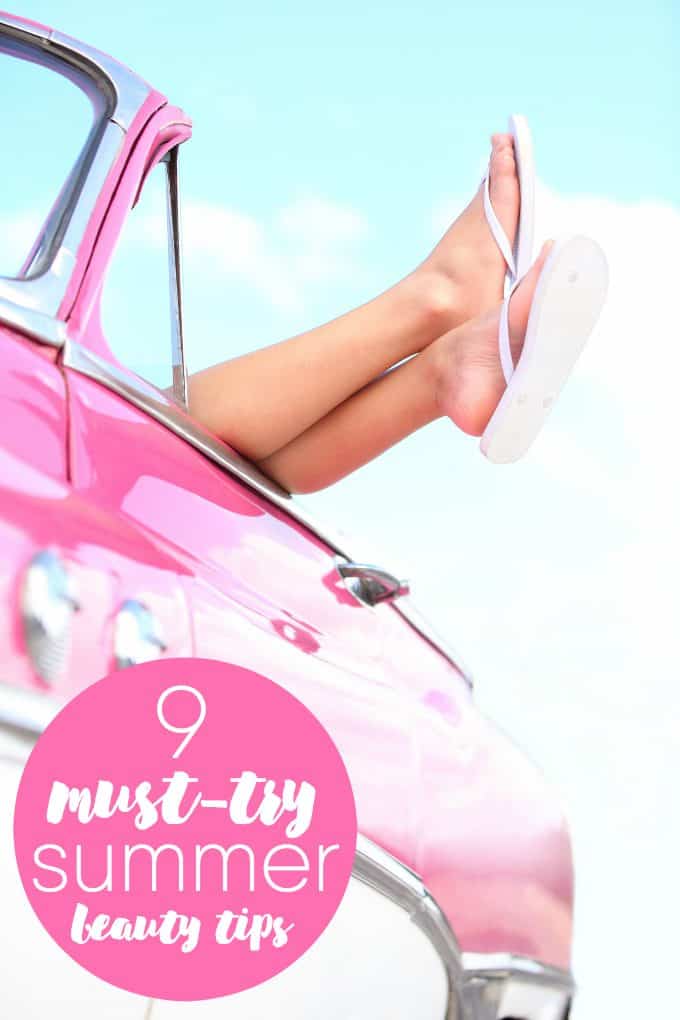 Summer Beauty Tips
Today, I'm sharing a peek into my beauty routine with these nine must-try summer beauty tips.
1. Sunscreen is a MUST. I'm naturally fair-skinned and prone to burns so if I forget to wear sunscreen before heading outdoors, I'm just asking for trouble. I don't tan. I've tried in the past and I go from pasty white to lobster red. There is no in between. I slather on the SPF 50 daily to stay protected. Sometimes though, burns still happen. If that's the case, soothe your skin with aloe vera gel. I keep mine in the fridge so it's nice and cold.
2. Protect your eyes. I keep my sunglasses in my purse so they are with me at all times. I splurged recently and bought a pair of prescription sunglasses. I was tired of squinting. I know that it can't be good for wrinkles and at age 38, it's something I need to think about. Driving during the day is so much easier now and I have to admit, my shades are stylin'.
3. Don't forget to moisturize. I falsely believed that I didn't need to moisturize my skin because it's so oily. I was shocked to learn from my esthetician that even oily skin needs to be moisturized. It can make your skin produce MORE oil if you don't! I use a moisturizer designed for my skin type and use it in conjunction with my daily cleansing routine.
4. Exfoliate at night only. Exfoliation is a key part of my weekly routine and during the summer, I only do it at night. The reason is that it makes my skin more sensitive and vulnerable to the harsh sun's rays. Since it sloughs off dead skin cells, it can sometimes irritate your skin. Do it at night so it has a chance to calm down while you sleep.
5. Use oil blotting papers to control shine. Keep your makeup looking fresh AND get rid of the greasy slick on your face with a quick dab with an oil blotting paper. Mine are in my purse so they are with me when I'm on the go. I have to do this a couple times a day because more sweat = more shine. I look and feel 100 times better afterwards.
6. Wear waterproof mascara. Yes, even my eyelids get oily so waterproof mascara is a must. I don't want raccoon eyes. Plus, if you are swimming, wear it to avoid having your mascara run all over your face and in the pool!
7. Enjoy the sun-kissed look with bronzer. Like I said before, I don't tan, but that doesn't mean I can't have a little colour on my face. Bronzer warms up my complexion and gives me that pretty summer glow.
8. Put it in a pony. Your hair, that is! Like my skin, my hair is also oily. Keeping it off my face helps me to stay cooler and also prevents skin breakouts. I'm comfortable and stylish.
9. Get legs you'll love. My legs are on display with cute summer dresses and shorts so I need them to be in tip-top shape. I highly recommend you try this summertime skin care regime from Schick, Shopper's Drug Mart and Aveeno. Your skin will feel incredibly soft and smooth and look spectacular. It's a four step system with minimal effort and big results.
Step 1: It all starts with clean skin. Use AVEENO® Skin Relief Gentle Scent™ Coconut Body Wash to wash away any sweat, dirt or oils. I love it because it has a light, soft scent and gives a beautiful creamy lather. It's gentle on my sensitive skin and is also soap and dye-free. Keep it in the shower because you'll want to use it every day.
Step 2: Prep matters. Apply Skintimate Skin Therapy Sensitive Skin Lotionized Shave Gel to your legs. It will lather into a white foam so it will be easy to catch any spots you miss. I'm bad for forgetting areas on the back of my legs, but with this product as my guide, I make sure to get every last inch. It also moisturizes and protects your skin. No nicks or cuts here!
Step 3: The main event. Say bye to hair and hello to smooth skin! Use the Schick Hydro Silk TrimStyle razor with its five Curve Sensing blades to easily achieve a close shave with no irritation. I also use it on my bikini area – shave horizontally, from the outside to the inside of the upper thigh and groin region.
Step 4: The final touch. Finish off by applying AVEENO® Skin Relief Gentle Scent™ Coconut Lotion to your skin. This non-greasy formula leaves my skin with a pretty glow and feeling wonderfully soft and supple. I'm now ready for the day!
Look for these products mentioned at your local Shopper's Drug Mart so you can also have "legs you'll love".
Do you have any must-try summer beauty tips?
Disclosure: I was compensated for this post. All opinions expressed are my own.