I've known about the monthly healthy snack subscription box service, Love with Food, for some time. I have a few American friends who are subscribers and rave about how great they are. I checked it out back then and saw it was USA only at that time. I'm happy to announce today that Canadians and others around the world can now subscribe too!
Love with Food just launched internationally with shipping to 26 countries around the globe. And yes, that includes Canada. Now us Canadians can see firsthand what all the hype is about and why this subscription service is loved by so many in the USA.
I received two shipments from Love with Food: a Gluten Free box and Deluxe box. I was blown away when I opened it up. I could not believe how much stuff they send you! After you see what's in it, I think it will be easy for you to fall in Love with Food too. I sure have.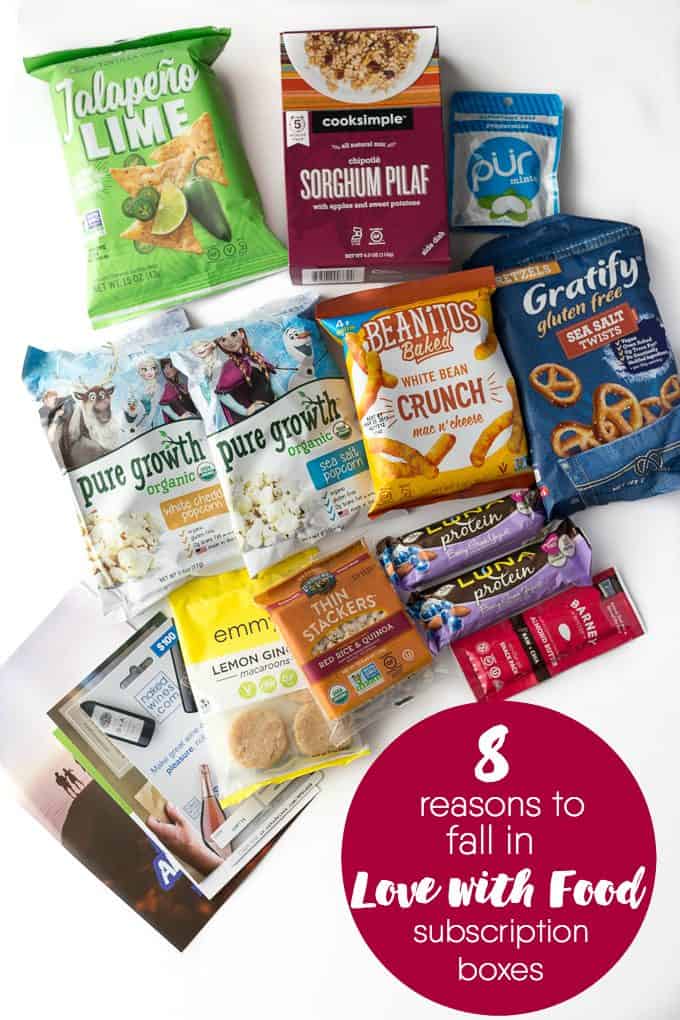 Love with Food Subscription Box
Here are eight reasons why Love with Food is an excellent subscription box choice for people who enjoy healthy snacks.
1. It's affordable. International subscribers can choose between the Deluxe Box and Gluten Free Box. The Deluxe Box is as low as $16.50/month while the Gluten Free Box is as low as $19.99. You can pay month by month if you like. However, to receive the most bang for your buck, I recommend buying the annual plan and save between 17 to 20% depending on which box you pick.
2. Try new healthy snacks. The snacks included in my two boxes were entirely new to me. I have never seen them at our grocery stores. I loved that they were either organic or all-natural and GMO-free. The gluten free box is perfect for people looking for gluten free snacks that actually taste good. These all do!
3. Lots of snacks to choose from. I opened my box and wanted to rip all the snacks open right away and eat them. I couldn't believe how many they have in them. The Deluxe Box has 16 to 20 new and surprise snacks while the Gluten Free box has 10 to 12 surprise celiac-safe & mostly dairy-free snacks.
4. Saves time. Instead of heading out to the stores to hunt down healthy snacks, get them delivered right to your door. Many of these snacks will be perfect to send in my daughter's school lunch. I think she eats too many sugary snacks so I'm working on transitioning her to more healthy choices. Love with Food snacks are perfect.
5. They ship worldwide. Be one of the first 5000 international members to subscribe to Love with Food and shipping will only cost you $3.99/month. As us Canadians know, shipping costs can be pricey so I would jump on this amazing offer QUICKLY.
6. Fight child hunger with your subscription. Love with Food is the easiest way to "SNACK SMART and DO GOOD". They donate to a food bank with each purchase. Each box you receive donates two meals to hungry kids. I think it's wonderful when businesses give back. They've donated over a million meals already!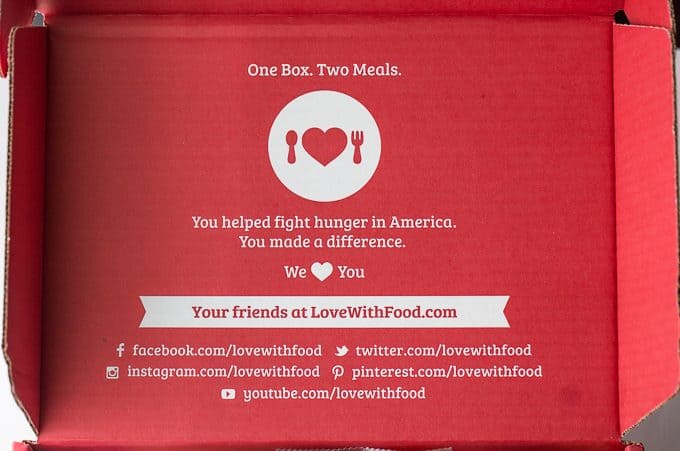 7. Yummy snacks. My favourites are the Beanitos Baked White Bean Crunch Mac N Cheese sticks. You wouldn't even know they were healthy or that the main ingredient is navy beans. I hid them from my family and ate them ALL! The Naan Chips were also delicious. I'm saving many of the snacks for my daughter to bring to school. At least that's the plan. Who knows, I may end up eating them all before then.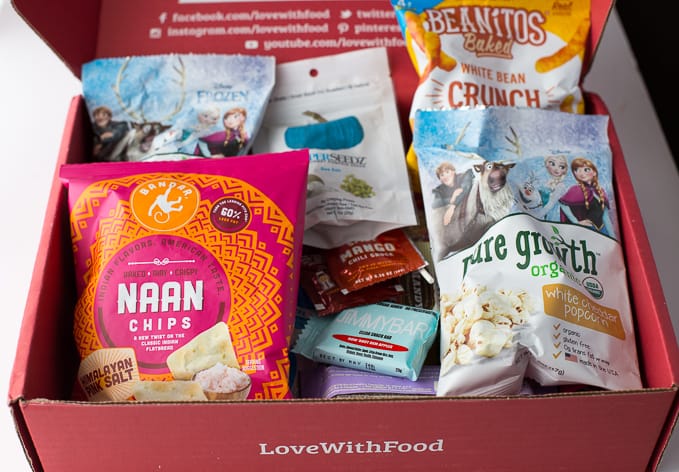 8. You can cancel anytime. If you decide you want to cancel, it's easy to do. You are free to do so at any time.
Visit Love with Food to learn more and subscribe. You'll receive 40% of your first Deluxe Box OR 50% off your first Gluten-Free Box. Grab those deals and lock in that introductory shipping of $3.99! I think after you try a box you'll see how easy it is to fall in Love with Food!
Disclosure: I was compensated for this post. All opinions are my own.