Meet Our Newest Family Member: bObi Pet by bObsweep
John said he didn't want to get another pet, but I didn't listen to him. We have a new family member and she's been a wonderful addition to our home. Reggie, our orange tabby, can't get enough of her and the kids get a kick out of watching her do her thing around the house. She even helps me clean the house. Even John admits she's pretty cool.
Meet bObi, our bObi Pet by bObsweep. She's a robotic vacuum that has taken a big chore off my daily to-do list: cleaning the floors in my home.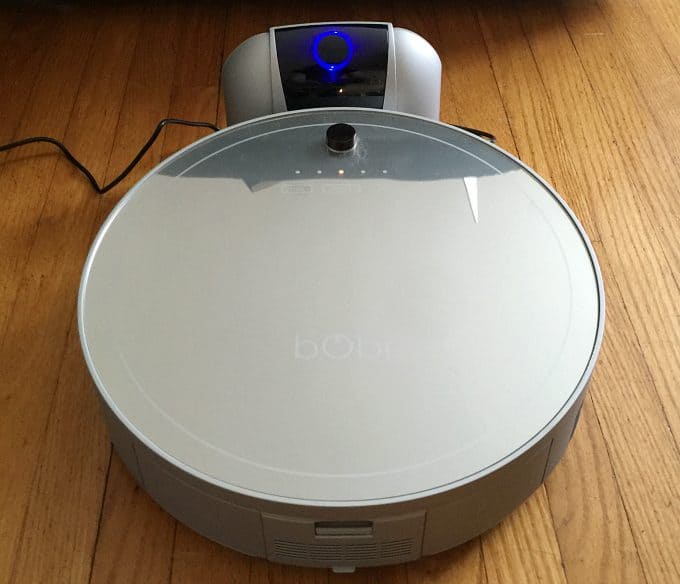 Before bObi's arrival, I'd sweep the floors daily, mop once a week and vacuum the carpets every other day. Even though I enjoy cleaning, I despise mopping the floors. It makes me grumpy and is that one chore that I dread doing. I don't like sweeping much either because it hurts sometimes to bend over with my chronic pain. I do it because it needs to be done and I like the feel of a clean house.
bObi takes care of all of it now. It's a bit liberating actually and now I have more time in my day to do the stuff that I enjoy doing. This weekend, I made my own candles while bObi was busy working in the background.
She's designed for homes with pets. We have three cats and it felt like I was always sweeping and vacuuming up cat hair. bObi vacuums, sweeps, mops, filters and disinfects the floor simultaneously and gets rid of the dirt, grime and cat hair. The cat fur has met its match with her. The upgraded turbo suction motor reaches deep into my area rug and carpet to pull out all traces of fur. It looks 100x better afterwards. Dark coloured carpets show every speck of dirt and hair, but at least bObi will take care of it now instead of me.
If you think bObi would be too complicated to use, think again. She's very user-friendly. Even my 11 year old daughter quickly figured out how to get her going. She has three touchscreen buttons you can press or use the handy remote to start her up. They include:
GO!: This is the main one I use because it covers a wide area and activates all of bObi's cleaning power.
WAFFLE: Tackles small spills and messes.
JUICE: bObi will find her charging station to refuel her battery. She will automatically juice up when her energy level hits 15%.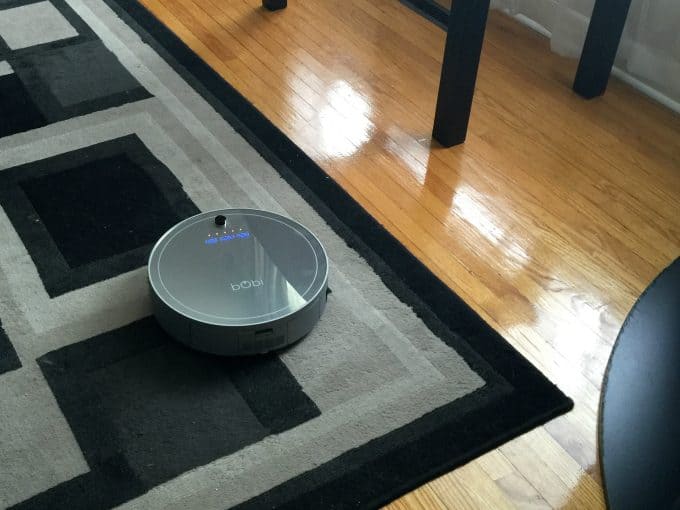 Another neat feature is the ability to set your own cleaning schedule. You can program bObi to start cleaning on her own at whatever time or day you decide.
If your worried that bObi will get into things she shouldn't or venture towards the more hazardous spots in your home, don't. She comes with a bObi blOck that acts like an invisible barrier. bObi won't go past the boundary you set. I have the blOck set at the edge of our entrance way step so she won't tumble down.
While bObi's busy working and I'm relaxing, my cat, Reggie, has other plans. He stalks bObi. At first, he was a little intimidated by her. Now he follows her around everywhere. I'm wondering when the day will come when he hops on bObi for a quick ride. I promise to capture that on video to share with you if it happens.
When bObi is sitting still, Reggie will go up right up to investigate. He jumps a little when she starts up and never takes his eyes off her. It's cute to watch.
Check out this video of the two of them interacting!
Visit bObsweep to learn more about bObi Pet and their other robotic vacuums. We are happy to now be a part of the bObsweep family! Adopt (aka purchase) your own bObi Pet on Amazon or via bObsweep.
What would you do with the extra time you have from not having to clean your floors?
Disclosure: I received product to facilitate this post. All opinions are my own.