7 Waterpark Safety Tips for Kids
A trip to a waterpark can be the highlight of the summer for many kids. My daughter loves going to our local waterpark, Logo's Land. These places are packed with fun, thrilling slides and pools to relax in. They are an awesome way to beat the summer heat and get outdoors and enjoy the beautiful weather. Thinking ahead about safety is a must to ensure your day is stress-free and you are prepared for any potential mishaps.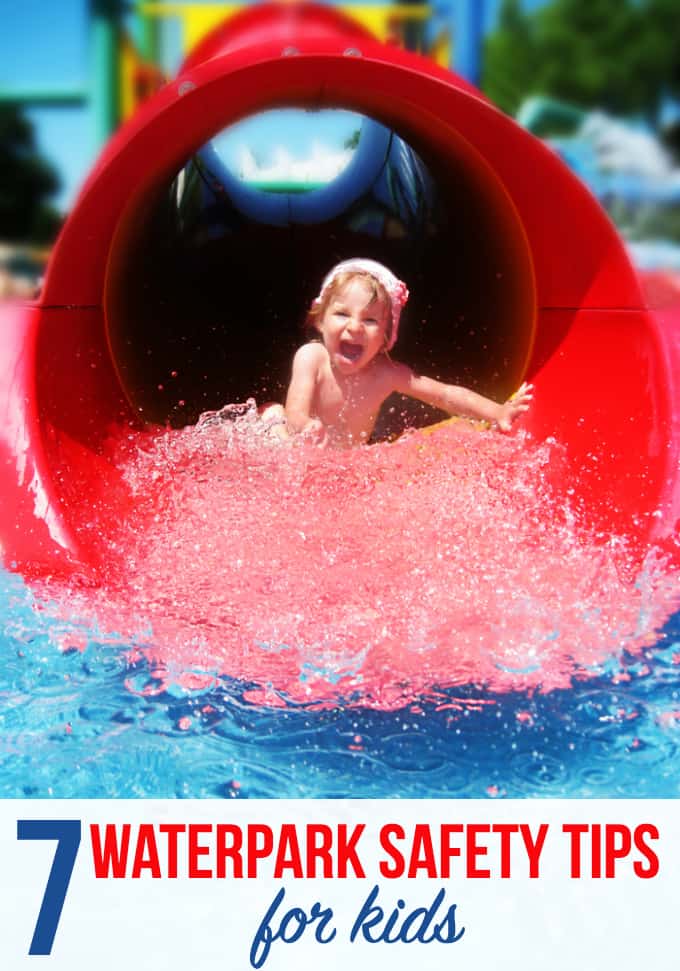 © waterpark image via Shutterstock
Waterpark Safety Tips
Check out these seven waterpark safety tips for kids before you head out this summer.
1. Wear sunscreen – and keep applying. Most families spend a full day at a waterpark. Unfortunately, most sunscreen brands will not last 8 hours on a single application. Read the directions on the bottle and reapply as often as directed. Children should also wear swimsuits and rash guards with SPF protection built into the material.
2. View the map and find a meeting location. If a child should get separated from your family or group, make sure everyone knows where to meet. Explain to the children that they can ask a park employee for help to get to the meeting point, if they get lost.
3. Stay hydrated. Being at a waterpark, you may not see the need to drink lots of water. However, since you are in the hot sun, proper hydration is very important. Carry bottled water to the park with you, and take a break from the slides and wave pool every hour for some shade and a cool drink.
4. Obey the rules. Most waterparks have rules posted at every ride. Some may have them at the front door as you enter the park as well. Read over these rules with your children and follow them exactly as written. Avoid letting a child under the height requirements get on a ride, as it may be unsafe for his or her size.
5. Learn to swim. Though it will not completely prevent drowning, learning to swim is a key life skill, in my opinion. Enroll your children in swimming lessons at least by their fourth birthday so they can learn to navigate the water safely. My daughter failed Level 1 three times, but kept trying. Eventually, she got over her fear and know she swims like a little fish.
6. Avoid drinking the water. It may not be possible to keep every drop of water out of your mouth, but children need to be taught not to drink the water in pools or on rides at a waterpark. Teach them to keep their mouth closed when swimming or wading in the water.
7. Use the available life jackets. Even if your younger children can swim, a personal flotation device should be worn, depending on the situation. If they are in the deep end of a pool and they get tired, the vest will help them stay afloat until you or another adult can reach them.
Following these simple safety tips can help reduce the risk of mishaps during your visit. A little preparation and communication goes a long way. Be vigilant and enjoy the day outdoors with your family!
Do you have any other waterpark safety tips to add?