Buying plane tickets to travel to some far off place can be costly especially if you have to buy them for your entire family. Instead, consider taking a family road trip. Sometimes adventure awaits in your own backyard. We live in Ontario so I was researching road trips in reasonable driving distance from our home in the Ottawa Valley.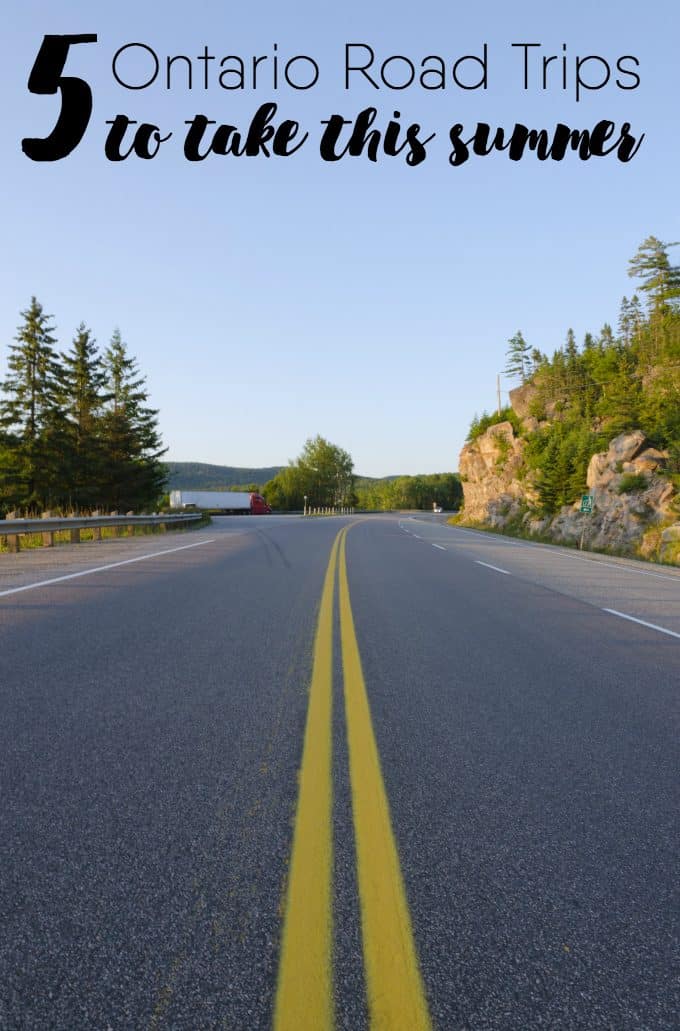 © Ontario travel image via Shutterstock
Here are five road trip destinations in Ontario to consider this summer!
1. Algonquin Park. Canada's oldest provincial park is located between Georgian Bay and the Ottawa River making it fairly close to access from both Ottawa and Toronto. Here in the Valley, it's not far to drive to reach the park gates. It's been years since we've driven through and I think it's time to go back. The scenery is beautiful. Expect lots of trees, rivers, lakes and streams and maybe even some wildlife if you're lucky. Drive right through from one end to the other or stop for a night or two to camp at one of the campsites. I hear the fishing is great!
© Algonquin Park image via Shutterstock
2. Lake Superior. It's the largest of the Great Lakes and it's raw beauty is a sight to see. We drove along the highway on our trips across Canada and stopped to take photos of Lake Superior. I couldn't get over how big the waves were crashing into the rocks. It reminded me a bit of the ocean. The drive is long, but worth it. Just make sure you stop for gas when you can because there aren't a lot of places to stop.
© Lake Superior image via Shutterstock
3. Niagara Falls. I adore Niagara Falls and it's at the top of my list whenever we are discussing where to go on our next trip. I could spend hours watching the majestic beauty of the Falls. However, there is also a ton of other stuff to see and do! Check out all the tourist attractions on Clifton Hill, drive through the picturesque Niagara-on-the-Lake, and if you're feeling brave, go on a Whirlpool Jet Boat tour.
© Niagara Falls image via Shutterstock
4. Ottawa. We're lucky to live so close to Canada's Capital. I travel the 150km down Highway 17 often for doctor's appointments, shopping and to visit friends and family. Must-see spots are the Parliament Buildings, Rideau Canal, Byward Market and the many national museums.
© Ottawa image via Shutterstock
5. Kingston. I love the solitude of the drive up Highway 41 to Kingston. We used to do this trip all the time when my Grandma June lived in Erinsville. You can see her old house from the highway across from Beaver Lake. I lived in Kingston briefly when I was 19 and fell in love with the city. Make sure to check out one of the 1000 Islands Cruises while you are there.
© Kingston image via Shutterstock
Before you head out on your road trip, make sure to pack all the essentials, including your GPS, snacks, sunscreen and first aid kit.
Which road trip destination on my list is your favourite?
Giveaway
My friends at Church & Dwight are offering my readers a fabulous Road Trip prize pack to get you started for your adventure!
It includes:
GRAVOL™ Natural Source™ Ginger Lozenges. Curb motion sickness for you and your kids (over the age of six) with these chewable lozenges – convenient, portable and no water required! GRAVOL™ Kids Quick Dissolve Chewables are a great option for your little ones two years and over! (Note: GRAVOL™ Kids Quick Dissolve Chewables are not included in giveaway).
OxiClean™ Foam Pretreat. Spills and stains are bound to happen on road trips, treat them the day they happen and then throw the item in the wash a few days later when you make it to your destination!
ORAJEL™ Anticavity Fluoride Toothpaste 119g, in either Super Mario™ or The Ultimate Spider-ManTMor My Little Pony™. With road trips come snacks and fast food so ensuring your little ones are brushing is of the upmost importance.
Vitafusion™ Women's and Men's Complete Multivitamins. Geared towards providing essential nutrients specifically needed by men and women to maintain their health, in a tasty gummy that you can take without water, perfect for on-the-go!