Brought to you by Niagara Canada and The Co.
One of my fondest childhood memories is our family vacation to Niagara Canada. My parents rented a Winnebago for the journey. It was late at night when my dad pulled up to the Falls, but my sisters and I were wide awake. I remember getting out and being awestruck at the majestic beauty. The childhood me couldn't believe something so incredible existed. Little did I know was that the Falls themselves were only a small piece of the memorable experience I was about to have.
Niagara Canada, who is preparing to stake their claim as the 8th Wonder of the World, is typically the first thing people think of about the region. I can tell you from experience having visited Niagara Canada many times over the years is that there is SO MUCH more to see and do than just visit the Falls. Niagara Canada is known for its world-class dining, exciting night life, fun family outdoor activities and breathtaking scenery.
One of the perks of living in Ontario is that we are within a reasonable driving distance to the area. John and I travelled there on our own – in fact, it's where he proposed to me! My best friend was married there in 2006. I was her maid of honour. It's also a fabulous spot to bring your kids for a family vacation they'll never forget.
I've compiled a list of fun-packed family adventures you can do with your kids this summer in Niagara Canada. Many of the items on this list are spots I've been to over the years so I can attest to them being must-see stops on your family's itinerary.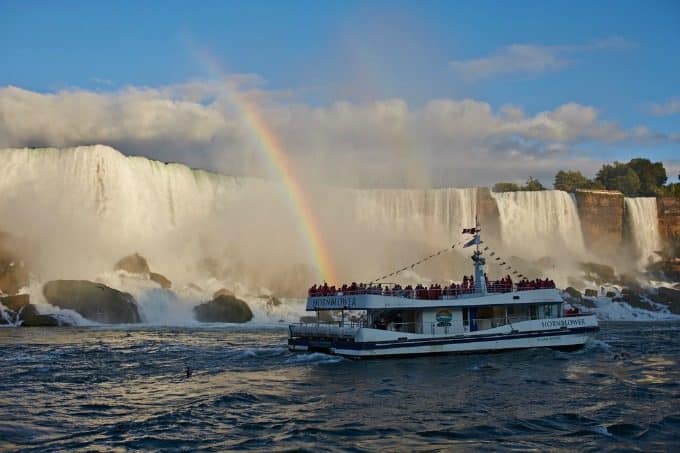 1. Hornblower Niagara Cruises. Get up close and personal with Niagara Falls on a thrilling boat tour. You'll travel within the Niagara Great Gorge and past the American Falls, Bridal Veil Falls and my personal favourite, the Horseshoe Falls. My kids could not stop talking about their experience and couldn't believe something so beautiful in nature existed.
2. Niagara Skywheel. Witness the beauty of the Falls and the bright lights of Clifton Hill aboard Canada's largest observation wheel. At its 175 feet vantage point, you'll want to make sure you have your camera ready to capture the incredible views of the Niagara Falls horizon.
3. Skylon Tower. For another jaw dropping perspective, take a ride 775 feet up to the Skylon Tower Observation Decks. My kids thought they were in the clouds because of how high up we were! While your family is there, enjoy a meal at one of the restaurants and play games at the Skylon Family Fun Centre.
4. Dinosaur Adventure Golf.  Play a fun game of miniature golf surrounded by dinosaurs! At 70,000 square feet, this attraction is one of Canada's largest miniature golf courses. Kids will think they've been transported back millions of years ago to the prehistoric age.
5. Movieland Wax Museum of the Stars. Where else can you get this close to some of entertainment's most famous people throughout history? My kids loved Johnny Depp as Captain Black Sparrow and Edward and Bella from the hit Twilight series. I sat down on the bench with Tom Hanks as Forrest Gump and imagined him telling me about life being like a box of chocolates.
6. Guinness World Records Museum. A trip through the Guinness Museum is both fun and educational. Be prepared to learn a ton of interesting facts about world record holders in sports, animals, people, nature and more. The world's tallest man at almost 9 feet fall is a sight you need to see firsthand!
7. Ripley's Believe It or Not Odditorium. Expect the unexpected! Kids will be amazed by the unbelievable 900+ exhibits found among the 15 themed rooms. Think 2-headed animals, authentic shrunken heads, the world's rarest egg and lots more.
8. Ghost Blasters. You'll need to bring your family to the Great Canadian Midway at the bottom of Clifton Hill to experience the thrills of the Ghost Blasters Dark ride. Travel through a haunted house in black-light darkness and prepare to be spooked by ghosts, skeletons, ghouls and goblins galore. Don't worry, your family won't be going in empty handed. Everyone will be equipped with a laser gun to blast away the spooks and earn points for the ones you hit!
9. Upside Down House. This attraction must be seen to be believed. My daughter thought it was the house from the Wizard of Oz after it was picked up by the tornado. It's not often you get to walk around in a house that's on its roof!
10. Rainforest Cafe. Enjoy a delicious family meal amongst lush vegetation, animals, both real and animatronic, sounds of the jungle and indoor thunderstorms. It may be one of the most unique dining experiences your family will ever have!
11. HERSHEY'S Chocolate World. This location is so much more than just a chocolate store! It's a 4-storey high HERSHEY'S chocolate bar with over 7000 square feet of deliciousness to explore. Get photos of the family posing next to a HERSHEY'S KISSES character and buy chocolate treats to bring home with you.
I promise you, a family vacation to Niagara Canada will be one for the record books! You may initially decide to visit to see the Falls, but you'll end up wanting to go back again for all the other amazing family adventures. Plan your summer vacation today via the 8thwonderoftheworld.com and get set for an unforgettable experience!
Which of these family attractions are you most looking forward to visiting?
This post was produced in partnership with Niagara Canada but all opinions expressed are my own.