GlobeIn Artisan Boxes
It's no secret that I'm a big fan of subscription boxes. I think I may have discovered my absolute favourite one with GlobeIn Artisan Boxes! They offer a monthly subscription of boxes filled with exclusive, handcrafted items from artisans around the world. Each month is something totally different based around whatever theme is running. For instance, in June, they shipped out the Picnic Box, which I had the opportunity to receive! Once I opened the box and saw the treasures inside, I knew I had to become a subscriber. And a bonus for me is that they ship to Canada! Actually, they ship worldwide so everyone can enjoy these unique finds.
The Picnic Box included all the items pictured here. I also liked that it included a little pamphlet so I could learn about each item, where it is from and who created it.
Here's a quick peek about what was inside: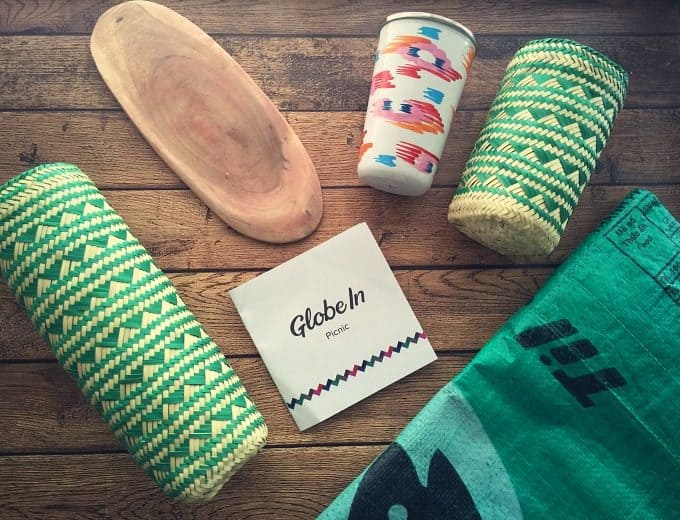 I found reading the story behind each of the items made the box that much more meaningful to me. When I'm using the items, I'll think of the artisans who carefully crafted them so I could enjoy them millions of miles away.
I love that each box is also helping artisans around the world earn an income to support their families and improve their way of life. I'd never be able to find these items locally and it's neat to be able to enjoy products from other cultures. GlobeIn supports thousands of artisans from over 40 countries!
In addition, you'll be receiving these curated products at up to 50% retail price with your subscription.
Here's a sneak peek at the July Artisan Box, the Savour Box.
It includes:
Salt & Pepper Shakers, Palestinian Territories (Retail $20)
Hand-Painted Spoonrest, Palestinian Territories (Retail $18)
Neem Wood Spice Bowl, India (Retail $15)
Palm Leaf Basket, Mexico (Retail $12) OR  Ilocano Asin Sea Salt (inside the mini basket), Phillippines (Retail $12)

Save $10
I have a coupon for you to save $10 off your order of 3 month or longer subscription. Use this link to purchase and it will be deducted at checkout.
Subscribe
You have a few options for subscribing. You can go month-by-month, 3 months or 6 months. Shipping is FREE in the USA. I bought the 6-month subscription for the best value. I cannot wait to receive my next box and see the beautiful products inside. I'm also looking forward to reading the story behind each item.
Treat yourself with a GlobeIn subscription or buy one as a gift for a loved one. Visit GlobeIn to learn more and to sign up.
Connect with GlobeIn on Twitter, Facebook, Instagram, Pinterest and YouTube. Subscribe to their newsletter.
Disclosure: I received a GlobeIn Artisan Box for this post. However, I purchased a subscription on my own and you should too! All opinions are my own.