Oreck Magnesium RS Vacuum
My home is looking a whole lot better these days. It's not just that I've been on a cleaning kick, which is true any time of year, but that I've recently started using two new products. I already told you how the air is cleaner in my home and today I'll tell you all about the floors, specifically the carpets.
Meet my new vacuum, the Oreck Magnesium RS Vacuum. It's an upright, corded vacuum that is incredibly lightweight at less than 8 pounds. It's great for me being the weakling I am. I hate lugging a heavy vacuum up and down the stairs. We have a carpet in the living room and in the basement family room. Both are dark in colour so every little piece of cat hair shows up. I have to vacuum it daily! It's part of the fun of having three cats.
This vacuum is the newest addition to the Oreck Magnesium model line. It's also the first time I've ever used an Oreck vacuum and so far so good! I love the strong suction power that easily picks up the cat hair. After I vacuum, you can't even tell that three cats live here.
It was easy to assemble and with a few clicks into place it was ready for business. I came with the bag already inside and I also had an extra one in the box to use later on.
Let's talk maneuvering. It has a SlimSwivel Design making it easy to clean around furniture. The low profile means you can slip under furniture too, in most cases. I like try and get under the couch where dirt and dust like to hide.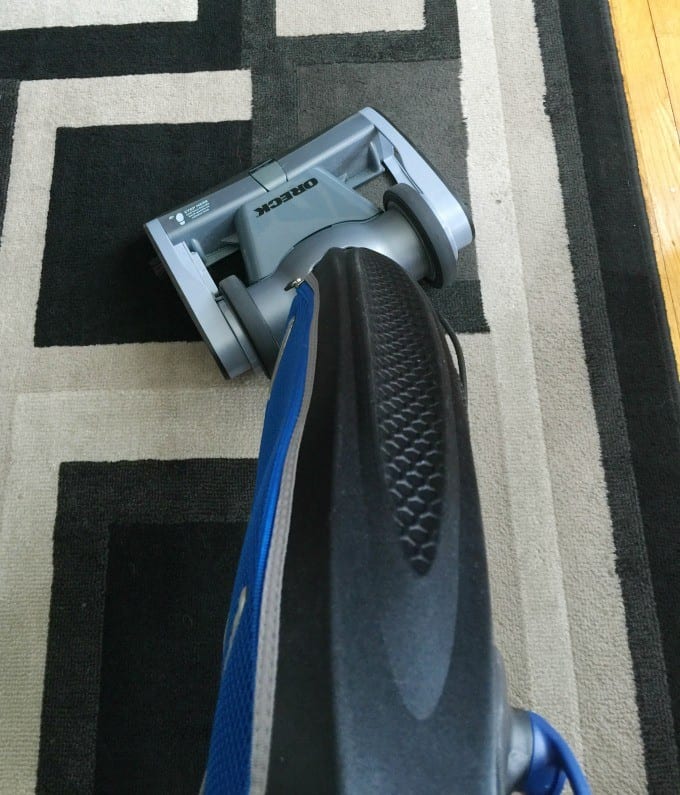 After you plug it in and turn it on, you can select either low or high speed, right on the handle at the top, depending on the cleaning job ahead. I usually pick high speed for the carpets and low speed for the hardwood floors. Yes, it works on multiple floor types! Use it on your carpets, mats, tiles, hardwood without having to manually adjust anything. The only thing you need to do is turn it on, select the speed and go. It practically pushes itself across your floor. Vacuuming made easy.
I store it in my front closet. It's a slim design so it easily fits in without taking up too much space and is close by when I need to use it.
Other Key Features
Check out these other key features of the Oreck Magnesium RS Vacuum
Superb agility. I mentioned the SlimSwivel Design makes it easy to work your way around furniture, but did you know that it can lie flat too? Vacuum under beds where all the dust bunnies reside.
Side brushes. The side brushes make it easy to clean against baseboards and around edges. My mom, who always notices a dirty baseboard, will be impressed.
Direct suction. At 7,000 revolutions per minute on high speed, this is one powerful vacuum. Dirt (and cat hair) has met its match.
HEPA bag. 99.97% of particles at .3 microns are captured including pollen, dust, smoke, animal dander and mold spores. This disposable bag is easy to change. It uses a Saniseal® system that locks the dirt into it.
Easy Snap Cord. The Easy Snap cord clip ensures that the cord never gets in your way when you are vacuuming. It's also great for storage and wraps up tight and compact.
Buy It
Pick up am Oreck Magnesium RS Vacuum at your local Canadian Tire store or online.
Vacuuming isn't my favourite chore, but at least now the job is easier for me and the floors get much cleaner. If you're in the market for a new vacuum, give this one a try. I've been very pleased with it so far!
How often do you vacuum your home?
Disclosure: I received an Oreck Magnesium RS Vacuum. All opinions are my own.