Schick Hydro 5 Amazon Rate & Review
Shaving just got a whole lot easier – at least that's what my hubby says! I asked him to try out the new and improved Schick Hydro® 5 disposable razor and share his thoughts with me. And I'm here today to share them with YOU!
But first, let me give you a little bit of background on John and his shaving woes. John has had a full beard and moustache for the last several years. He has trigeminal neuralgia so shaving can sometimes irritate his face. He usually shaves his cheeks and neck to clean it up and make it look a little neater. Because of his issues, he is extremely picky about the razors he uses. He was willing to try for me when I asked him in my nicest, sweetest voice. He's a good man.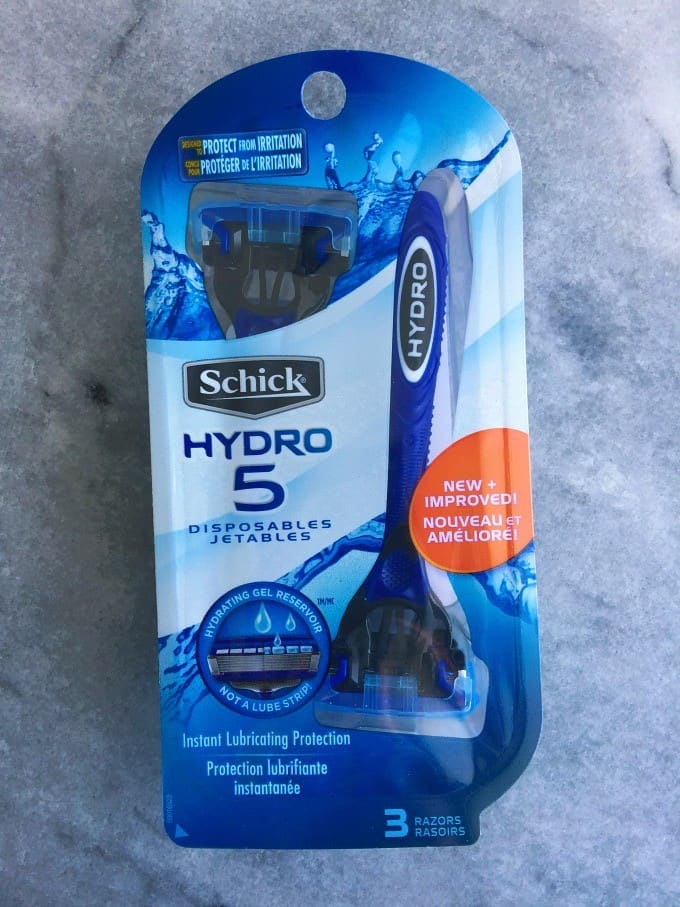 John headed into the bathroom to clean up his facial hair with the Schick Hydro 5 disposable razor. I was hoping to snap a few photos of him in action, but he refused. I guess he is camera shy.
John's Thoughts
When he finished up and came out to tell me about his experience, he was talking very animated. The first thing he mentioned was that he was able to shave in half the time it normally takes. In the past, he finds that hair clogs up in the razor blades and normally he'll have to clean them out multiple times during a shave. He was shocked and said he didn't need to clean out the Schick Hydro 5 razor even once! He said it was nice to not have "mess with the blades" to finish the job.
He also stated that he could "shave in one pass". Usually, he will have to make two or three "passes" over one area to get the close shave he wants. With the Schick Hydro 5, he only had to shave one time to get a close, comfortable shave.
Lastly, he mentioned how soft his skin felt afterwards. I rubbed my hand across his cheek and agreed. The skin was soft and smooth.
Then he asked me, can we get more of these? Yes, we can, John. I'm happy that he found a razor he likes. Now if I can only convince him to shave all that hair off. I forget what he looks like under it all!
More About Schick Hydro 5
Here's a bit more background on the new Schick Hydro 5 disposable razors:
Skin Guards: It has five Ultra Glide blades with Skin Guards to help reduce the friction between the skin and the cartridge. That translates into less irritation for your skin. The reduced blade spans minimize skin bulge and the new larger guardbar helps increase skin stretch allowing for a closer shave. I think this must be why he was able to shave his fast more quickly and not have to worry about cleaning out hair in the blades.
Hydration Station: This razor has the new and improved Hydrating Gel Reservoir to reduce friction and hydrate the skin throughout each shave. It results in 40% less friction than lube strips. John's skin was soft and smooth afterwards with no redness.
Perfect for on-the-go: Men can now have the signature Schick Hydro technology and a great quality shave on the go. It's perfect for travel.
Flip Trimmer: Use the Flip Trimmer to reach those hard-to trim places. With a quick flip of the thumb, the Schick Hydro 5 Reservoir flips back so all five blades help to trim compared to other razors that use single edging blades. It's unique in that no other razor has it.
Where to Buy
The Schick Hydro 5 disposable razor is available in 3-packs and can be purchased at all major retail outlets across Canada. It has an SRP of $9.45. They have a new fan in John!
I was compensated for this post. All opinions expressed are my own.