5 Reasons to Book a Vet Visit This Spring
Spring is a busy time of year with a huge list of household chores to tackle after a long, cold winter. My to-do list is long, but I'm getting there. Along with these chores, I also have another very important item listed: bring my three cats to the vet for an annual check-up. We typically go in the the spring to make sure the cats are in good health. We adopted Reggie last March so this was our first time taking him to the vet.
The Ontario Veterinary Medical Association (OVMA) commissioned a survey in 2014 about veterinary visits and it had some interesting findings. Two-thirds of pet parents say their last visit to the veterinarian was for an annual check-up or preventative care. Bridget and I went with Reggie last week for his annual check-up. I didn't have any health concerns, but wanted to make sure he was doing ok. I'm a firm believer in preventative health care and think it's important for pets to receive regular medical care just like we do as people.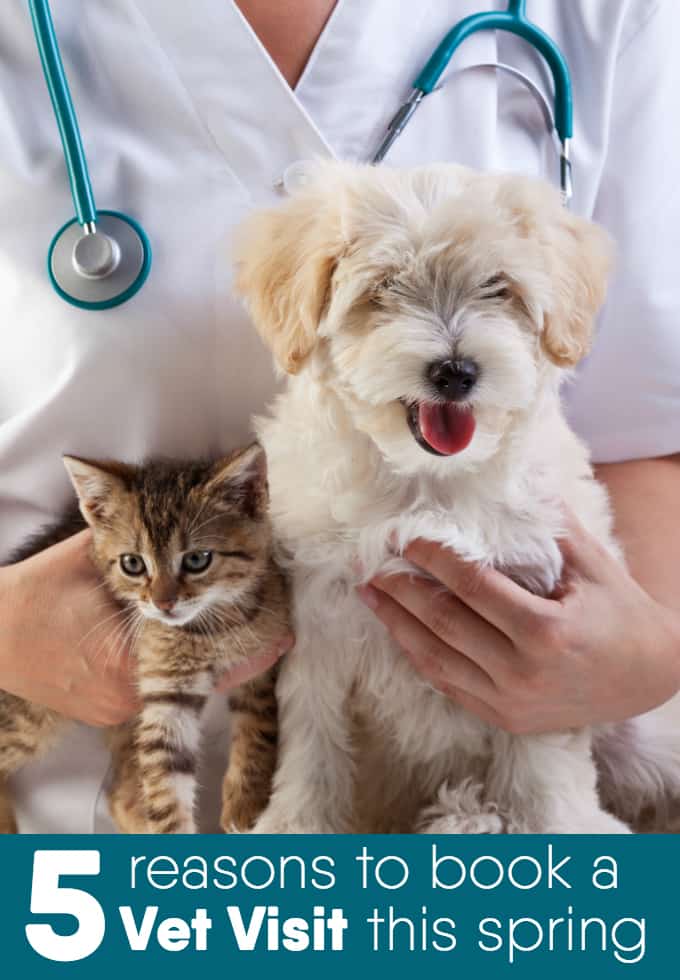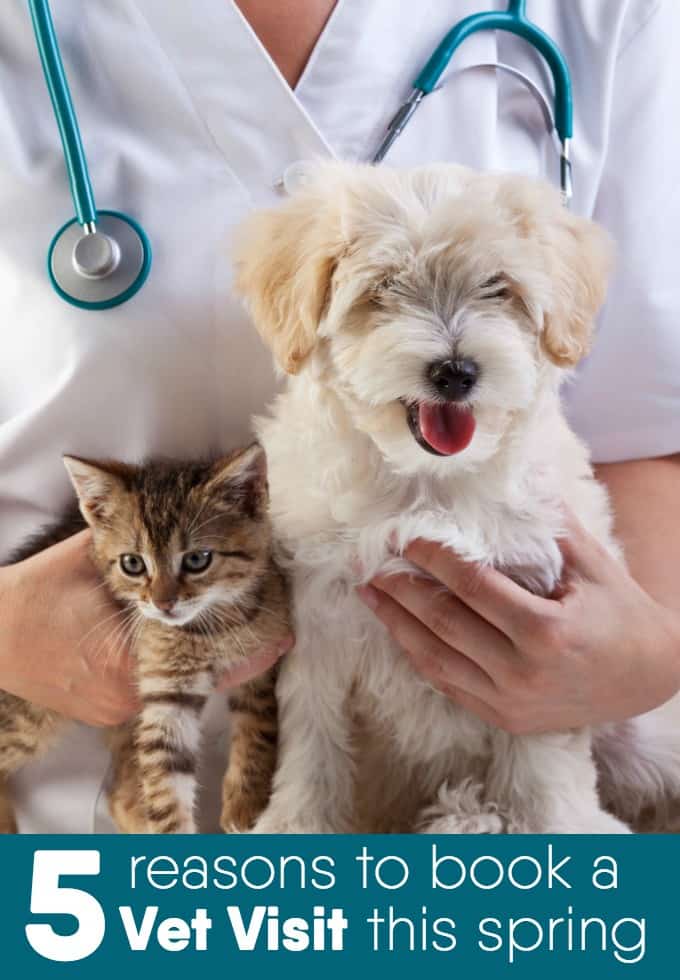 Today I wanted to share my top five reasons why you should book a vet visit for your pet this spring. This list was all items that I addressed with our vet when Reggie went in last week. Princess and Misty, my two female cats, will be next.
1. Check for fleas, worms, ticks and other parasites. Now that the weather is warmer, pets are at increased risk of exposure to parasites. My cats are 100% indoors, but we sometimes have dogs coming over to visit. Spring is peak flea season so it's a good idea to get your pet checked just to be safe.
When we first adopted Misty and took her in to see the vet, she had a tick on her head. The vet extracted it and it was a live bug! Even thinking back to that experience makes my spine shiver.
2. Early disease detection. If your vet discovers a new disease early enough, he or she may be able to stop it before it has a chance to progress. Misty had a vet visit a couple months ago for her teeth and we learned that she had stage one periodontal disease. It was caught early enough that we were able to adapt with some changes to her food and care to prevent it from getting any worse.
3. Weight management. Pets are usually weighed every visit. Reggie was "the perfect weight" and our vet said that she would like to see him stay at this weight for his lifetime. She said she normally sees pets gaining weight as the years go on. We will do our best to keep him active and eating healthy.
On the other hand, Princess, has her appointment scheduled in less than two weeks and I'm nervous about what the vet will say about her weight. She's a big girl and I'm hoping I can get some advice on how to get her to be more active. Obesity is a common nutritional disease in cats and dogs with almost one out of every three pets affected. Princess is one of them.
4. Up-to-date vaccinations. Your vet can advise you if your pet is due for any routine vaccinations. I brought in Reggie's medical records from the SPCA and he needed two vaccinations. One of them was a rabies vaccination which our vet said was required by law in Ontario.
5. Ask questions. I suggest making a list before you go with your questions because it can be hectic when you get to the appointment. Ask the vet about any strange lumps, bumps or behaviour issues your pet may have. I asked about Reggie's ears because he was scratching them and thought he might have ear mites. The vet looked and said they were just greasy and cleaned them out. She said some cats have more "ear wax" than usual. Lucky Reggie!
What I love about our vet is that she is down-to-earth and you can tell she truly cares about my cats' health and well-being. I never feel rushed and can freely ask questions and be given an insightful and easy to understand answer. 89% of pet parents say they are loyal to their current veterinarian and I know that I definitely am. It's always a positive experience.
Almost half of the people surveyed (47%) said they were recommended to their current veterinarian through friends, family or a co-worker. I asked my Facebook friends when we moved back to the area who they recommended. It proves word-of-mouth advertising is the best there is. If you don't have a vet and you live in Ontario, find a veterinarian near you with this handy search tool.
If cost is a deterrent to you bringing your pet in for a check-up, I encourage you to check out the Farley Foundation. It was established in 2002 by the OVMA to help out pet owners who aren't able to afford necessary or emergency veterinary care for their pets. It's worth taking a look at to see who qualifies and what kind of medical care is covered. I had no idea it even existed until recently! It's definitely the kind of charity I would want to support.
I encourage you to call your veterinarian and book an appointment for your pets for these reasons above or any other concerns you have. When was the last time your pet visited the vet?
Connect with the OVMA on Facebook and Twitter. 
Disclosure: I was compensated for this post. All opinions and experiences are my own.