Oreck Air Refresh 2-in-1 Air Purifier & Humidifier
Having a clean home is important to me. I spend time daily tidying up and completing various cleaning chores around the house. Call me crazy, but I find it relaxing. Most of all, I love how a clean home feels.
My house is even cleaner than normal these days. It's not because I'm doing any extra tasks or hired a housekeeper. It's all thanks to my new Oreck Air Refresh 2-in-1 Air Purifier. It gives our family the best of two worlds: cleaner air to breathe and relief from dryness with the help of the ultrasonic humidifier.
It's designed to work best in smaller rooms like bedrooms, nurseries or small living rooms up to 115 square feet. Mine is currently set up in the living room where my "home office" is located.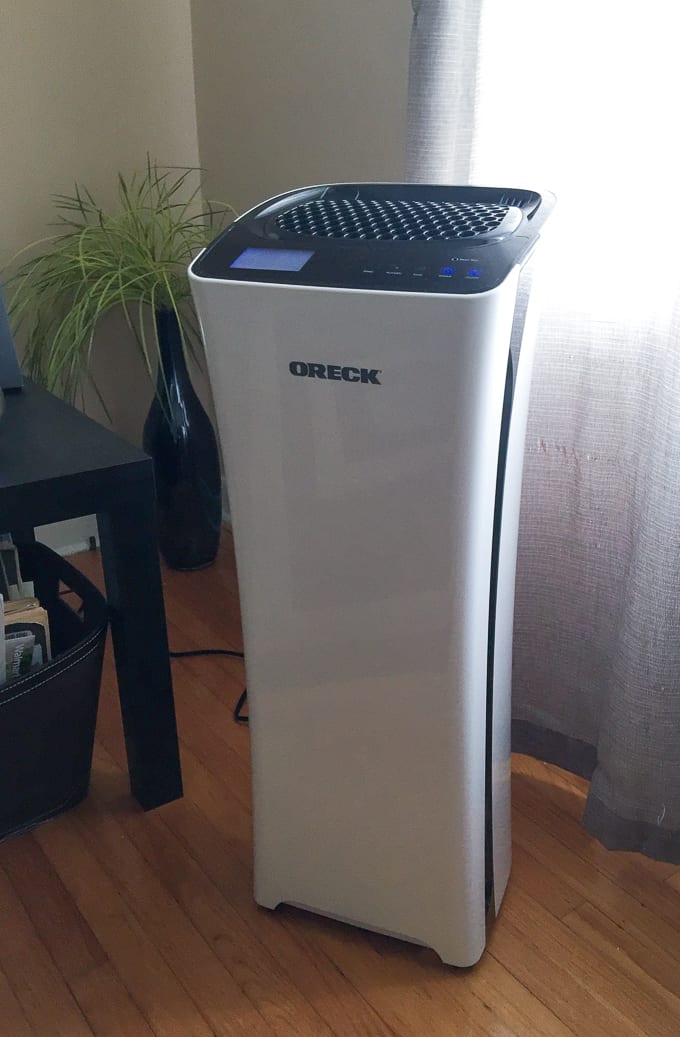 2-Stage Filtration
It comes with a HEPA Media filter that captures 99% of airborne particles down to 0.3 microns from the air that passes through the filter. The filter lasts six months. Our living gets so dusty so this feature is handy to have. It means dusting surfaces less and more importantly, breathing in cleaner air. Breathing in dust is gross to think about.
And it has another filter for the air to pass thorough. The carbon filter helps to remove odours and will last between three to six months, depending on usage. We have three cats in our home who are usually hanging out with me during the day as I work. I often worry that people can smell the cats when they come in my house. I don't notice anything, but I'm probably immune to it. It's nice to have this extra feature to help ease some anxiety.
When you need to replace the filters, pick up the Oreck Air Refresh replacement filter. It comes with two HEPA Media filters and four carbon filters. You'll know when you need to looking at the filter indicator. It will flash red when it needs to be replaced.
Adjustable Humidifier
I like that I can operate the air purifier without turning on the humidifier. It's extremely humid at my home in the Ottawa valley so the air is already quite moist as it is. However, when the cold weather hits again in the late Fall and Winter, I will need the humidifier to combat the crazy dryness.
No hot water is required! Simply fill up the water tank with plain water located at the back of the machine. It holds 1.72 litres and will last 15.6 hours at high speed. Do not use any fragrances in the tank! Just regular water is all you need. The water tank indicator will let you know how much water is left.
Then it's just a matter of choosing your desired humidity level. The unit has a built in thermostat and will keep the room at the level you want without you lifting a finger. It will switch on and off as needed to keep the room at the set humidity level. And yes, it is still cleaning the air at the same time! However, you can't only run the humidifier, but you CAN only run the air purifier.
Lately, my living room is about 49-52% humidity. It will likely rise as we head into summer. I'm curious to see what the humidity levels will be like in January.
Easy to Operate
With the Oreck Air Refresh 2-in-1 Air Purifier you are truly in control of your air cleaning. Simply turn the unit to activate the air purifier and select a speed for the fan (Low, Medium, High or Turbo). Want the humidifier on? Press the Humidity button and select your humidity level. Mist and vapour will come out the small grill behind the control panel. It will turn on and off by itself to maintain the set RH% (Relative Humidity). It's basically a set it and forget it type of product that you don't have to babysit.
Other Handy Features
I wanted to share a few more of the other key benefits.
Noise Free. You can barely hear the unit when you turn it on. Silence Technology® makes it possible. I remember my old humidifier and how loud it operated so it's nice to have one that is discreetly running.
Timer. You can choose to set the timer anywhere between 1 and 8 hours.
Sleek and Stylish. It blends in seamlessly with my living room decor.
Sleep Setting. If you keep it in your bedroom, this is handy. Pressing the Sleep button will turn the fan on low speed and the LCD interface will dim.
Buy It
Pick up an Oreck Air Refresh 2-in-1 Air Purifier & Humidifier at Canadian Tire online or at your local store for $399.99.
If anyone suffers from allergies in your home, the Air Refresh 2-in-1 Air Purifier & Humidifier will be good to own. We sometimes get minor seasonal allergies, but it's usually not too bad. I'm curious to see if it makes a difference for people allergic to cats when they come over to visit. It seems like everyone I know is allergic!
I like knowing it's there running in the background doing it's thing and making the air we breathe cleaner and less dusty.
What is your favourite feature of the Oreck Air Refresh 2-in-1 Air Purifier & Humidifier?
Disclosure: I received an Oreck Air Refresh 2-in-1 Air Purifier & Humidifier. All opinions are my own.