My mom played a huge role in shaping me into the avid reader I am today. I was a fussy child who liked to cry (or so I'm told) and my mom said the only thing that would calm me down was books. I was still an infant, but I was soothed by the stories and would sit calmly captivated while my mom read me book after book. I learned to read on my own at age three and I know it had to be because of all the books my mom read to me. It meant she couldn't skip pages to get to the end of the book because I would know and defiantly inform her of her mistake!
Fast forward to present day and I still read every day. I'm also a mom of two daughters and am working on passing along my intense passion for books to them. I read to them as babies and made sure we had an ample supply of interesting, age-appropriate books available in our home. It's something we can share together as mother and daughters.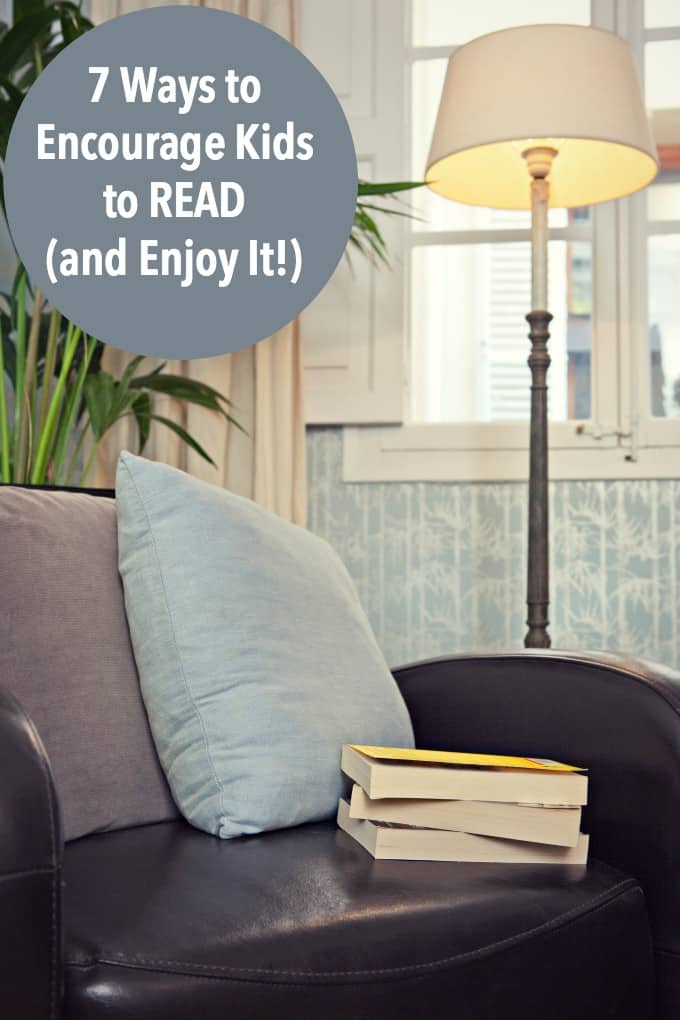 © reading room image via Shutterstock
Today, I'm sharing tips on how you can encourage your kids to read (and enjoy it) and also how you can play an active role in sharing the experience of reading with your child. Reading is an awesome pastime and once you've been bitten by the reading bug, you tend to be a book lover for life.
1. Create a comfy reading nook. Choose an area of your home with good lighting and designate it as your reading area. Make it comfortable with throw pillows and soft blankets and keep a supply of fun bookmarks in close reach. In our home, we use the area beside our bookcases in the family room. It's cozy and room for a couple people to curl up with a good book.
2. Designate a time for reading. If you find your child needs some coaxing to want to read, create a routine. Set a specific day and time for reading and stick to it. Kids thrive on routine and once you get them onto a schedule, it will be easier to get them to do it.
3. Lead by example. I think of the saying, "Practice what you preach". If kids see you reading, they may become more interested in trying it themselves. I let my daughters catch me with a book in hand. Sometimes, it will lead to questions from them about what I'm reading and my older daughter will often read the book after I'm finished.
4. Let kids choose the book they want to read. If it's a book they are interested in, they are more likely to want to read it. Remember in school where you felt forced to read whatever book you were studying? Not so fun, right? Don't force the process and give them lots of choices.
5. Bring in new books regularly. Make it a routine where your child can choose one book he or she wants to read each month and then buy it either online or at a book store. This will help keep your bookshelves stocked with new books that your child will look forward to reading.
6. Read with your child. During the designated reading time, sit down in your reading nook and grab your current book and read too! It's an amazing way to spend time with your child even when there is no talking involved. He or she will appreciate your presence and interest.
7. Read books with a shared theme and discuss what you read. My 11 year old isn't going to want to read the same books as I would and vice versa. However, there are many books that complement each other and can lead to fun discussions about the similarities. It's a bit like starting your own book club where everyone reads the same book and talks about it afterwards.
I have a few recommendations on book pairings for mothers and daughters with complementary themes and discussion ideas so you can implement this new reading strategy!
1. Sisters of Shiloh by Kathy & Becky Hepinstall (mom) & Undertow by Michael Buckley (daughter)
The main characters are involved with a war and have hidden secrets
Discussion of the strength of a bond between two women
2. Dietland by Sarai Walker (mom) & UnSlut by Emily Lindin (daughter)
Discussion of beauty standards and how they can impact women of all ages as well as the pursuit of the perfect body
The expectation of looking a certain way online and how online personalities no longer match real life
3. Rosemary by Kate Larson (mom) & This Raging Light by Estelle Laurie (daughter)
Discussion of women feeling unwanted by their families and how it shaped their perception of the world
A look at the imperfection of characters and how it makes you feel for them even more
The theme of secrecy and the stress of keeping the situation out of the public eye
4. Queen of the Night by Alexander Chee (mom) & When Mischief Came to Town by Katrina Nannestad (daughter)
A look at orphans and their struggle to find a home and how they found solace in the most unlikely of characters
Discussion of betrayal and theft and how they can impact a friendship
The experience of moving to a new and foreign area and the adjustments required to fit in
5. Fast into the Night by Debbie Clarke Moderow (mom) & Ice Dogs by Terry Lynn Johnson (daughter)
The theme of characters getting lost along the way and having to overcome challenges
A look at the strength of the relationship between musher and the dogs
6. Deep by James Nestor (mom) & The Art of Not Breathing by Sarah Alexander (daughter)
A look at how much the characters discover parts of themselves under water
How relationships are formed with people only due to the shared love of free diving
Learning about the incredible strength that our bodies possess
Reading is a wonderful way to bond with your child. Implement these tips and make it a family affair. Raise a reader and have fun in the process!
Do you have any other reading tips to add?
Connect with Houghton Mifflin Harcourt on Facebook, Twitter, Instagram, Pinterest and YouTube. 
Disclosure: I was compensated for this post. All opinions are my own.