Vaseline to Dry Skin's Rescue
Dry skin is my nemesis—especially this time of year. I swear, as soon as the colder weather hits, my skin knows and protests. And it's not an issue I can ignore and hope will go away on its own. Believe me, I've left it alone before and paid the price. Think dry, scaly, cracked and sometimes bleeding skin. It's not a pretty sight!
Thankfully, I have the healing power of Vaseline in my skincare arsenal. Vaseline is a brand that has stood the test of time and has been around for over 100 years. It's been a staple in my bathroom medicine cabinet for as long as I can remember!
When someone mentions the word Vaseline, what is the first product you think of? For me, it's Vaseline Jelly. I remember my mom using it during diaper changes for my new baby sister back in the early 80's. I used it with both my daughters, too.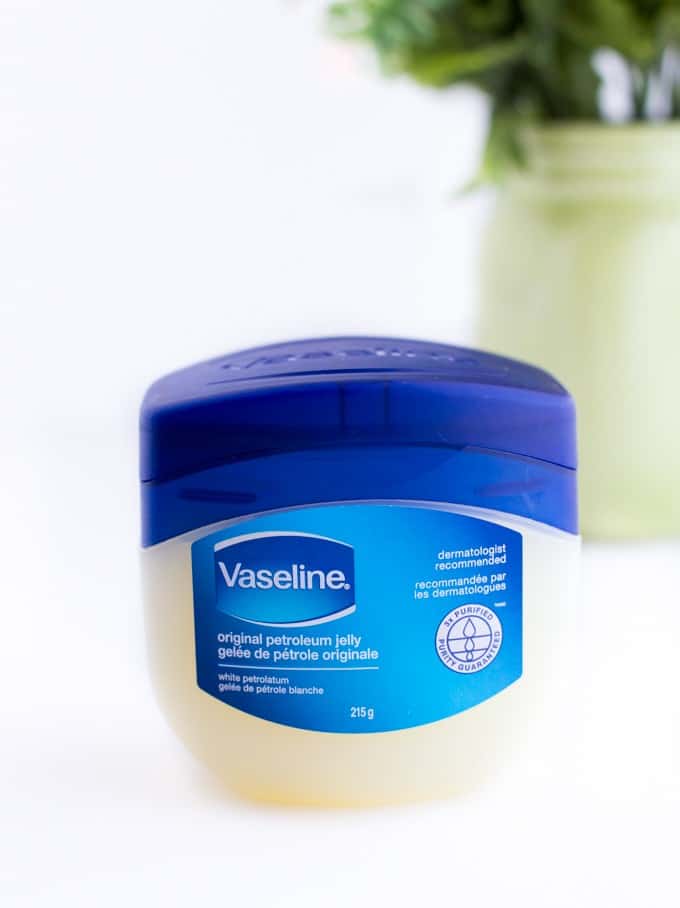 Fast forward to today and I'm still using Vaseline Jelly, though not for diaper changes! Turns out this versatile product has many uses. My favourite use is on my feet. I have horribly cracked and dry heels and sometimes develop small cuts where the toes meet my foot. You know your skin is super dry when it bleeds! I found an easy fix though, and all you'll need is Vaseline Jelly and a pair of socks: Apply Vaseline Jelly to both feet at bed time and then put on a pair of comfy socks. It protects and locks in moisture to help your dry skin heal during the night while you sleep. I'm always amazed at the difference in my feet in the morning! They look and feel 100 times better!
After my marathon cleaning sessions, my hands feel terrible. Yes, my house looks amazing, but I'm personally paying the price. They feel dry and irritated and if they could talk, I'm sure they'd say, "Help me!" I love using Vaseline Intensive Care Advanced Relief Repairing Serum to soothe and calm my skin. It offers up to a 10x improvement in dryness over time as compared to untreated skin, and moisturizers with its three key ingredients that work together to promote healing. It's also non-greasy and absorbs instantly. I can picture my skin having a big gulp of the moisture it provides. The pretty, feminine scents of rose and amber are an added bonus.
I noticed a big improvement in the appearance of my skin after I started applying Vaseline Intensive Care Cocoa Radiant Lotion after my showers. It contains pure cocoa butter to moisturize skin and leave it feeling soft and smooth. Another perk is that it brightens dull-looking skin. It helps to give my skin a natural glow that tends to fade during the cold winter months. John, my husband, has even noticed how soft my skin is now and has asked what I'm doing differently. I gave him the bottle and told him to try it too!
When my teen daughter came home from downhill skiing with dry patches of wind-burnt skin on her cheeks, I knew right away which product to try: Vaseline Intensive Care Advanced Repair Unscented lotion. It's safe for her sensitive skin and will help to relieve the dry, itchy red patches. She was worried that her face would still be a red mess at school on Monday and was happy to see how quickly the lotion worked to relieve the dryness. By the end of the weekend, we could barely notice the spots. It lives up to its promise to moisturize and heal very dry skin in 5 days. In Olivia's case, it didn't take that long to clear up.
If you suffer from eczema, you'll be happy to know that Vaseline Intensive Care Advanced Repair Unscented lotion is accepted by the Eczema Society of Canada.
Have you heard of The Vaseline Healing Project? It's proving that even a small gesture can have a huge impact. In this case, a regular jar of Vaseline Jelly is making a difference in the lives of people living in places affected by political unrest, natural disaster or extreme poverty. An ordinary cut or scrape has the potential to turn into something life-threatening and it's important for people everywhere to look after their skin.
Vaseline has partnered with Direct Relief to deliver dermatological care, medical supplies and Vaseline Jelly to help people in these crisis ridden areas.
1 Vaseline Purchase = 1 Donation Towards Healing.
What this means is each purchase of any Vaseline product will support this amazing partnership and help out those in need. Vaseline donates a portion of the proceeds of each sale towards The Healing Project up to a maximum of $100,000. It's a win-win situation. Heal your families' dry skin and help out others in the process.
Vaseline® believes that with deep-healing moisture you can transform dry skin into healthy-looking skin. We know this because we are one of the original skin experts, helping to safely heal dry skin for over 140 years in North America. Today, micro-droplets of our Vaseline® Jelly can be found in all Vaseline® products. Vaseline® doesn't just make skin feel soft and smooth instantly, but absorbs deeply into dry skin and moisturizes to heal from within. For more information about our product offering and The Healing Project, visit www.vaseline.ca.
Disclosure: This post was brought to you by Vaseline via Mode Media Canada. While product samples and compensation were provided, all opinions expressed herein are those of the author and are not necessarily indicative of the opinions or positions of Vaseline.