Recipe videos are EVERYWHERE! I spend more time than I should on Facebook and often find myself watching these short, fun recipe videos shared by the huge food pages. I've made recipe videos in the past with iMovie, but they tend to take me hours to put together. Needless to say, I haven't made many up until the past couple weeks. It's all thanks to a new app I discovered randomly googling! With the Replay app, you can make a recipe video in five minutes. Seriously!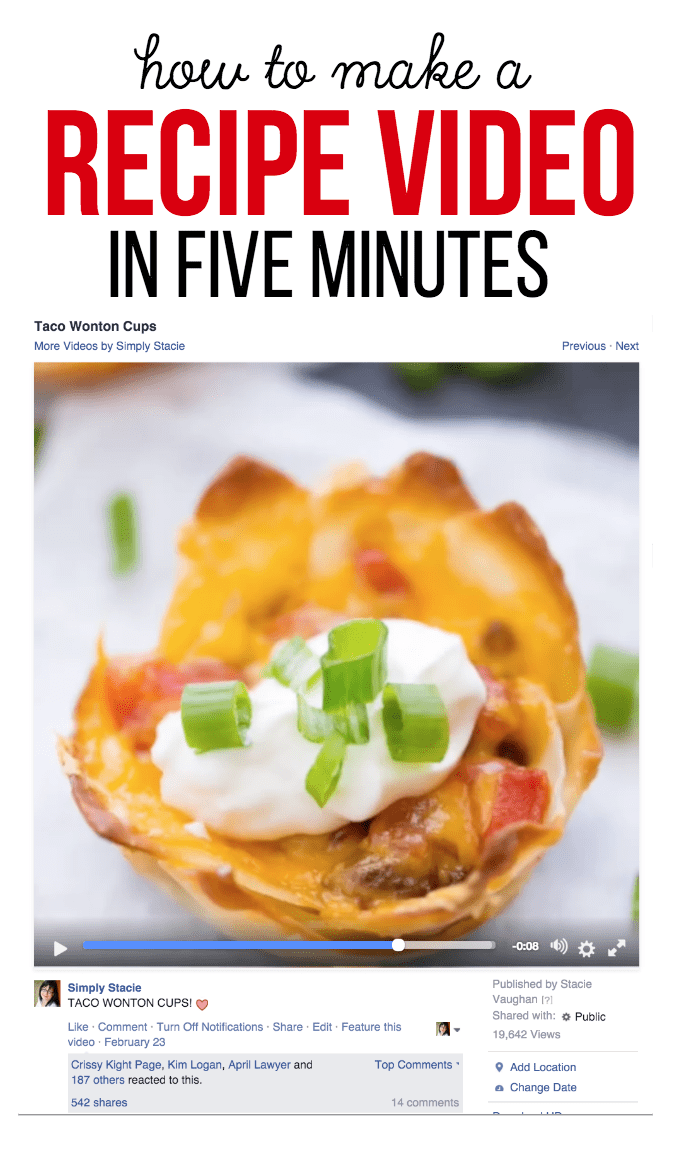 Get the Replay App
And I'm going to show you just how easy it is to do! First off, you'll need to download the Replay app on iTunes. I have it on my iPhone, but it's on iPad too. Unfortunately, it's not on Android. Boo! If you have access to an Apple device, keep reading! Updated to add: try VideoShow on Android or Stupeflix on your computer.
The app is free to download. It has in-app purchases to unlock special features like extra video styles and to remove the logo. I paid to unlock everything and it was worth every penny. It cost me $6.99 + HST.
Making Your Recipe
When you are making your recipe, keep your phone handy to snap photos throughout the process. I like to get overhead shots so it focuses just on the ingredients and process and not on my messy kitchen. I select Square when I take the photos so I won't have to crop later on for my video. It saves me an extra step.
I always do an after shot with my DSLR because I'm planning to post the recipe on my blog later on. Then, after I edit my photos, I'll email the final shots to myself and crop them into a square.  However, you could keep things easy and use a phone photo. Phones take pretty nice pictures these days!
Making the Video
Once you have all your photos ready in your camera roll, you can begin! Open the Replay app and touch "Create".
You'll be able to choose from all the media on your phone. I stick to the camera roll only for this app, but you can venture into video clips too if you like! I find using the still photos the fastest and easiest to use.
Select the photos you want to include in your video and click OK. Note: if you can't find a photo that you KNOW is on your phone, scroll to the end of your camera roll. I had this happen to me and found the one I was looking for at the end. It organizes the photos by date they were taken.
The Replay App has 20 video styles to choose from with the paid version (I recommend it!). You'll get to know your favourites. I like Grammy the best.
Once you've selected your style, touch the controls (as shown above on the Grammy icon) and you'll be taken to the area to tune your style. Here you can change the font, add a filter or a graphic. I normally only change the font and don't touch the filter or graphic.
Now you are ready to edit your video! Drag the photos into the order you want them to show up in. Normally this would be the order of the recipe steps.
If you touch each photo, you'll be given a few options to edit the frame.
The first option, the square, as shown above, allows you to set a focus point. I usually don't do this part, but it's there if you want to try it out. The second option is to add text to your frame. The third is to duplicate a photo and the last one is to trash it if you made a mistake.
Want a title on your video? Easy peasy. Just tap the + sign at the top and choose the text icon. The triangles will let you add another image if you forgot one!
I typically put the title of my recipe here at the start so people know what they are watching.
Once I've got my title ready and pictures in the order I want them, I'm ready to add my instructions.
Simply tap the photo and select the text icon and start typing. I try to keep mine as short as possible.
After adding instructions, it's time to find a catchy tune to accompany your video. Click the Music Note to be taken to the music section and hit Change This Music at the bottom of your screen.
You have the option of using the Replay app's featured music or selecting your own music on your device.
I was using the Replay app's music, but have now started using my own. I have royalty free music on my phone that I can use to create videos and share them legally on social media. Read this post on licensing rights on the Replay app page for more info.
Now that you have your music selected, choose your format and pace by touching the wrench.
I keep my videos in the square format for Facebook. See how it also will fit your video for Instagram too? So cool.
For pace, I usually pick Faster since I don't want the video to be too long. If you have a lot of instructions though, you might want to choose Normal so people can read everything.
Once you are satisfied with how your video looks, share away! I save mine to my photos to keep the video on my phone. Then I'll send it to my email or Air Drop on my Mac. You could upload it right to Facebook from your phone if you like. I'm weird – I like to upload from my laptop versus my phone.
After you've done a couple videos, the process will become super quick. I can whip up an easy recipe video in five minutes on my phone. I've timed myself just to be sure!
All the videos on my Facebook page from Taco Wanton Cups on are made with the Replay app. This video below was the first one I made with the app.
TACO WONTON CUPS! <3

Posted by Simply Stacie on Tuesday, February 23, 2016
I've been doing a video with just about every recipe I'm making now because it's so darn easy! It may not be the fanciest thing, but I think it works and people seem to like them.
Have you made a recipe video? If so, which app do you use?