Coconut Shea Butter Soap
Making my own DIY beauty scrubs inspired me to branch out into other beauty products. I've always been intrigued about soapmaking, but figured it was too complicated. I pictured myself stirring a huge vat of chemicals on a stove trying to not burn the house down. Little did I realize is that there is a simple way to make your own soap. The answer is melt and pour.
It's as easy as it sounds. Pick up some soap base at Michael's or online on Amazon. Melt the soap cubes in your microwave, add some fragrance and/or colour, pour into a soap mold. Boom. Handmade soap. It's really that easy.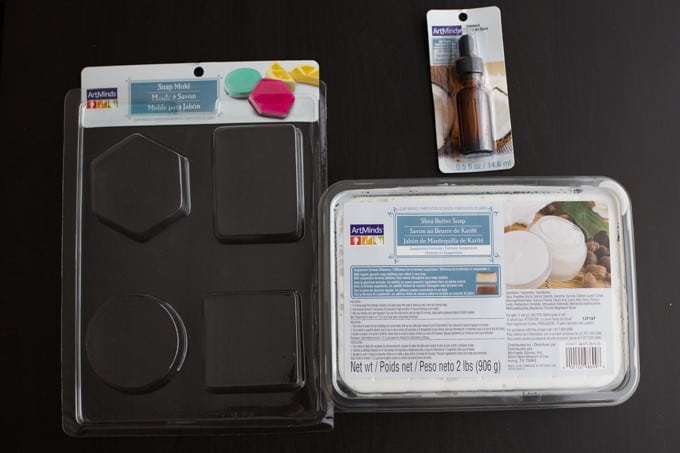 And if I can make my own soap, then anyone can. Michael's had a variety of melt and pour soap bases to choose from. I started off with shea butter to help soothe my dry, winter skin.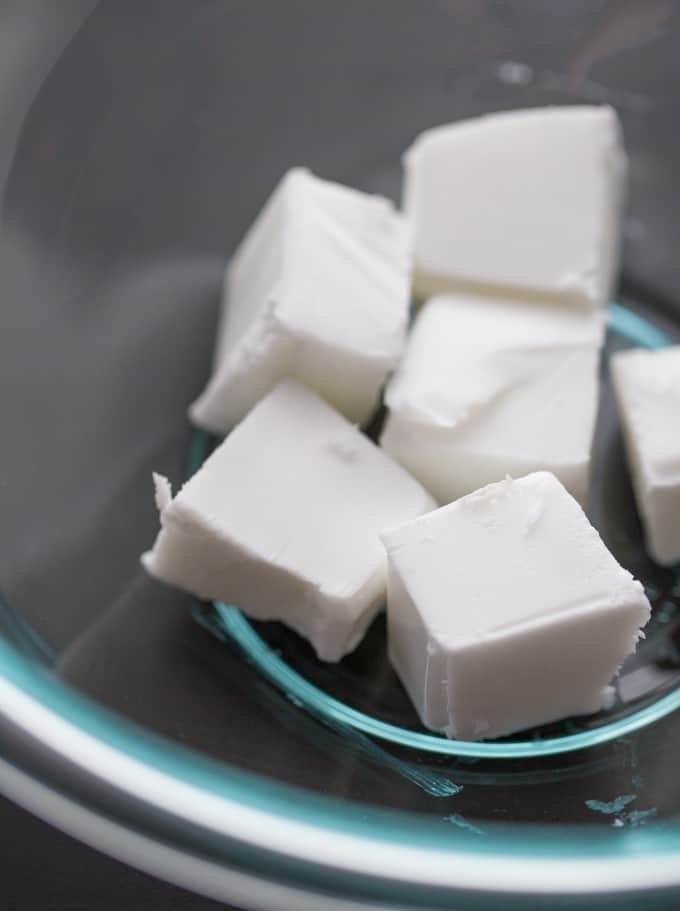 They also have soap fragrances at Michael's. I picked up the coconut scent so I can close my eyes and be whisked away somewhere tropical and warm.
A friend of mine mentioned coconut extract. That might be another option if you can't find coconut soap fragrance.
This post contains affiliate links.
The soap mold I used was purchased at Michael's. It's plastic and has four different shapes. I really wanted a silicone soap mold, but they didn't have any. I'm planning to order one on Amazon so I can have uniform shapes.
After you've poured your soap mixture into the mold, let it sit on your counter for about 40 minutes to an hour. I was surprised how quickly it was ready!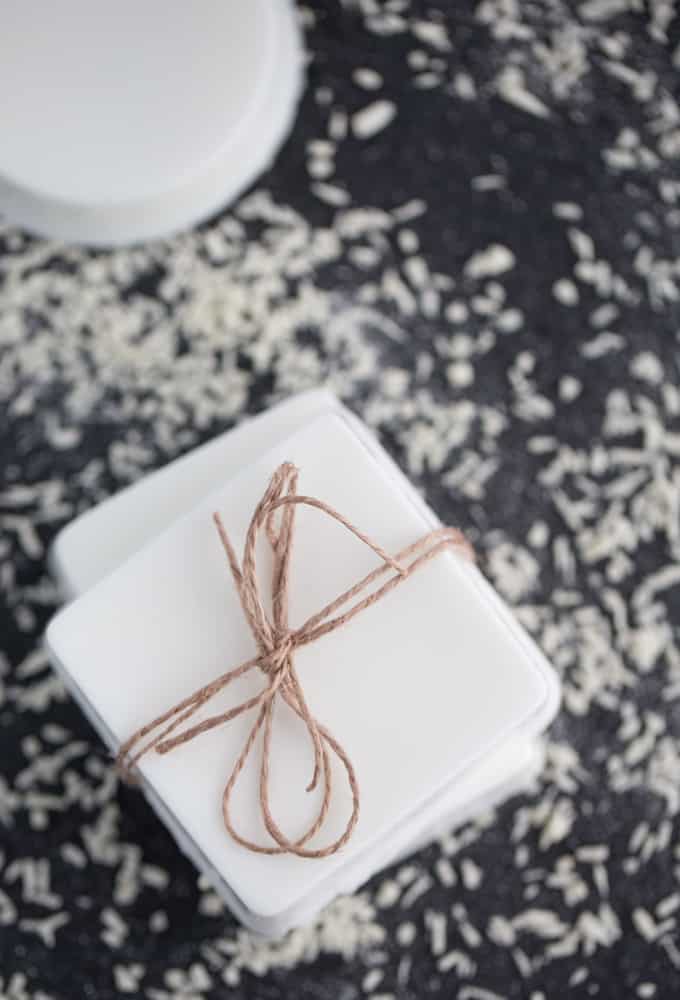 It was a bit tricky to push the soap out of the plastic mold. You have to play around with it and push up on the base for it to release. Thankfully, mine came out perfectly without any breakage.
Coconut Shea Butter Soap
In a microwaveable bowl, add your cubes of shea butter soap base. Microwave on high for 30 seconds. Microwave an additional 10 seconds and check to see if it's melted. Repeat for another 10 seconds until it's melted. Stir.
Add in drops of Coconut Soap Fragrance and stir. Carefully pour into soap mold. Let sit for 40 minutes to an hour before attempting to remove it.
To remove, carefully push on the bottom of the mold until the soap releases.
I used two rows of the melt and pour soap base to make these four soaps. The recipe below is broken down into one soap in case you don't want to make a ton. It also depends on how big your soap mold is if you'll need less or more of the soap base.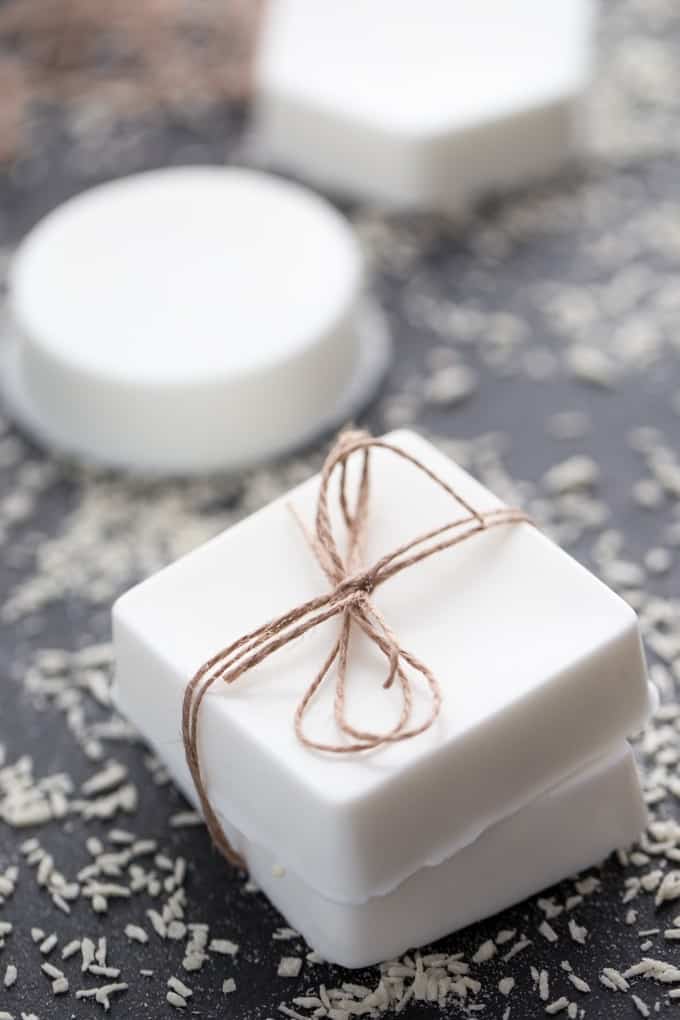 If you are planning to give the soap as gifts, buy some jute or twine and wrap it up. They sell cute little mesh bags at Michael's for gift giving. I ended up storing ours in a plastic sandwich bag though. Nothing fancy here!

The soap smells heavenly! It gives a nice, rich lather that makes my skin feel soft and smooth. I had fun with this little soapmaking project and I'll most likely end up doing more! Don't worry, I promise to share the fun with you so you can give it a try too if you like!
Have you ever made your own soap?