It may be cold outside, but that doesn't mean we should hide away inside. In fact, winter is an awesome time to get outside and rediscover nature. Obviously, you wouldn't want to go outside when it's -25°C or blizzard conditions. When it's sunny and the temperatures are more reasonable, it feels invigorating to take a deep breath of cold, clean air. There are many memories to be made in the winter months!
When I think back to my own childhood, I fondly remember how much fun we had on our family snowmobiling excursions. We lived beside a huge field and bush. The whole family would hit the trails and spend hours outside. My dad used to pull a sled behind his snowmobile and I remember cuddling up with my sister and singing Whitney Houston songs as we blazed up and down the trails.
I wish we still owned snowmobiles because I'd love to be able to take my own girls out on those same trails. However, we are enjoying winter in other ways and it's still just as fun.
For starters, we live about a three minute drive from the biggest hill in town where everyone goes for sledding. Mother Hill, as its called, is the perfect spot for riding the slopes on your toboggan. We love going there as a family. They love the speed they can get going down the hill. It kind of scares me a little. I'm not as brave as I once was! It's fun to see the joy and squeals of delight on my daughters' faces! The only thing they don't like is the long walk up the hill. Let's just say that it's a workout!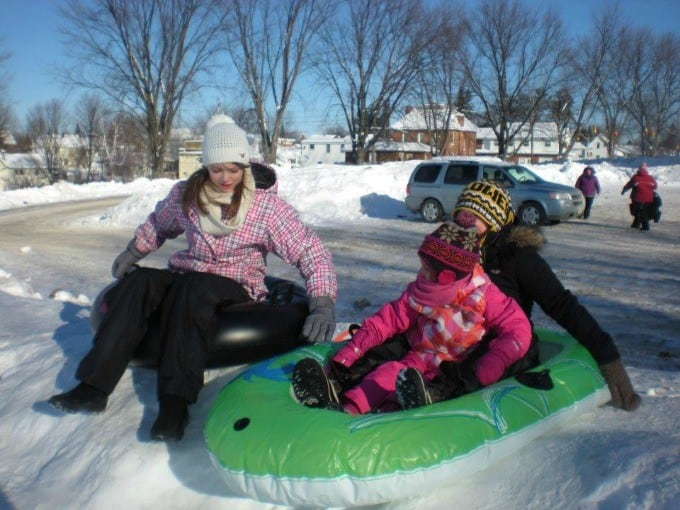 Some other fun winter outdoor activities we enjoy are skating and ice fishing. Bridget is in her second year of playing hockey and loves to show off her new skills. My dad often comes along to help her practice. He still plays hockey every week at age 62.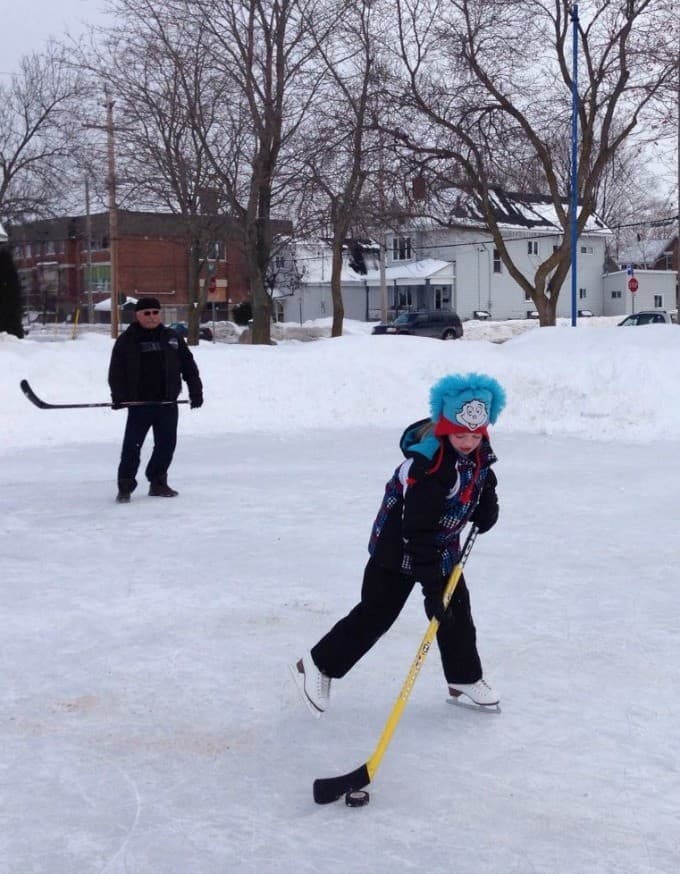 We haven't gone ice fishing this year yet, but are hoping to soon. One of our friends has a shack and left us an open invitation to join his family for a few hours. Maybe we'll get lucky and catch a nice big fish!
I think it's so important for my kids today to have the opportunity to spend time together as a family in the outdoors. Though it's easy and convenient to hide away in the house under the covers with our screens, it's not that memorable. These fun winter activities are things they'll remember for years to come just like I remember my family time 30+ years ago.
I've talked about Nature Valley's Rediscover Nature campaign a few times before. They are asking Canadian families to put away the devices and go outside together and do something fun. Go tobogganing, snowmobiling, ice fishing like us. Or how about skiing or snowshoeing? Those are fun winter activities that we also enjoy. Even a simple walk around the neighbourhood or go out in the backyard and make a snow fort. There's many ways you can make memories outdoors this time of year.
I encourage you to watch Nature Valley's mini-documentary film. They ask three generations to share their favourite childhood memories. You may be surprised by the answers and it will definitely give you something to think about. I know for me personally, it did!
What are some of your favourite winter outdoor family activities?
Disclosure: I was compensated for this post. All opinions expressed are my own.