My hubby and I often say that we should do more "date nights", but then never getting around to planning any. Before we know it, months have gone by and we haven't gone anywhere. I'd like that to change and make our couple time more of a priority. However, the one night a year we never skip is Valentine's day and it's coming up soon!
Because I'm a planner and pride myself on organization, I've already got a game plan in the works – for my own personal Valentine's day preparations. It's a special occasion and I want to look and feel my best for our special evening.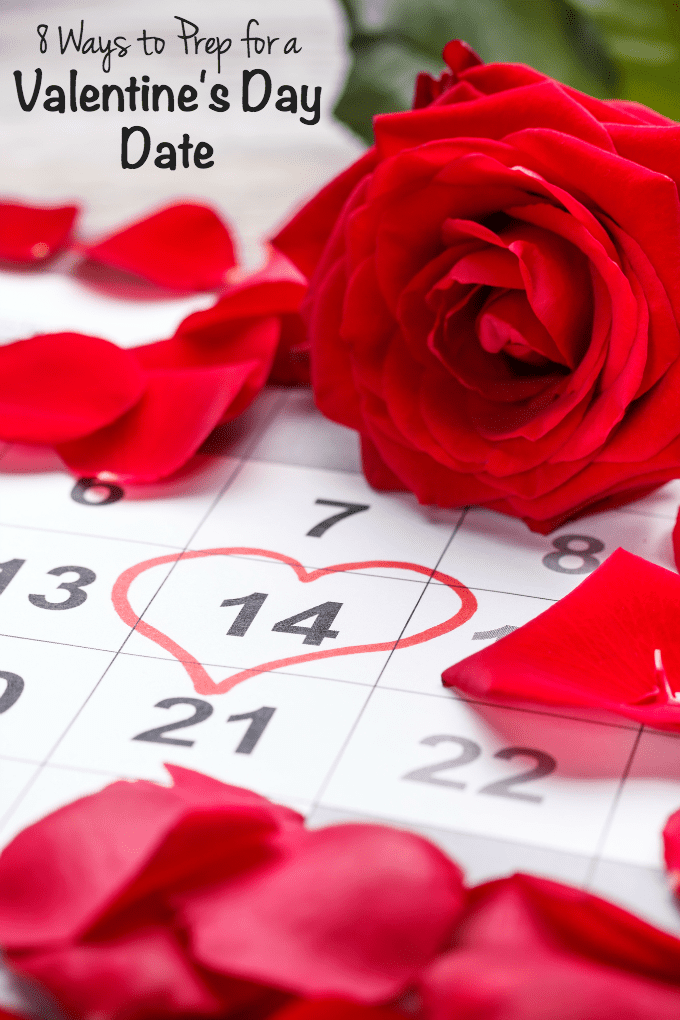 I'm sharing my prep plan with you today! Here are 8 ways I'm getting ready for the big day.
8 ways to prep for a Valentine's day date
1. Relax in the bath. Though I love to have a shower because it's quick, baths are so much better to soak away all your stress. Add some epsom salts to the water to help soothe sore muscles and feel your worries melt away.
2. Splurge on mani/pedi. I booked an appointment at a local spa to get my hands and feet looking presentable. Right now it's hangnail city! It's nice to treat yourself every once in a while. I'm looking forward to soft and pretty fingers and toes!
3. Try an at-home facial. Though you could go to your local spa and have a facial done, I prefer to do one at home to save on the cost. Plus, I'm already splurging on a the mani/pedi. My at-home facials usually involve a mud mask for a deep clean and remove any impurities. Note: do this a few days before your date so your face isn't red!
4. Pamper your skin. Use your favourite razor and the new Skintimate Skin Therapy Silky Skin Shave Gel for soft, silky skin!. I've been using Skintimate shave gel for as long as I can remember. It's a must for me to keep razor burn at bay and leaves my skin looking and feeling amazing.
5. Get kissable lips. For soft, kissable lips, try this DIY lip scrub made of sugar, coconut oil and raspberries. Add it as an extra step when you are doing your facial.
6. Bring out the scents. Use your favourite scented body lotion and rub it all over your skin after your shower or bath. John always remarks that I have the softest hands ever and that's my little secret. My fave scents are the fruity ones!
7. Watch your breath. A case of bad breath is a total mood killer. Stash a pack of breath mints in your purse to use after a meal or when you need a little freshening up. A minty mouth is better than smelling like a pair of old socks!
8. Don't forget your bikini area. You've done all this work to get yourself ready for your special date night. Make sure you tame your bikini area too! I recommend using Schick TrimStyle razor and bikini trimmer for a smooth, hydrating shave. It uses a water-activated moisturizing serum to hydrate your skin and replenishes your skin's natural moisture after shaving. It's also comfortable to use with its five curve sensing blades with unique skin guards – a must, in my opinion, for this sensitive area! Because it's waterproof, you can use it in or out of the shower. Pick one up before Valentine's day at your local grocery, drug or mass retailer across Canada for an SRP of $13.99.
Schick recently conducted a survey, the Hydro Schick TrimStyle Report, where they asked Canadians about their preferences in the bedroom. I'd say that is pretty fitting for Valentine's day! Some of the findings were quite interesting.
23% of Canadian women said they would consider trimming a heart shape in their bikini area to surprise their partner for Valentine's day while another 10% said they would trim in the shape of their partner's favourite sports team logo. I love the heart idea and have my Schick Hydro Silk TrimStyle razor to get the job done.
84% of Canadians prefer their own bikini area to be groomed and neat while 73% prefer their partner to be the same way. On the flip side, 9% responded with the "the hairier the better!". To each their own is what I say.
9 out of 10 Canadian women regularly maintain their bikini area. 43% go for the full on Brazilian, 34% prefer the classic triangle while 14% sport the landing strip.
With a little bit of planning ahead, you can knock your partners socks off with how great you look! More importantly, you'll feel good inside and out. I think that is what matters the most!
How will you prepare for your Valentine's day date night?
Disclosure: I was compensated for this post. All opinions expressed are my own.