Sleep Comfortably with a GoodMorning.com Luxury Mattress
Every night I follow the same bed time routine. I spend about 30 minutes to an hour in bed before I fall asleep. I read, listen to a podcast or sometimes play Candy Crush to unwind from the day. I look forward to these quiet moments. Eventually, I'll feel my eyes start to get heavy and want to close. I know that's the time to put down the book or turn off the podcast and fall asleep. It feels almost luxurious to fall asleep when you are super tired.
You spend 1/3 of your life sleeping (how crazy does that sound!?) so comfort is key! I spent several years sleeping on an old mattress with springs ready to pop out and a big hole that my dog ate out of it. Back then, my bed was not my oasis and I spent as little time in it as possible. Getting a new mattress was life changing and worth the investment. Sleep matters. Comfort matters. YOU matter.
This post contains affiliate links.
Today, I'm sharing information and my thoughts about the GoodMorning.com luxury mattress, a supremely comfy and affordable option to my sleeping woes. I look forward to the end of the day so I can crawl into bed and feel the stress leave my body! It's my oasis.
The neat thing about GoodMorning.com is that you buy it online! This was my first opportunity trying out a mattress online and I was impressed with how simple it was to select what I wanted and set up in my home.
Here's a quick look at some of the key features of the GoodMorning.com Luxury Mattress:
Made of high quality ultra-dense memory foams with designer-grade fabrics
Has an ultra-soft washable top cover
Comes in three firmness levels: Soft, Medium and Firm
Has thousands of vertical air channels to keep you cool while you sleep
Option to try Comfort+, a layer of firming or softening foam that easily integrates into your Novosbed luxury matress, to achieve the perfect level of comfort
Made in the USA and certified by CertiPUR-US
15 year warranty and 120 night sleep trial
Free shipping and free returns
GoodMorning.com ships to USA and Canada via FedEx ground service. I wasn't sure how it would look when it arrived because I've never ordered a mattress online before. We got the GoodMorning.com Luxury Mattress in Medium Firmness. Yes, there is a queen sized mattress in this big box!
Opening it up, we saw the mattress wrapped up securely in plastic. There was also an instruction envelope that was attached to the insert in the box detailing how to set it up.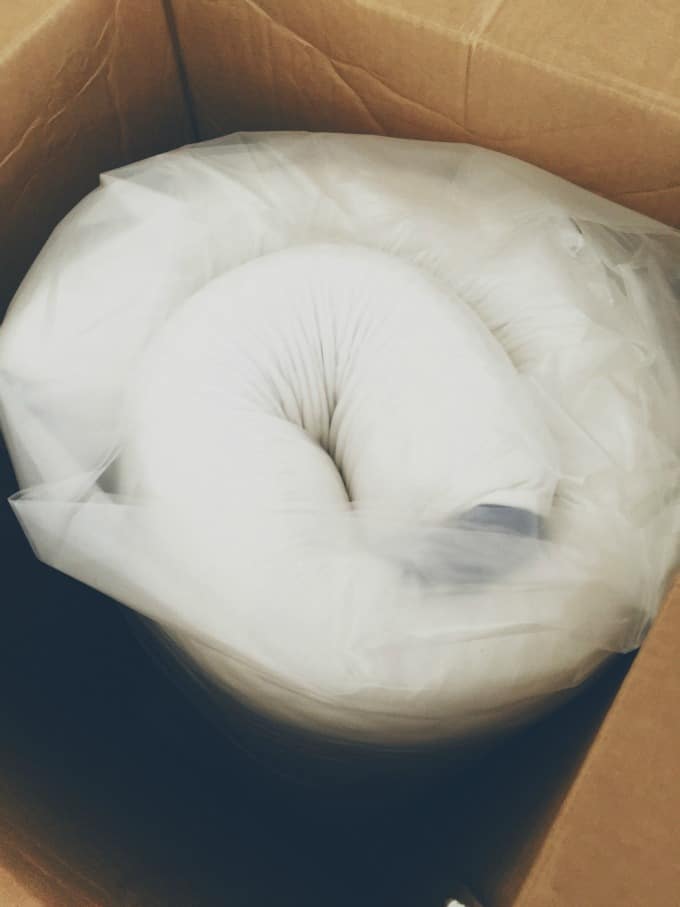 The box was heavy for me so I enlisted John's help. We brought it into the master bedroom and tipped it over on its side.
Carefully cut the plastic, taking care to not cut the mattress. Save the plastic in case you need to make a return.
Here's what it looks like when you cut away all the plastic. The decompression starts immediately!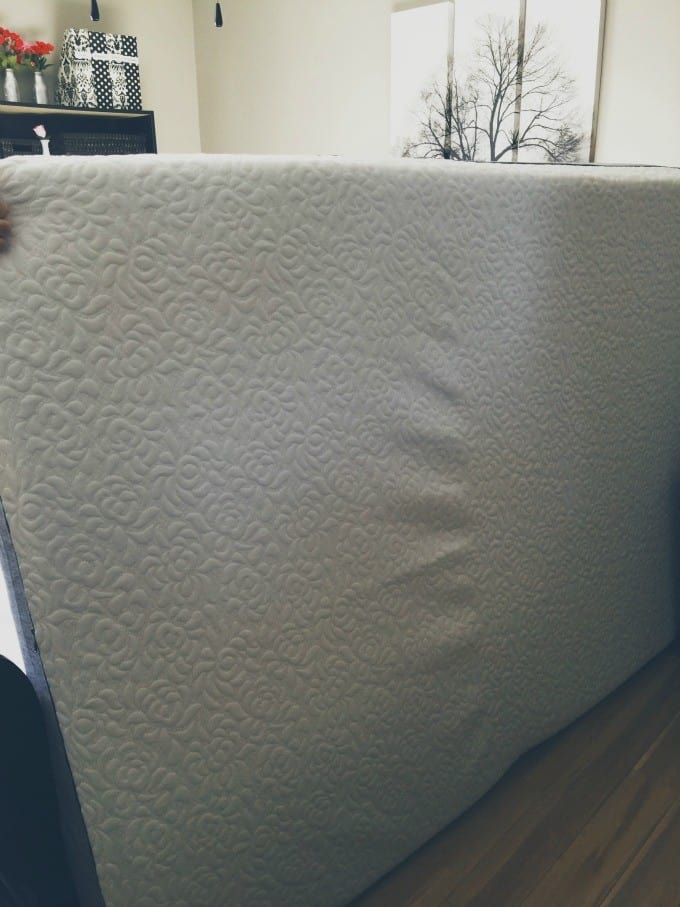 The mattress is ready to use in five minutes, but can take up to 48 hours to fully expand. We set it up in the afternoon and slept on it the same night.
The top cover is an ultra-soft stretch-knit top cover. A HUGE plus for me is that it is removable and washable! It's quick and easy to freshen it up and make it look and feel like new again.
John sweats like crazy at night and has stained our old mattress a gross yellow. I hated looking at the big stain when I changed the sheets.
It's very soft and I could have gotten away with NOT putting sheets on it if I really wanted to.
See the zipper? That's what how easy it is to remove.
John has a bad back so I carefully considered which level of firmness to select. I didn't want something too soft or hard. He's picky so it was a decision I wasn't taking lightly. I settled on Medium firmness which turns out to be the most popular mattress option among GoodMorning.com customers. Its 11″ total thickness consists of 2″ Ultra-Dense Airflow Memory Foam, 2″ Ultra-Dense Memory Foam and 7″ Premium Support Foam. Thankfully, it turned out to be the right choice for us offering the right amount of support and plushness. Like the fairytale, Goldilocks, it's "just right".
I noticed the mattress sat a little lower than our previous mattress. Our Comfort+ Kit arrived the following week and brought it back up to the regular height we were used to.
Comfort+ is a layer of firming or softening foam that helps you acheive your desired firmness or softness. Best of all, it's free! After you buy your GoodMorning.com luxury mattress and try it out and decide you need to tweak it a little, let GoodMorning.com know and they'll ship you this Comfort+ kit.
The instructions are found right on the box and it takes about two minutes to set up.
Put the foam layer in the zipper sock. Then unzip your mattress top cover and lay the Comfort+ layer on top.
Zip the height extender on and zip up the mattress. We added instant height and a bit more softness. Now, it's the same height as our old mattress.
It was nice of GoodMorning.com to have this option for customers! It takes some of the stress out of buying a mattress online. With the 120 night sleep trial, it really is risk free. It can sometimes take a few days to a few weeks to adjust to a mattress and know if its the right one for you. Having this time to test it out is crucial and I love that GoodMorning.com has such a generous trial period for customers.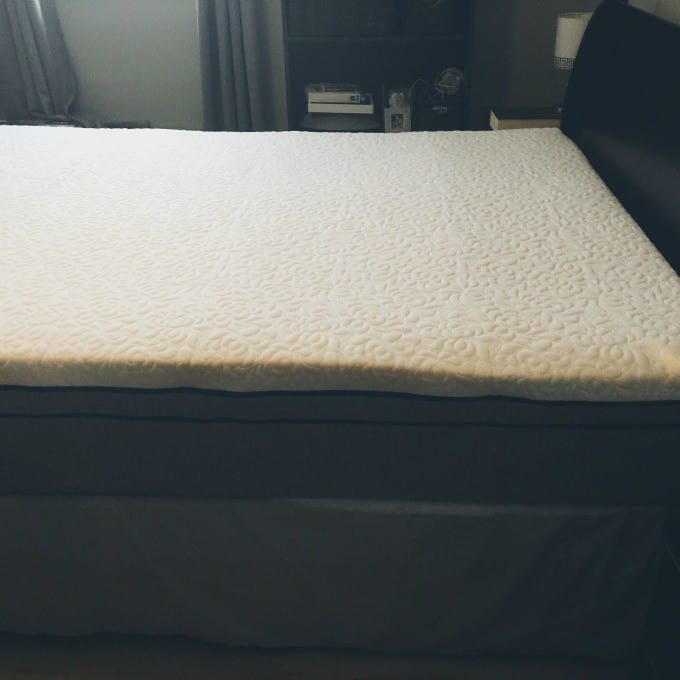 We've been using our GoodMorning.com luxury mattress for the past few weeks and have adjusted well to it. It's a million times more comfy than our previous mattress and I've been sleeping like a baby. No more tossing or turning trying to get in the perfect position. It's nice to lie down in bed and fall easily and peacefully asleep.
John, the picky one, wasn't sure at first. He took a little longer to adjust than me with his back issues. We found the perfect balance for him after we added the Comfort+ layer. He says its just the right amount of softness/firmness to cradle his sore back muscles. I'm happy that we found a sleep solution that works for both of us!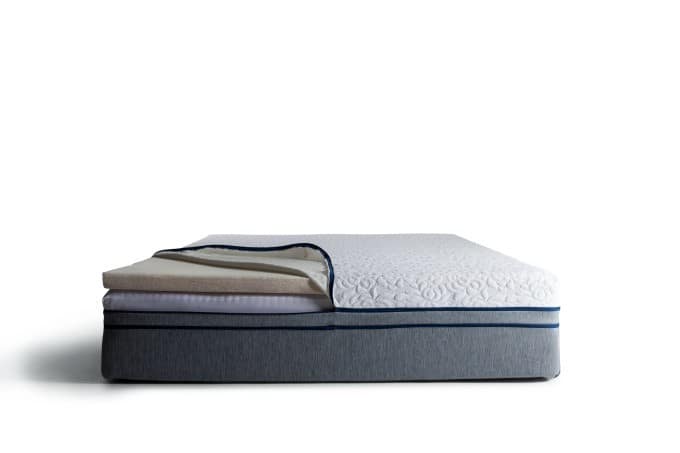 Good news for my fellow Canadians. GoodMorning.com has Canadian pricing on their Canadian site. The mattresses are shipped from their warehouse in Toronto so you don't need to worry about customs/duties/brokerage fees. With the exchange so terrible right now for Canadians, making purchases with Canadian money is a must for me.
I encourage you to visit GoodMorning.com and browse around their site. They have a ton more info about the mattress itself, the sleep trial and more. Even if you aren't ready to buy a mattress just yet, bookmark their site (or this post) to refer back to when the time comes.
If you want a top-quality, comfy and affordable mattress, GoodMorning.com is worth investigating! We are happy and well-rested with our new mattress and are glad we had the opportunity to try one out and spread the word!
What are your favourite features of the GoodMorning.com luxury mattresses?
Disclosure: I received a mattress to facilitate this post. All opinions expressed are my own. This post contains affiliate links.