My Cat's Journey to Oral Health #DentalPetFacts
I understand the importance of taking care of your teeth and its impact on your overall personal health. We visit our dentist every nine months for a cleaning and check up. What I didn't think about until recently is that my cats' oral health matters, too. Just like humans go to the dentist, pets should have regular veterinarian visits to check on their teeth and gums. Having a healthy mouth improves their quality of life.
Over the next several months, Misty, one of my three cats, will be switching to Royal Canin Dental Nutrition Formula. I'm working with a local veterinary clinic, Stafford Animal Hospital, to track Misty's progress and document any changes or improvements in her teeth and gums.
Before, I get into the details, let give you some background about Misty. She's a six year old long haired domestic cat with a sweet and kind demeanour. Misty is a gentle soul who loves to cuddle and give you soft kisses. She hasn't had any medical issues in the past. She spends her days sleeping and hiding from her crazy brother, Reggie, who always wants to play. She's my fluffy girl.
The campaign started off with an initial visit to the veterinarian for a check-up that included an oral health exam. The visit went well. Misty didn't like going in the car and yowled the whole way, but once we got to the vet's office and she was out of her carrier, she was relaxed. She laid down on the floor in the examination room while she waited for the vet to come in.
I snapped a photo of this poster on the wall in the examination room about Periodontal Disease. I didn't know much about it then, but was about to learn!
In fact, I learned quite a few things about Misty at the vet's office. She is a bit overweight and she has stage one periodontal disease.
I didn't realize that dental disease affects approximately 85% of cats and dogs over the age of one year. The vet told me it's common for cats Misty's age to have it. The disease affects the gums and surrounding tissues of the teeth and can result in serious health problems like heart and kidney disease. The good news is that you can prevent it through precisely formulated nutrition, toothbrushing and regular dental health check-ups.
Here's a quick look at the four stages of Periodontal Disease.
Stage 1: Dental plaque is formed on the tooth surfaces as a transparent film of bacteria, cells and food particles. Symptoms may include bad breath and gingivitis.
Stage 2: Dental plaque begins to calcify and forms tartar. Symptoms included increased inflammation and swelling of the gum line.
Stage 3: Newly-formed plaque covers the tartar with toxins and enzymes secreted by the plaque bacteria cause more inflammation and some loss of tissue attachments. The beginning of bone loss is also evident.
Stage 4: When untreated, gingivitis can progress to an infection of the tissues and cause tooth loss, gum recession and bone loss.
I didn't notice any symptoms with Misty. She didn't have bad breath and doesn't drool or have issues eating. She loves to eat. However, I was surprised when the vet showed me in Misty's mouth and I saw the plaque on her teeth. I thought they looked like coffee stains.
Cats may not show obvious signs of dental disease and yet still have it, like Misty does. This is why it's so important to visit your veterinarian for a check-up. He or she will be able to give you a diagnosis and help you get your pet back on track.
We were able to snap a few shots of Misty's teeth before so I could share them with you. See the brown stains on her teeth?
The next step for Misty was a dental cleaning. Misty went earlier this week. February is dental health month so the vet's office is busy with many cats and dogs coming in for cleanings and check ups.
I dropped off Misty early in the morning for her cleaning. I was a little nervous, but knew she was in good hands. I was looking forward to seeing how her teeth looked afterwards.
The vet snapped some photos for me of Misty's dental adventures. Here she is getting ready to go in for the cleaning.
Check out those pearly whites! Misty's teeth look 100x better.
The vet said that Misty had mild gingival recession on her upper K9's. She still has all her teeth and had no extractions. She did great!
The next steps for Misty is to maintain her teeth through proper nutrition. We talked about how to transition her to her new cat food, Royal Canin Dental Nutrition Formula. The vet explained a little bit about how it helps her teeth and gave me a pamphlet to read with more information.
The Dental formula offers triple action dental care. It has a specific kibble design along wth plaque and tartar reducing ingredients to protect against the formation of dental plaque, tartar, gingivitis and halitosis. It delivers complete and balanced nutrition from "Tooth to Tail".
Along with the dental benefits, it also has an S/O Index that helps with urinary health. It reduces the risk of struvite and calcium oxalate crystal and stone formation.
I left the vet's office with Misty, a 7.7 lb bag of Royal Canin Dental Nutrition Formula and some brushing supplies. Her next check up will be in May when we'll get an update on her progress and see if there are any changes to her teeth and gums.
Though we are only tracking Misty's progress for this campaign, I am feeding my other two cats the Dental formula. In a multi-cat home, it's hard to separate out the food and everyone shares.
I think Reggie is a fan. He is not camera shy!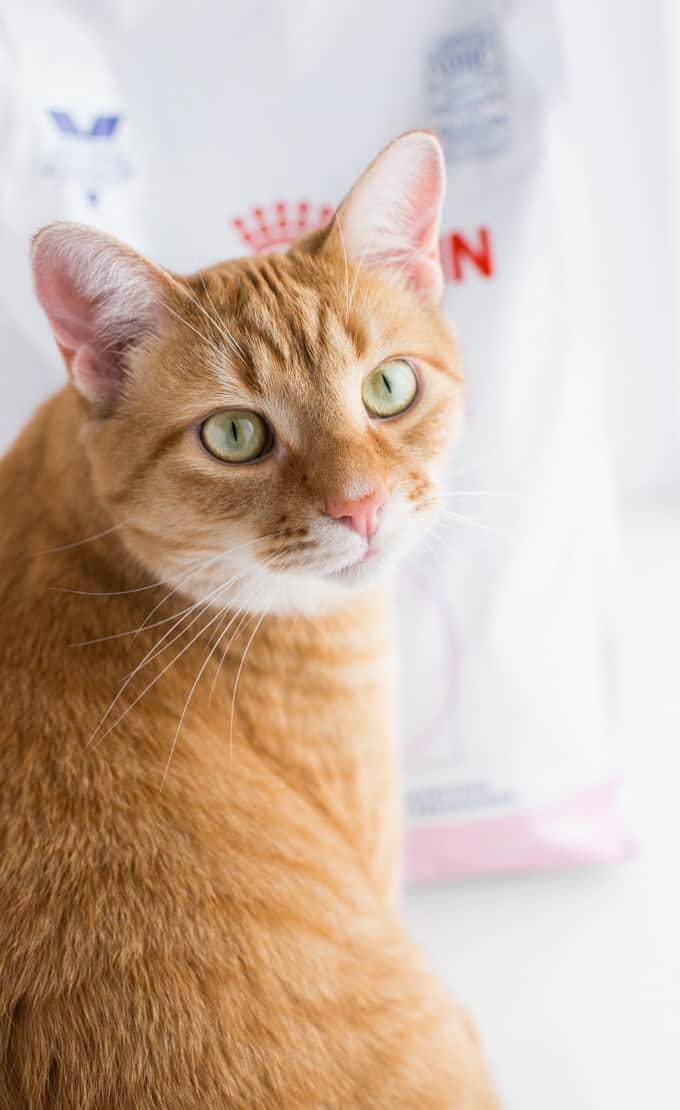 I encourage you to book an oral health examination for your pet at your local vet's office and to ask them about periodontal disease. It can be prevented and managed with oral health care and proper nutrition. You'll also be able to buy Royal Canin Dental Nutrition Formula for your cat or dog at the vet's office.
Follow the hashtag #DentalPetFacts this month to learn more about dental disease. I'll be updating you in May with Misty's progress so stay tuned!
When was your pet's last oral health examination?
Connect with Royal Canin on Twitter and Facebook. 
Disclosure: I was compensated as part of the 2016 Royal Canin Dental PR Campaign. All opinions and experiences are my own.