Explore, Play, Imagine + Create with the LeapFrog Epic Tablet #LeapFrogEpic
We live in a digitally connected society so it really wasn't a shock to me when my youngest daughter asked if she could have her own phone or tablet. Since I wasn't getting my elementary-school aged daughter her own cell phone, I figured a tablet would be better option. The thing is that the Internet is a scary place. I know this all to well as someone who works online. Plus, there are many sites on the world wide web that no child should ever visit.
We were recently introduced to the new LeapFrog Epic™ tablet, a one-of-a-kind Android-based device designed to give children the tablet experience, but in a safe, controlled way. This tablet gives kids the opportunity to explore, play, imagine and create through a variety of Leapfrog-exclusive content like games, apps, ebooks and more. It also grows with your child with games that adjust the curriculum as your child plays and learns new skills.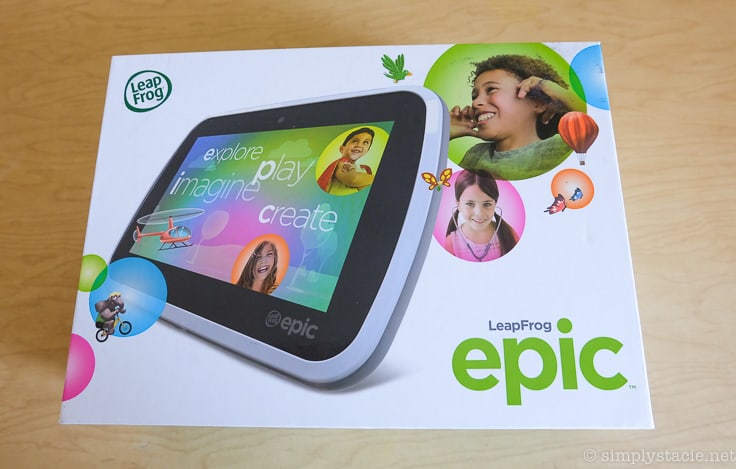 I always felt nervous giving Bridget my phone or tablet to play games or look at videos on YouTube. I'd have to watch what she was doing like a hawk. With the LeapFrog Epic tablet, I have peace of mind knowing the content is controlled and she won't be able to mistakenly access content she isn't supposed to.
Let's talk a little bit more about the cool features of the LeapFrog Epic!
Customizable and Playable Homescreen
With the tap of a finger, your child can add characters, get mail, make the town hall clock ring, turn the world from day to night, discover fun surprises and more. I thought it was cool that Bridget can access our local weather forecast. Her world changes to reflect the weather conditions that we have in real life. For instance, we had a bit of snow and flakes were falling in the LeapFrog Epic's world too.
Kids can create their own unique homescreen however they like. It's an awesome way for them to let their imaginations run free. If they get bored of the current setup, they can easily change it to something new.
Fun Games and Apps
As I mentioned, the LeapFrog Epic has a ton of LeapFrog games and apps for kids to play that are both exciting and fun, but also help them learn and grow. Just for Me™ Learning personalizes the games in up to 10 ways. The games will adjust the curriculum as your child plays and also remember their progress so they can continue to learn.
Word of the Day is a neat game. Every day, kids get a new word to learn how to spell and what it means. It also shows you how to use it in a sentence. Bridget is working very hard at school on her spelling so it's great to see her learning at home too.
Bridget enjoys Solar Taxi where she can explore the galaxy and learn about astronomy! In Art Studio Ultra, Bridget unleashes her creative side on the screen's canvas. Photo Fun Ultra allows Bridget to edit photos and come up with some pretty funny shots! She took a picture of herself and then made it look like she had two heads.
Kids also have access to educator-approved kid-favourite Android apps. All have been carefully screened so there is no in-app purchases or harmful ads. Parents are able unlock access to more apps in the Parent controls, if they wish.
Kid Safe Web
This may be favourite feature! The LeapSearch browser is a kid-safe web browser that allows kids to explore online, but in a controlled way. Parents can set time limits, manage the sites they access and ensure the content their kids view online is age-appropriate. If there is a site your child likes, parents can add the URL. Parents also have the ability to unlock a full web browser in the Advanced parent controls.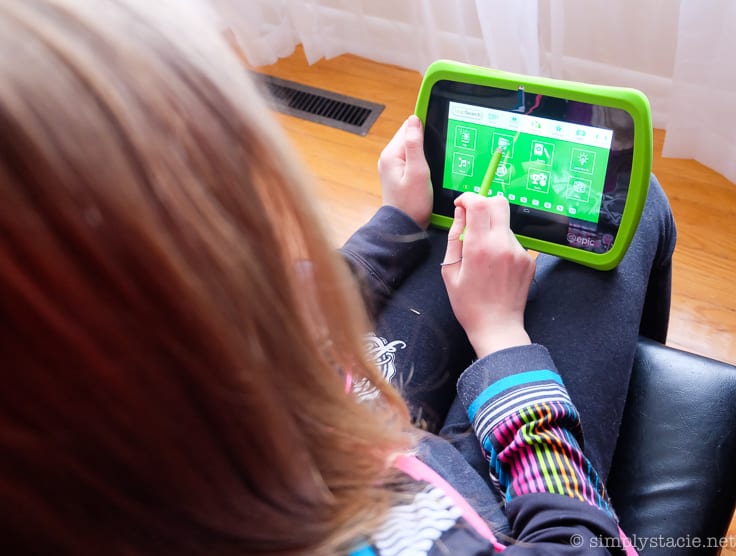 Bridget loves watching YouTube videos. It was awesome to discover that the LeapFrog Epic already had a variety of YouTube videos featured in the video section. We've been watching the pet videos together. So cute! Look for Toby the Pug gets a massage. It's hilarious!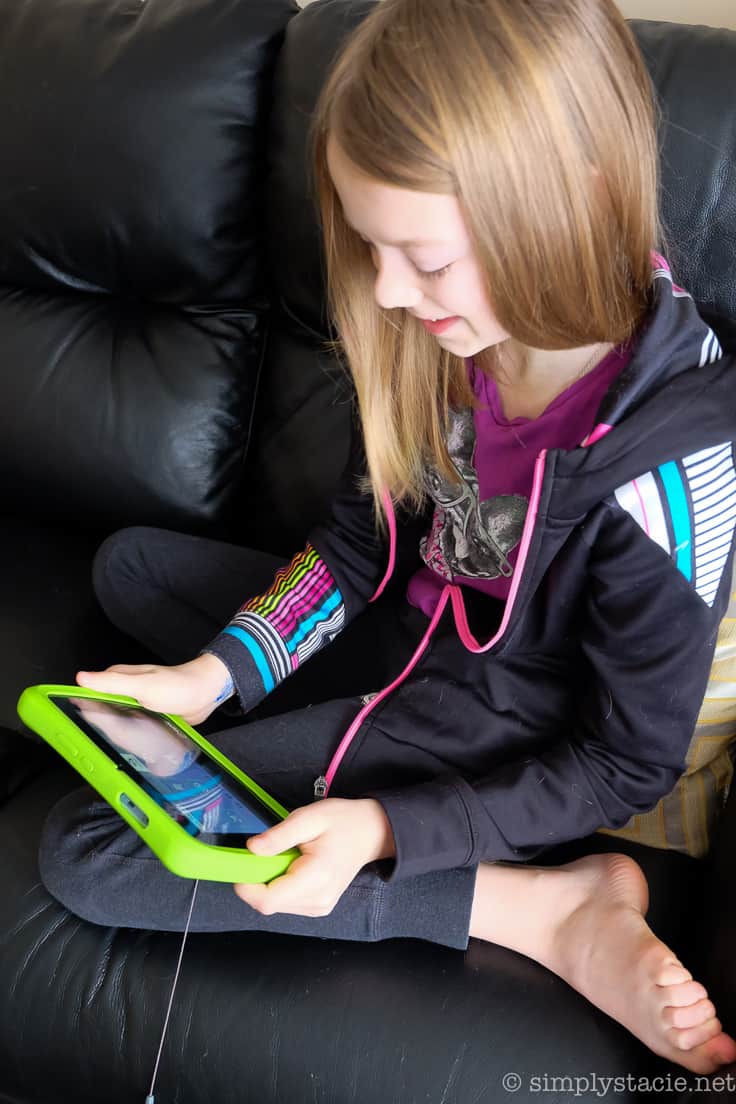 The LeapFrog Epic tablet comes with a 7″ LCD touchscreen, 16GB memory, quad-core processor, Wi-Fi, 2MP cameras (front and back), stylus and 20+ apps. It has a suggested retail price of $169.99 and is geared to ages 3 to 9.
Parenting Tips for Kids in the Digital Age
I also wanted to share Marc Saltzman's helpful tips for parents raising digitally-connected children along with my own comments. It's a whole new world now compared to when we grew up!
1. Location, location, location. Rather than placing a computer in a child's room, keep it in a central location in the home, such as a kitchen, family room or any other highly-trafficked area. Kids can feel independent while surfing online, but not be "alone". My experience: our desktop computer is located in the family rec room so it's always visible for us to keep an eye on what she is looking at.
2. Super software. Filtering software might help reduce the odds your young children will end up on inappropriate websites. Many of these programs are free to try before you buy, and include filters for social networks, instant messaging and more. My experience: I've heard of these programs, but currently don't use them – eek! Now you can see why I'm glad we have the LeapFrog Epic tablet for Bridget.
3. Kid-centric devices. Have peace of mind about your child's digital experience by picking up gadgets specifically designed for them. The LeapFrog Epic tablet, for example, lets kids explore 1000+ educator-approved games, apps and the web – along with parental controls that let mom and dad expand the online experience as the kids grow. My experience: I second his recommendation for the LeapFrog Epic tablet.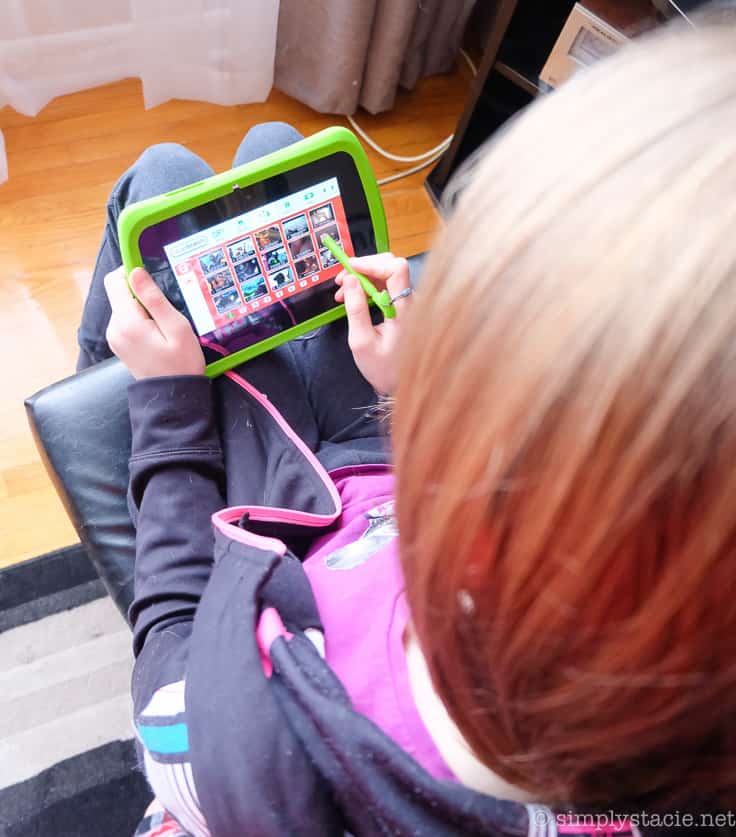 4. Mentoring, monitoring. Explain to your kids why it's so dangerous to give out their address, phone number or other personal information, such as where they go to school (or upload any photos that might reveal this info, too). This applies to social networking sites, too, where kids might not think twice about what they're sharing publicly. Insist your kids add you as a friend — if you promise not to embarrass them – so you can keep a digital eye on them, too. My experience: My oldest daughter is on Facebook and is careful about what she shares. I showed her how to make her updates to "Friends only" and reminded her to watch what she writes because when it's online, it lives forever.
5. Remember the time. Set limits on the amount of time children spend online. Along with the ability to block certain websites and receive reports on your child's surfing habits, Windows 10 also lets parents control how much time kids are spending online. Many video game consoles also has time restrictions in the settings area, if you find you have a hard time pulling themselves away from games. My experience: I believe in making time limits too so that my daughter doesn't spend all day inside in front of a screen!
Buy the LeapFrog Epic Tablet
Buy the LeapFrog Epic Tablet at a variety of stores including Amazon, Walmart, Toys R Us and more. I have a seven year old niece who I know would love one for Christmas. I'm getting one for her so that her and Bridget can play the two player games together! It makes a wonderful gift for a child.
Do you have anyone on your holiday shopping list who might like the LeapFrog Epic Tablet?
Disclosure: I received product and was compensated for this post. All opinions expressed are my own.