How to Correct 10 Common Beauty Mistakes
Disclosure: I was compensated for this post. All opinions expressed are my own.
Mistakes are a fact of life. We all make them. I've made many mistakes during my 37 years on Earth. The important thing is that you learn from them. Beauty mistakes are no different. We try out different tips and techniques. Sometimes they work beautifully while other times not so much.
Some of my own personal beauty mistakes are quite funny now, but I was mortified at the time. During the summer and fall of 2000, I was wearing the wrong shade of foundation. It may not seem like that big of a deal, but it was quite noticeable. I had tanned skin that summer and didn't change the shade of my foundation to something darker to match my skin. My face was white as a ghost. In the pictures, I look like a mime.
I can laugh now which is why I'm ok with showing you my faux pas!
Eek.
This picture inspired me to write this post about my top 10 beauty mistakes and what you can do to fix them. Some of these mistakes can actually make you appear older than you are. Maintaining a youthful appearance is important to me so I also strive to follow my own advice.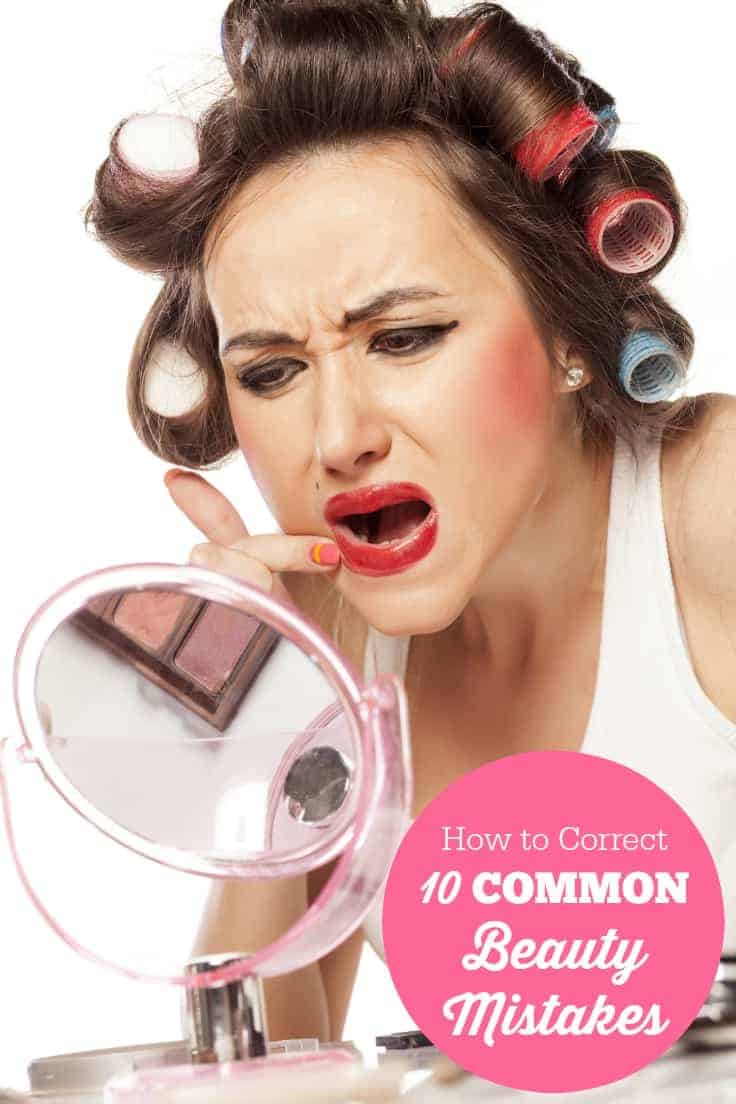 1. Don't wear thick, heavy foundation that is the wrong colour. If you do, you may look like me in the photo above. Wearing too much foundation can make you look older than you are. Go for a light, natural look.
2. Match your foundation to your skin on your jawline instead of your hand. Sometimes it's hard to tell if a foundation is the right colour for your skin. The skin on the back of your hand is not the same as the skin on your face. When trying a new colour, test it with a swipe on your jawline to see if it's a match.
3. Don't apply your makeup in artificial light. I've applied my makeup in my windowless bathroom and think I look fine. Then I go to the mirror by my front door and see a completely different picture. I'm a hot mess! Try to find a natural source of light to apply your makeup. I like doing mine near my big living room window.
4. Stop pumping your mascara wand. It will not make it last longer and in fact, dries it out because you're pumping in air. No one likes clumpy lashes!
5. Skip the mascara on your lower lashes. It highlights crow's feet. Apply it your upper lashes to make your eyes pop!
6. Don't apply your perfume when you're fully dressed. Perfume needs to be applied directly to your skin to blend in and create your own unique scent. Plus, it can stain your outfit.
7. Don't wash your face in hot water. It's too harsh on the delicate skin of your face and can dry it out. Use lukewarm water instead.
8. Moisturize, moisturize, moisturize! I used to think that my oily skin didn't need a moisturizer. I was so wrong. Not moisturizing your oily skin can make your skin even more greasy. It's true. Your skin will compensate by producing more oil. My skin was less greasy once I started moisturizing. Now, it's a crucial part of my beauty routine.
9. Don't wait too long to start thinking about anti-aging. I get it. You're young and aging seems like a process that is far in the future. However, it creeps up fast and sometimes, sneakily. One day, you'll wake up seemingly overnight with a noticeable wrinkle around your eye. I know from experience. Be proactive and start now to combat the early signs of aging.
10. Don't skimp on serum. Use a good quality anti-aging serum like Lise Watier Sublimessence High Concentration Age-Defying Serum and stick with it! Consistency is key to a beauty regimen. Sublimessence helps rejuvenate skin giving it a smoother texture and radiant complexion. It contains the high potent Labrador Tea Extract, a Canadian antioxidant and is boosted with an Active Cell Infusion Complex and light reflecting pigments.
Over the past month, I've been using Sublimessence daily and have noticed big improvements in my skin. It's less blotchy and has a more even skin tone. Plus, it's diminished the wrinkles that were starting to form around my eyes. Aging is inevitable, but I'm glad to have Sublimessence in my beauty arsenal to help my skin looks its best!
What was your biggest beauty mistake?