Interac Flash: A Safe & Secure Way to Use Your Own Money
Disclosure: I am participating in the INTERAC #flashsecurity campaign managed by SJ Consulting. I received compensation in exchange for my participation in this campaign. The opinions on this blog are my own.
I remember the first time I first learned about Interac Flash a few years back. I was at the grocery store picking up a few items for supper. At the cash register, I pulled out my debit card to pay. The cashier saw that I had a wave symbol on the front of my new card and asked if I'd like to try paying with Interac Flash. I must have looked at her funny because she went on to explain that I could pay for my groceries by simply holding my card over the point-of-sale terminal. I was skeptical, but said I'd try it out. Within seconds, I had paid for my groceries. I was shocked at how easy this technology was to use. Since that time, I use Interac Flash whenever I can.
I was impressed with the convenience factor of using Interac Flash. It made paying for purchases quick and easy. In case you aren't familiar with how Interac Flash works, let me give you a brief rundown. Interac Flash is Canada's first and only contactless debit payment solution. The technology is found in Interac Debit cards that have the wave symbol on the front. To use, simply hold your card briefly over the terminal. Yes, that is really all you need to do!
Interac Flash has saved me time when I'm late for an appointment, but still want to pick up a coffee. I pay everything with Interac Debit already and for small purchases, it's so much easier and faster than entering your PIN the traditional way.
The convenience factor is important, but it's actually the security features of Interac Flash that sealed the deal for me. Having a secure and safe way to pay is crucial for me as I'm sure it is to you. I want to use my own money to pay for purchases in a quick and safe way. Interac Flash has many security features that ease my worries and make me feel comfortable to use it.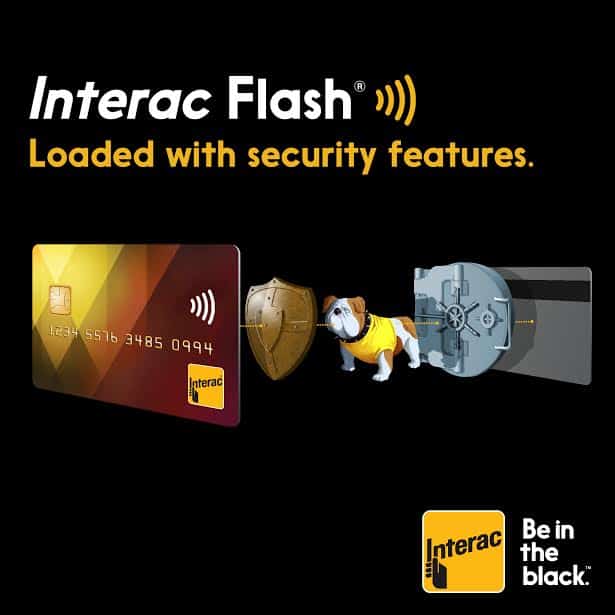 Here's a look at the key security features of Interac Flash:
1. Individual Transaction Limits. Like I mentioned, I use Interac Flash for small, quick purchases. No single Interac Flash transaction can exceed $100. If you are paying for something over $100, you'll be prompted to enter your PIN as you would with a regular Interac Debit transaction.
2. Periodic Pin Verification. Interac Flash has a safety limit to ensure that only the rightful owner is using the card. This limit is set by your financial institution or Credit Union and is typically up to $200. You can use your Interac Flash as normal up to the safety limit. Then once you've reached it, you'll be asked to insert your card and enter your PIN. Once you've completed this set, your safety limit will reset again. It ensures that your card cannot be used on a spending spree if it ends up in the wrong hands.
3. Zero Customer Liability. In the event that your card is used for fraudulent purchases, you will not have to pay for any unauthorized transactions resulting from circumstances beyond your control. This benefit also includes losses resulting from technical errors and system errors in addition to fraud. If the claim is determined to be valid, you will be reimbursed by your financial institution.
4. Protection from Fraud Tactics. Both chip-enabled Interac Flash and Interac Debit card are protected from fraud tactics like skimming, duplicating and electronic pick-pocketing. Criminals do not see your account-related details and therefore have no information to use for identity theft or fraudulent transactions. In fact, Interac Debit fraud is extremely low and has dropped a whopping 88% since 2009.
To me, it's pretty clear. Interac Flash is a safe and convenient way to pay your purchases. I rarely carry cash anymore and use my debit card for almost everything.
Do you currently use Interac Flash? If not, what is holding you back?