Caramel Bacon Brownies
I've been using bacon off and on in dessert recipes for a couple of years. I was first introduced to chocolate covered bacon several years ago. I think it was either via Pinterest or Facebook. I remember being intrigued by the idea. I love eating ham with maple syrup so it wasn't that much of a stretch to combine bacon and chocolate. Nowadays, if you search Pinterest, you will find a ton of bacon desserts! You may even see my guest post from Parent Pretty on there. I made Pumpkin Cupcakes with Maple Bacon Frosting.
I took it up a notch and made a batch of Caramel Bacon Brownies. Imagine a fudge brownie base with a layer of sticky sweet caramel, bacon and pecan mixture and then another layer of brownies. It's finished off with chocolate chips and chopped pecans. It's a wee bit more effort than making a batch of boxed brownies, but it's SO much better! My taste buds could almost not handle all this sweetness. Almost.
Caramel Bacon Brownies
My oldest daughter balked when I told her that there was bacon in them. She didn't understand the appeal until she took a bite. Now she gets it.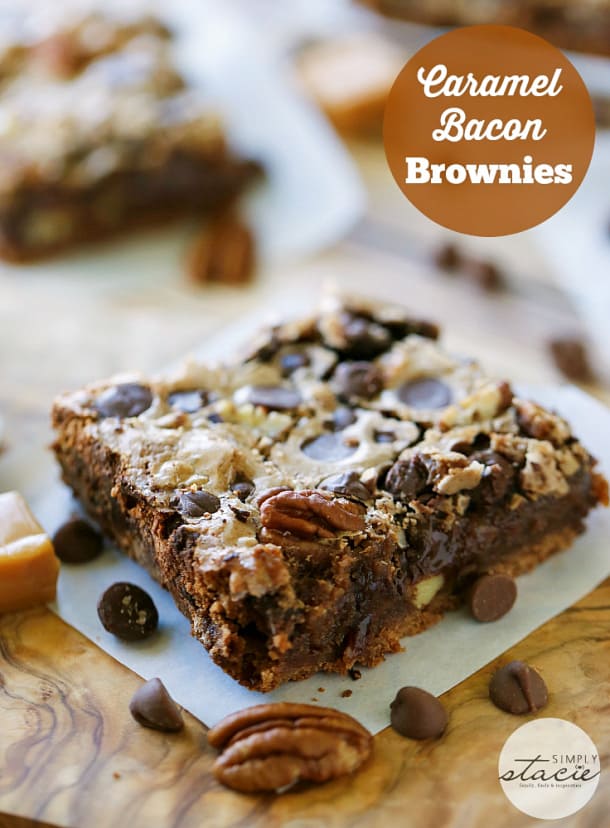 Chocolate chips are mixed in the caramel layer giving it an extra element of richness. At first, I wondered if it was cooked completely, but then I remember it was the melted chocolate making it ooey gooey.
You might also like these Fudge Nut Bars or Snickers Brownies.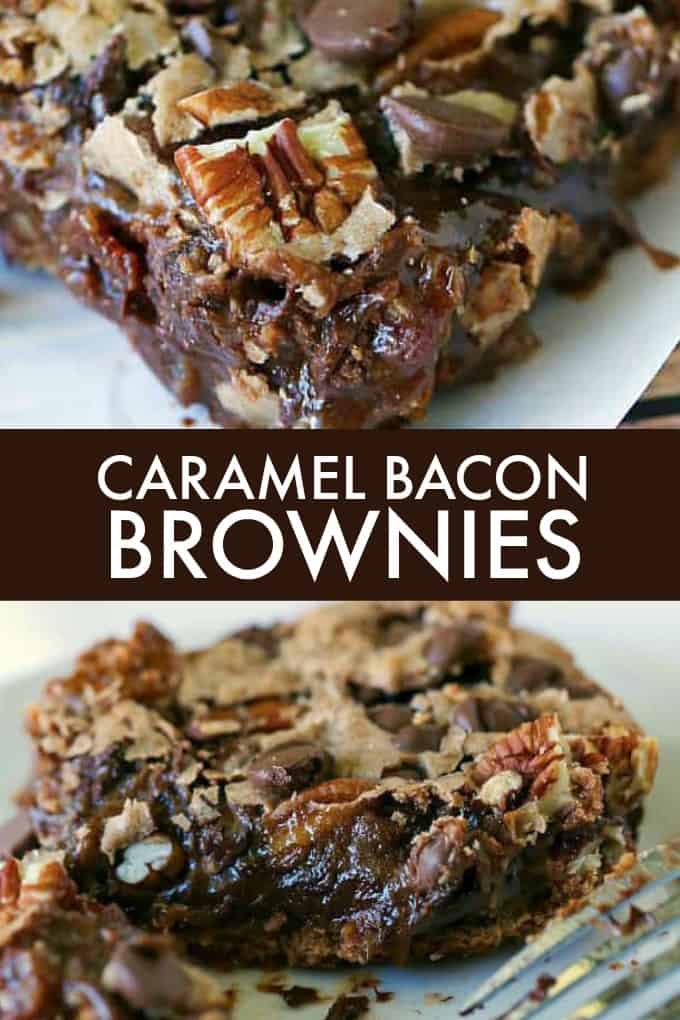 Have you tried any bacon desserts? 
Caramel Bacon Brownies
Bacon for the win in this chocolatey treat! These Caramel Bacon Brownies are rich, sweet and easy to make.
Ingredients:
3/4 cup butter, softened
4 one ounce squares unsweetened chocolate
2 cups sugar
4 eggs
1 cup flour
1 package (269g) Kraft caramels (about 1 1/4 cup)
1/4 cup whipping cream
2 cups chopped pecan halves
4 slices bacon, crisply cooked and then crumbled
1 1/2 cups chocolate chips
Directions:
Preheat oven to 350F. Grease a 13×9 inch baking pan.
Add butter and unsweetened chocolate squares to a large microwave safe bowl. Microawave on high for 1 1/2 minutes, until melted and smooth. Stir in sugar. Then add in eggs, one at a time, and mix between each addition. Stir in flour. Spread half of the brownie batter in your baking pan. Bake for 20 minutes.
Add caramels and whipping cream to a medium sized microwave safe bowl and microwave on high for 2 minutes. Stir until the caramels are completely melted. Add in one cup of the pecans and all the bacon. Stir.
Spread the caramel mixture over your baked brownies. Sprinkle half of the chocolate chips over top. Pour remaining brownie batter on top and then sprinkle with remaining pecans and chocolate chips. Bake for 25 minutes or until set.
Cool completely before cutting into squares and serving.