Back to School with Treehouse Gummies
Back to school means back to routine and no more summer slacking! Thankfully, we are all adjusting fine. Bridget is getting used to going to bed earlier and getting up at a decent hour. I'm proud of my little night hawk. She's also back to regularly taking her daily vitamins. In the summer, it was difficult with her being away so much at camp and her dad's place. We've talked about how vitamins make her grow big and strong.
You may have seen Treehouse Gummies in stores. They are from a Webber Naturals, a Canadian company and are a full line of natural supplements in the shapes of Treehouse TV characters Franklin and Friends and Max and Ruby.
My daughter likes them because of the taste and fun character shapes. As her mom, I like them because they give me a bit of peace of mind. I always worry that my daughter isn't getting enough vitamins and minerals from her food. She's a picky eater so it's a bit of a struggle to make sure she eats healthy. I like knowing that she will get what she is missing from her daily supplement.
I think it's important to mention what these supplements DON'T contain first. They have NO GMOs, gluten, dairy, artifical sweeteners, colours or preservatives. Instead, they are sweetened with evaporated cane juice and organic tapioca syrup. Bridget cannot swallow pills yet so these chewables are a great tasting option for us.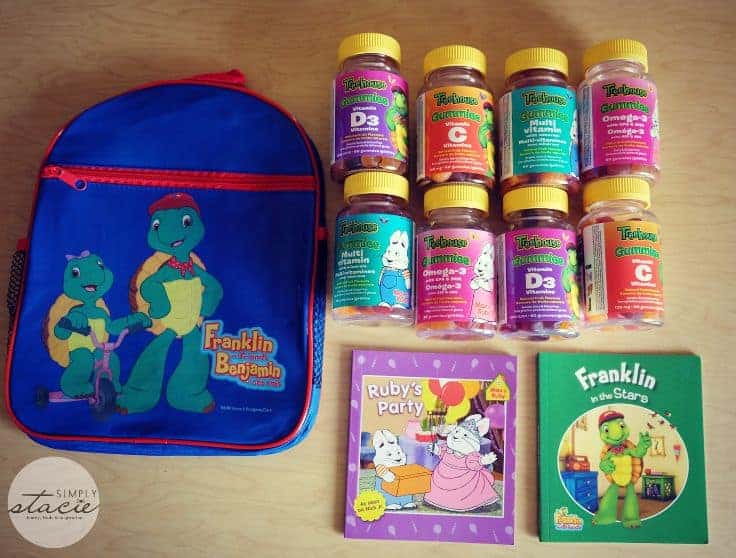 I normally give Bridget her daily supplement with breakfast in the morning. I've gotten into the routine of doing it so that I don't forget either!
Treehouse Gummies has several products to choose from including:
Multivitamin with Minerals Gummies: Offers a wide range of vitamins and minerals required for healthy teeth, bones, skin, nerves, brain, metabolism and immunity.
Vitamin D3 Gummies: Also known as the "sunshine vitamin" and Vitamin D deficiency is widespread especially in a Canadian winter. It is essential for calcium and phosphorus absorption and helps build healthy teeth and bones.
Vitamin C Gummies: Did you know that Vitamin C cannot be stored in the body and must be consumed every day? I didn't.  It supports immunity, growth, wound healing, and maintenance of cartilage, bones, teeth, and gums. Plus, Vitamin C helps the body absorb iron from food.
Omega-3 Gummies with EPA and DHA: These are the healthy fat the body cannot produce. Fish is an excellent source of Omega-3 fatty acids, but my daughter will not eat fish. Omega-3 fatty acids support heart, brain, vision and mood, and keep cell membranes flexible.
Take a peek at the Treehouse website to learn more about each of the products. They have a handy store locator to show you where you can buy them in your area. I found lots of retailers in my area that carry the product line including PharmaChoice, PharmaSave, Walmart, Rexall PharmaPlus, Shoppers Drug Mart and many more.
Do your kids take a daily supplement?
Disclosure: I was not compensated for this post. I received samples for review purposes. All opinions expressed are my own.