6 Steps to the Perfect DIY Pedicure
If you gave me a choice of a pedicure or manicure, I'd pick pedicure 100% of the time. My feet are in rough shape! It's my own fault, too. I never wear socks (even in the winter!) so they are rough, dry and not the prettiest sight. Pedicures are my saviour. Not only do they help me relax and unwind, but they also make feet presentable.
Though it would be nice to afford a fancy spa pedicure on a regular basis, it's just not feasible with my budget and time constraints. Plus, I can do my own DIY pedicure at home that is on par (if not better) than what I'd receive at a day spa.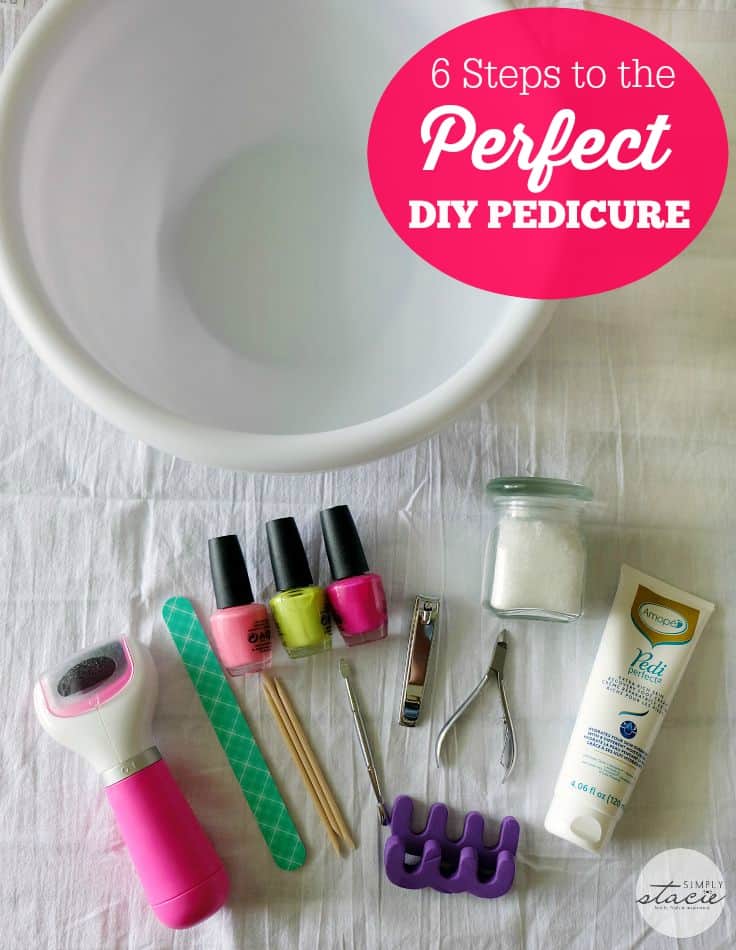 Today I'm going to walk you through the steps to doing your own DIY pedicure in the comfort of your home. You won't have to spend a ton of money and no tip is required!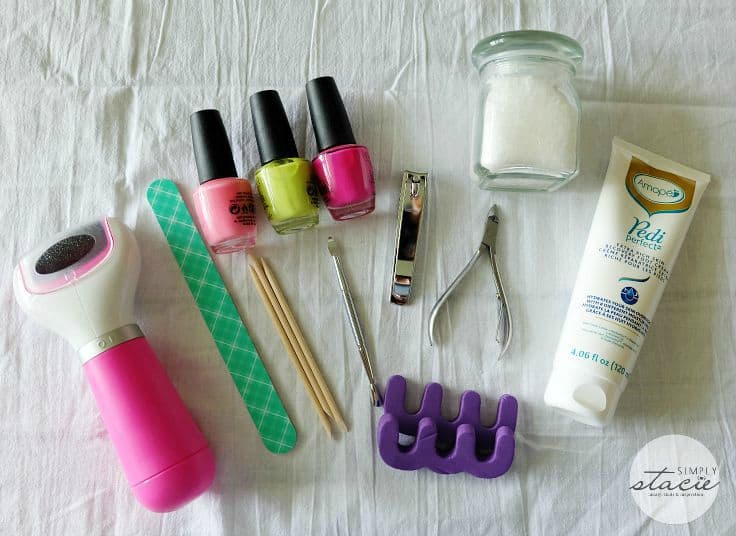 1. Set the scene. I recommend getting out all your tools ready before hand so you don't have to go looking for them mid-pedicure. You'll need your Amopé™ Pedi Perfect™ Electronic Foot File with Diamond Crystals with an Extra Coarse Roller Head and a Soft Touch Roller Head, toenail clippers, cuticle nipper, cuticle sticks, cuticle pusher, toe separators, nail file, Epsom salts with essential oil, large bowl with warm water, nail polish, towel and Amopé™ Pedi Perfect™ Extra Rich Skin Recovery Foot Cream. I also like to put on some relaxing music and turn off my phone so I'm not interrupted.
2. Remove hard, rough skin with your Amopé™ Pedi Perfect™ Electronic Foot File with Diamond Crystals. If you haven't tried Amopé™ Pedi Perfect™ Electronic Foot File yet, prepare to have your mind blown. It effortlessly removes your rough, callused skin in a matter of minutes. Start with the Extra Coarse Roller Head and simply glide the roller head over your hardened skin and the microgranulated surface will gently slough it off.
Tip: Keep a towel underfoot to catch any of the dead skin particles.
Don't worry, it doesn't hurt. You'll be amazed as you watch your feet transform right in front of you. The finely ground diamond crystals on your Extra Coarse Roller Head will buff away the dead skin and your feet will look (and feel) noticeably different.
After you've sloughed off all the tough stuff, switch to the Soft Touch Roller Head to smooth out your skin even more. It will be visibly softer and smoother by now.
3. Clean up your toenails. For this step, you'll need to grab your pedicure tools. Use the toenail clipper to clip your nails straight across. This will help prevent ingrown toenails. Next, grab your cuticle nipper and carefully cut any dead cuticle that you can see. Push your cuticles back with the cuticle sticks and/or cuticle pusher. You can also use either of these tools to clean under the toenail edge. Once you've clipped and pushed, it's time to give your toenails a quick file with the nail file to smooth and shape them.
4. Relax in a Foot Bath. Fill a large bowl or tub with warm water and add a couple scoops of Epsom salts. I also like to add a couple drops of peppermint essential oil to invigorate and revive my tired feet. Sit for a few minutes and enjoy the relaxing sensation!
5. Pretty up with nail polish. Once you've dried off your feet from your foot soak, it's time to add a little colour! Choose your favourite nail polish to paint your toenails. Make sure to leave enough time to let the polish dry in between coats.
6. Hydrate your skin with Amopé™ Pedi Perfect™ Extra Rich Skin Recovery Foot Cream. It nourishes your skin and leaves your feet soft and smooth. I recommend using this product daily to keep your feet looking and feeling their best.
See I told you it was easy! I think you'll be amazed at the Amopé™ Pedi Perfect™ Electronic Foot File with Diamond Crystals especially. It made my feet look and feel so much better. They are softer, smoother and dare I say, prettier? At least now, I'm not cringing everything I look down at my feet. I think if my feet could talk they would say, "Thank you".


This post contains affiliate links.
The Amopé™ Pedi Perfect ™ Electronic Foot File can be used to achieve salon quality results at home! It removes areas of hard skin without any sharp blades to leave your feet feeling luxuriously soft. The foot file is furnished with a safety stop that halts the device as soon as too much pressure is applied to the skin. The pink Pedi Perfect gadget comes with a Diamond Crystal extra coarse roller head, with additional Regular Coarse & Soft Touch roller heads available for purchase separately. Get yours now!
Disclosure: This post was brought to you by Amopé™ Canada via Mode Media Canada. The opinions expressed herein are those of the author and are not indicative of the opinions or positions of Amopé™ Canada.