Back to School with Snack Pack EZO Lid Pudding
Disclosure: I am part of the Snack Pack Blogger Campaign and I receive special perks as part of my affiliation with this campaign. The opinions on this blog are my own.
I'm sitting here today where in the world the summer went! Is it seriously the last weekend before school starts? It feels like the kids were just getting out of school last week. Over the last few days, I've been getting myself organized for my daughter's return to school. Olivia is going into her last year of high school and Bridget will be heading into grade 6. Thankfully both girls are looking forward to heading back again. I'm sad that summer is ending, but am looking forward to getting into a routine again.
One thing that's been on my mind is school lunches. Olivia usually buys her lunch at school, but I'm still packing a lunch for Bridget to bring. It can be a bit of a challenge because she is a picky eater. I've got packing a school lunch for her down to a science. I want it to be healthy and filling so she isn't hungry throughout the day.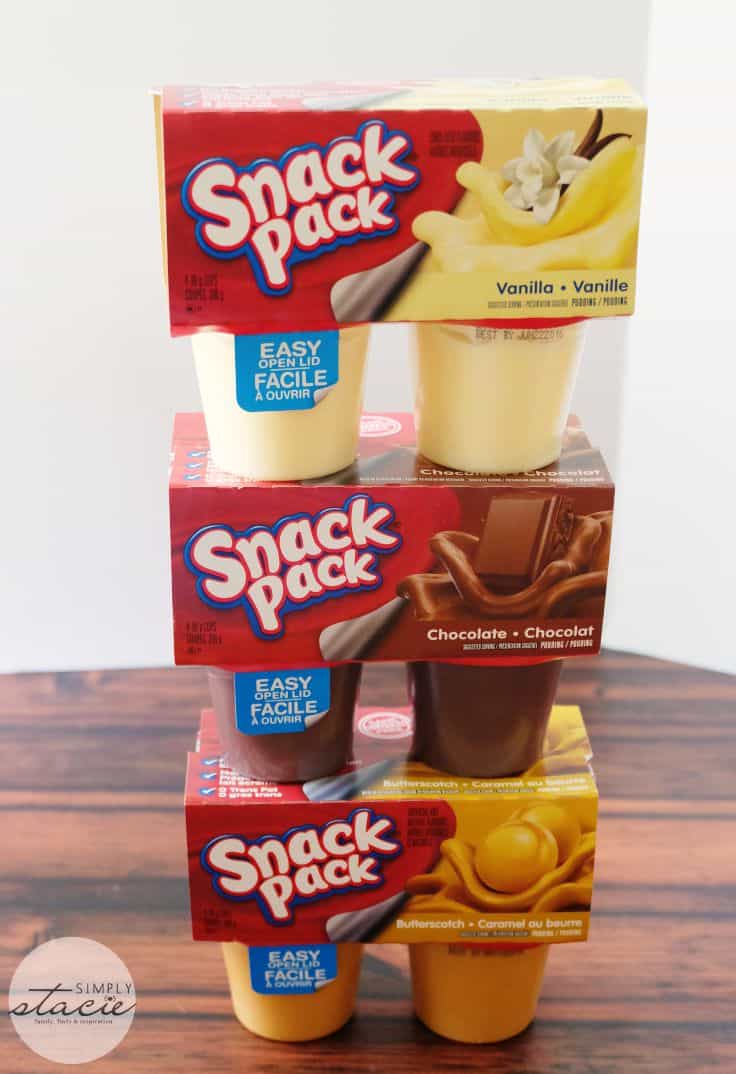 A typical lunch consists of veggies like sliced cucumbers, carrot sticks and cherry tomatoes, cheese and meat, crackers and a sweet treat like a Snack Pack. With these food items, it's a safe bet that the only thing left for me to clean out of her lunch bag at the end of the day will be her spoon.
I stock up on snacks for Bridget's lunch and keep everything organized in a snack bin in my pantry. When I'm packing Bridget's lunch, I let her pick what snacks she wants to bring. I find if I let her choose what she wants, she is more likely to eat it.
Snack Pack now has a new easier to open lid. The EZO Lid makes it super simple for young fingers to open up their lunch or afternoon snack. I tried it too and it was impressed with the new lid. It opens perfectly on the first try. Just peel and eat!
We put the EZO Lid to the test and Bridget also had no problems opening it up.
I like to keep several Snack Pack flavours on hand to keep it interesting. Bridget's faves are Chocolate, Vanilla and Ice Cream Sandwich.
Check out these yummy EZO Lid flavour varieties:
Chocolate
Vanilla
Butterscotch
Chocolate Fudge
Tapioca
Chocolate Vanilla Triples
Chocolate Caramel Swirls
Chocolate/Butterscotch
Chocolate/Vanilla
Chocolate Lovers
Toffee Caramel
Banana Cream Pie
Lemon Meringue Pie
Ice Cream Sandwich
Strawberry/Orange
Cherry/Lemon Lime
Raspberry Mix Berry
No Sugar Added Chocolate
No Sugar Added Vanilla
No Sugar Added Strawberry
No Sugar Added Strawberry/Orange
While I won't deny I love the creamy, sweet flavour, I also appreciate that Snack Packs are made with skim milk and have no preservatives or trans fat. They are also gluten free. I'll admit I sometimes reach into the snack bin and grab a quick afternoon Snack Pack for myself. They make a convenient after-school snack for kids (and moms and dads, too!).
Mmmmmm butterscotch!
When you are out shopping for school lunches this coming week, pick up a few Snack Packs and try the EZO Lid. I think you'll be impressed!
Snack Pack EZO Lid varieties are available at major grocery and mass merchandises stores across Canada.
What Snack Pack EZO Lid flavour do you and/or your kids want to try?