Frozen Yogurt Hearts
Want a super easy way to stay cool this summer? Whip up a batch of Frozen Yogurt Hearts. You'll only need two ingredients – Greek yogurt and fruit of your choice. For tools, you'll require a blender and a heart shaped mold (really, any kind of mold will work). I think the hearts are so pretty, don't you?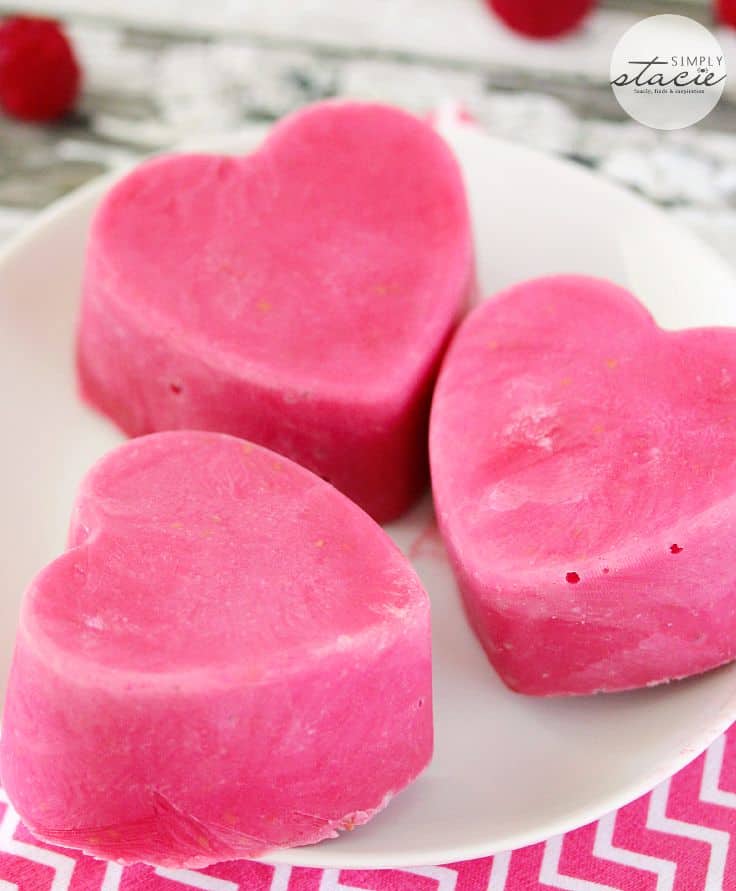 Frozen Yogurt Hearts
For this particular recipe, I used fresh raspberries. In the video below, I added frozen blueberries. Either one will work. I use whatever I have on hand at the moment. Berries are always a hit.
If you have popsicle sticks, you could make them into frozen yogurt pops. I didn't have any so we ate them as is. It was a little messy, but so yummy!
Another idea is to make frozen yogurt sandwiches with some large cookies or graham crackers. Because my mold was so ginormous, it will make a big sandwich!
For a sugar-free option, try them with plain Greek yogurt instead. My kids like the sweet flavour vanilla Greek yogurt adds so that is what I usually make them with. If it was just for me, I'd use plain Greek yogurt with no added sugar.
Watch my video here to see how I make them! I added frozen blueberries in the video, but really any fresh or frozen fruit should work.
Each bite is creamy, smooth and cool. Yogurt is so good for you and this is a delicious way to enjoy it.
Would you make your Frozen Yogurt Hearts as popsicles, sandwiches or eat them as is?
Yield: 5
Frozen Yogurt Hearts
Simple summer recipe for Frozen Yogurt Hearts made with only two ingredients.
Ingredients:
2 cups vanilla Greek yogurt
2 cups fresh berries of choice
Directions:
Place ingredients in a blender and blend until smooth. Pour mixture into a heart shaped silicone mold and place in the freezer for a minimum of two hours.