Put the Fun Back into Lunch
When I'm packing my daughter's lunch, I want to ensure that it's healthy and has food she will actually eat. She's a bit of a picky eater. Most importantly, I want her lunch to be fun. If I can surprise her with something different, that's even better. Packing her lunch is one time I give myself permission to play with food. I know I'm not alone. If you search on Pinterest, you can find many elaborate and clever lunch creations. Many other people like to play with their food too. I'm in good company.
I love using Rubbermaid LunchBlox® to pack Bridget's lunches for school. Not only are they the perfect portion size for snacks and sandwiches, but the Blue Ice keeps everything chilled till she is ready to eat it.
The Snap em' and Stack em' Containers fit together compactly in her lunch bag for easy storage.
Because of how compact they are, they don't take up much room at all.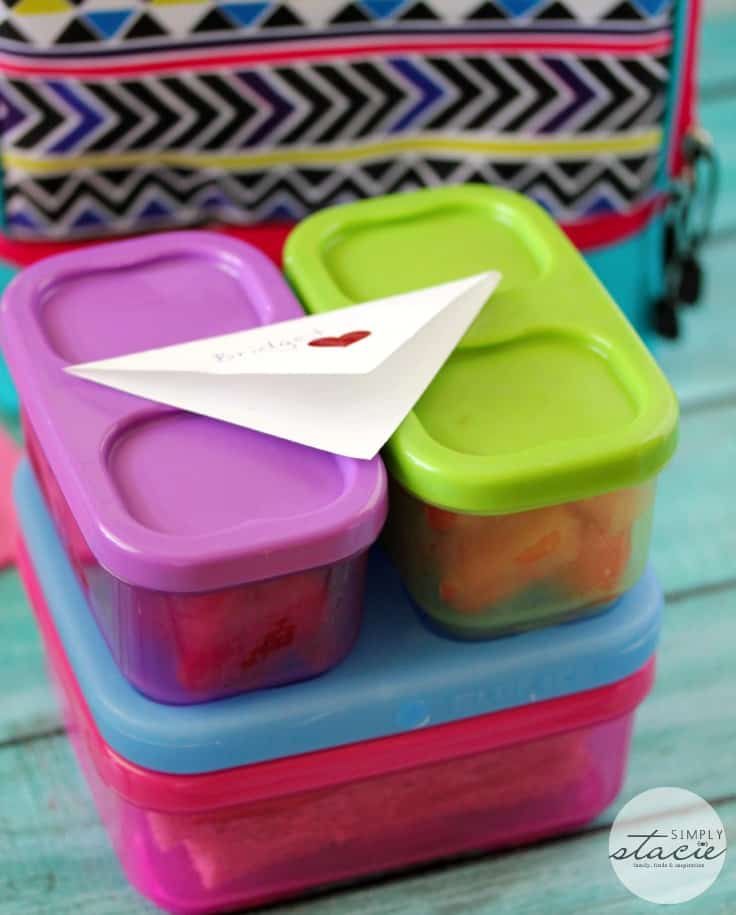 One of Bridget's favourite lunches to eat is the "I Love You Lunch". You don't need any fancy equipment or special skills to make this meal beyond a simple heart-shaped cookie cutter and lots of love in your heart. Tip: Buy a variety of cookie cutters to create your own themed lunches.
Fresh watermelon hearts fill up one of the side containers. I used a small heart cookie cutter to cut out the shapes from a mini seedless watermelon. Tip: Save the watermelon "scraps" for a Watermelon and Feta Salad for dinner.
In the second side container are heart shaped strawberries. To turn strawberries into these cute hearts, slice a strawberry in half down the middle. Then carefully with a knife, cut a small "V" at the top. Aren't they pretty?
For Bridget's "Open Heart" sandwich, I used a larger heart cookie cutter. First I had to cut the crusts off the whole wheat bread. She's one of those kids that hates the crust!
Place your heart-shaped cookie cutter on one of the pieces of bread and press down to carve out the heart. Build your sandwich like you normally would and then place the heart shaped bread on top. I made her favourite, a turkey and cheese sandwich.
I think a peanut butter and jam sandwich would also be sweet for this themed lunch. Layer your sandwich so your red strawberry or raspberry jam is peeking out the heart.
I also like to include a little "love" note in her lunch too. Sometimes it's a simple "I love you". Other times, I'll tell a joke or write what's on the menu that day.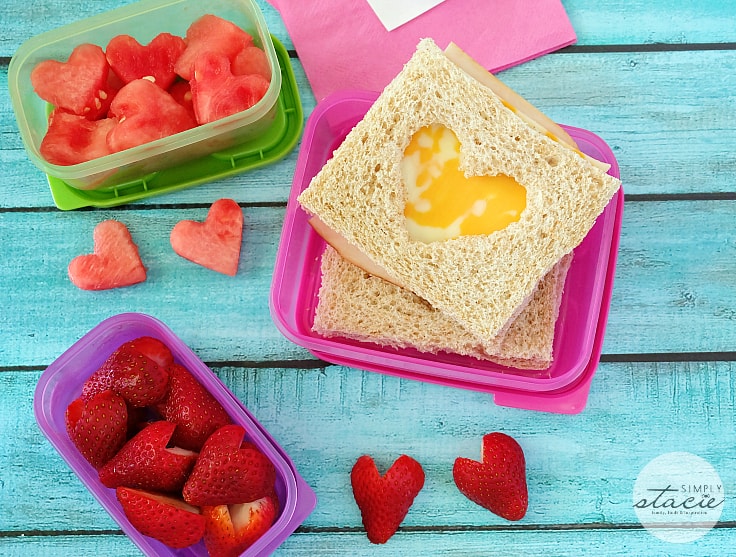 Another kid friendly lunch idea is the "You're a Star Lunch" using a star cookie cutter. My daughter can never say lunch is boring!
Better Lunch in a Snap! Rubbermaid LunchBlox® makes packing lunch easier than ever. Modular containers are perfectly portioned and snap together to stay organized in kids' lunch bags. Rubbermaid.com
Disclosure: This post was brought to you by Newell Rubbermaid Inc via Mode Media Canada. The opinions expressed herein are those of the author and are not indicative of the opinions or positions of Newell Rubbermaid Inc.