Prevent Mosquitoes with GreenStrike Mosquito Preventer
Disclosure: I am participating in the Green Strike campaign managed by SJ Consulting. I received compensation in exchange for my participation in this campaign. This post contains affiliate links. The opinions on this blog are my own.
Mosquitoes love me and I've got the scars to prove it! I've always been a magnet for mosquitoes. If I spend the evening outdoors, I can guarantee the next day I'll be covered in bites. With me it doesn't just end there. I'm also a scratcher and cannot leave the bites alone. I know it's best to NOT scratch, but I can't help it. Then I end up covered in scabs which eventually turn into scars. You should see my ankles! It's pretty bad.
When I first learned about the GreenStrike Mosquito Preventer, I was intrigued. Could this be the answer I was looking for to take back my yard? I'd love to be able to sit outside on the patio in the evening and watch the sun set without getting eaten alive.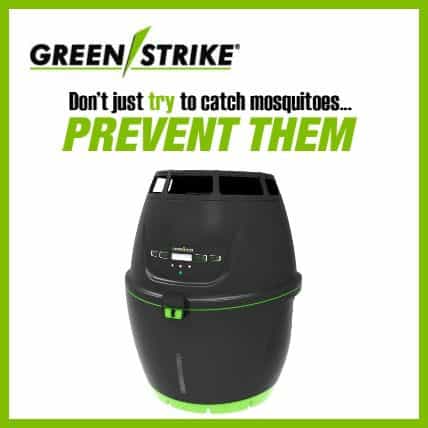 The GreenStrike Mosquito Preventer is about helping the source of the problem. Instead of zapping and killing mosquitos, it uses Zero-Hatch Technology to capture and destroy mosquito eggs and in turn, lowering the mosquito population in your yard. It works best at reducing "second generation" mosquitoes so it's best to use the Mosquito Preventer early on in the season. However, it's better a bit late than never. I only started using mine in the last couple of weeks.
How it Works
Like I mentioned, the GreenStrike Mosquito Preventer uses a patented Zero Hatch Technology which allows it to mimic the conditions in a marsh or pond, where mosquitoes tend to breed. The female mosquito lays her eggs inside the Breeding Zone of the Mosquito Preventer. Then the Zero Hatch Technology captures and disposes of the mosquito eggs.
Inside the Mosquito Preventer are Mosquito Lures which attract the female mosquito. The female will also help out by releasing a pheromone attractant to tell other mosquitoes that its a safe spot to lay eggs.
The Mosquito Preventer runs on a 3 Day Cycle where the eggs and the pheromone attractant pass through a filter, captruing and killing the eggs. Note – you can adjust the cycle time on your machine. I kept mine to the three day cycle.
GreenStrike Mosquito Lure
When you buy your GreenStrike Mosquito Preventer, it comes with two kinds of mosquito lure. Deciding which one to use will depend on where you are in the season.
CU Mosquito Lure is like a tea bag and is used mainly in the spring. It helps to attract the mosquitoes that have been dormant over the winter.
AE Mosquito Lure is a liquid and is used mainly in the summer. It helps attract mosquitoes in hotter temperatures.
I used the AE Mosquito Lure because we are right in the middle of summer. Mosquito Lure must be replaced every 30 days.
Setting Up
I was surprised how easy it was to set up my GreenStrike Mosquito Preventer. I appreciated the fact that it came pretty much assembled with only a few small tasks for me to do. I'm not the best at assembling products, but I figured this one out on my own with the help of the instruction manual. It has images which I always find very helpful!
You'll need some non-cholorinated water to use in the reservoir. They suggest rain water if you own a rain barrel. I don't have a rain barrel or a supply of rain water so I used their other suggestion: distilled water. You can buy big jugs of it inexpensively at Walmart.
I also liked that it came with batteries – eight of them! The Mosquito Preventer is battery operated so it won't raise your hydro bill.
Where to Put It
Obviously it goes outside, but where? They suggest placing your Mosquito Preventer in all-day shade, protected from the wind and where there is lots of vegetation. In my yard I placed it on our patio under the overhang from the garage. I thought that was the most ideal spot based on the criteria. I'd like to get another Mosquitor Preventer to place at the opposite end of the yard since our yard is quite big. The neighbours will also likely be reaping the benefits too!
Maintenance
As with any tool you use in your home, it's important to maintain its upkeep. They suggest every seven days to visually inspect your Mosquito Preventer to ensure it has enough water, perform a system check (it's only the press of a button), etc. On a monthly basis, you'll need to top up the water, add a new mosquito lure to the bottom reservoir and replace the filter trap etc.
What I Liked
I haven't been using the Mosquito Preventer for the whole summer, but in the short time I have used it, I've noticed an improvement in the amount of mosquitos in my yard. I look forward to continuing to use it for the rest of the summer because the longer you use it, the better it works.
I was nervous at first that it would be loud to operate. I was shocked by how quiet it is. It's pretty much silent. I had to look to make sure I had it turned on!
I also like that it's low maintenance and that it doesn't drain my hydro. With electricity costs the way they are, battery powered is the way to go.
Where to Buy
You can find the GreenStrike Mosquito Preventer (ARV $299) and Mosquito Lure refill kits (ARV $21.99) at your local Home Hardware or on Amazon.
Would you benefit from having a GreenStrike Mosquito Preventer in your yard?