The Honey Girls Debut in Canada!
Our home is a little brighter these days! My daughter, Bridget, is the proud owner of Build-A-Bear Workshop's newest product line, the Honey Girls. These three plush girls met at school and formed a band, Honey Girls. Their passion for music was their introduction to one another. The strong bonds of friendship are what keeps them together.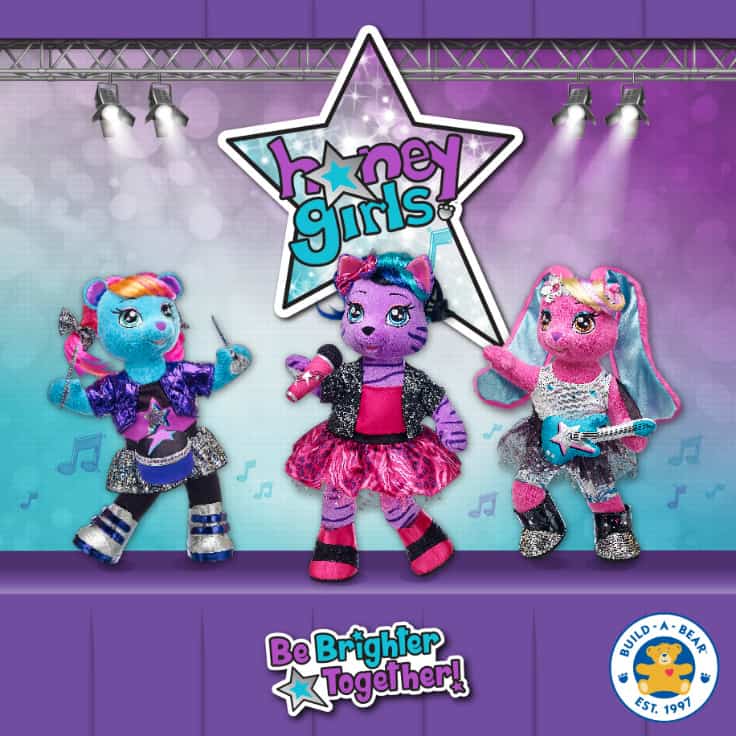 Bridget and the Honey Girls share a love for music. This past year, Bridget participated in weekly piano lessons. I'm so proud of how much she has improved. It fills my heart with joy to see how much she loves music. The sounds of her practicing on her keyboard in her room often fill our home. Now with her new friends, Teegan, Risa and Viv, of the Honey Girls, she has an audience and can "jam" with the band!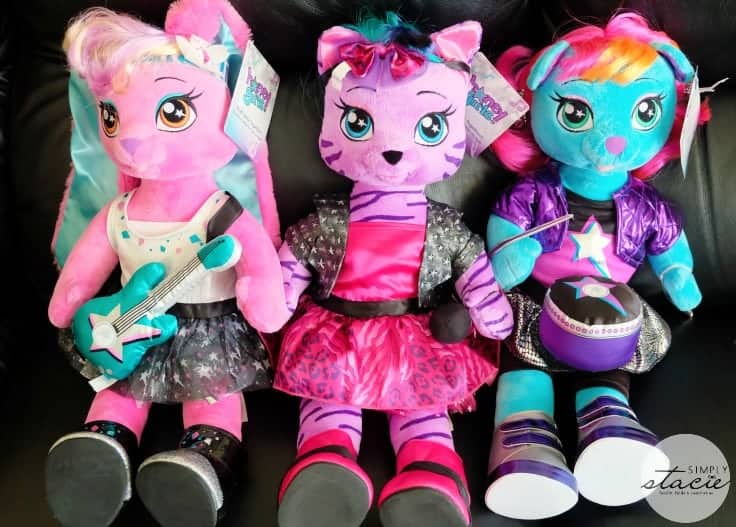 Like all of us, the Honey Girls each have their own unique personality with strengths and talents. Risa, the guitarist, has a huge imagination and has a special talent of being able to turn anything into an instrument. Teegan, the lead singer, is full of energy and isn't afraid of anything. She writes all the lyrics to the songs with a few of her own made up words thrown in there. Viv, the drummer, is loyal friend who is a great listener and problem solver. She'll always have your back.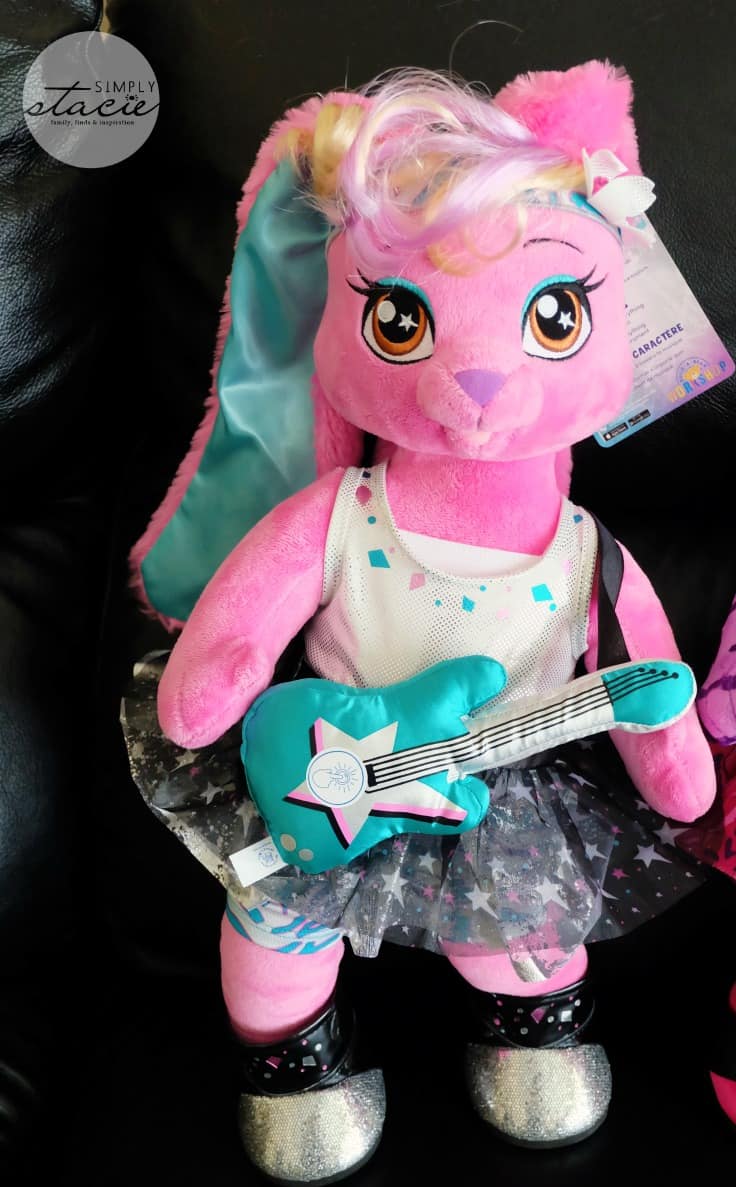 The Honey Girls story is so much more than three girls playing in a band. It goes deeper with its positive message of friendship and working together with each other's strengths and talents to be the best you can be. I love the inspirational message of the Honey Girls and how the product line was designed to encourage children to discover their passions and express themselves  in whatever they love to do. They empower children to focus on their strengths and talents and be confident.
My sister, Laura, was here when the Honey Girls arrived. She told us that her daughter, Avery, who is 6, would flip out if she brought one home. I don't think Bridget is willing to part with her new friends. I suggested my sister get one for my niece for her birthday. I can imagine her eyes lighting up just like Bridget's did!
Another neat thing about the Honey Girls is how kids can customize their character with a special plush star that represents a positive character trait. The stars are different colours and include traits like creative, confident, talented, smart, fearless and strong. When you buy a Honey Girls character, they'll come with one plush star placed inside during Build-A-Bear's signature heart ceremony.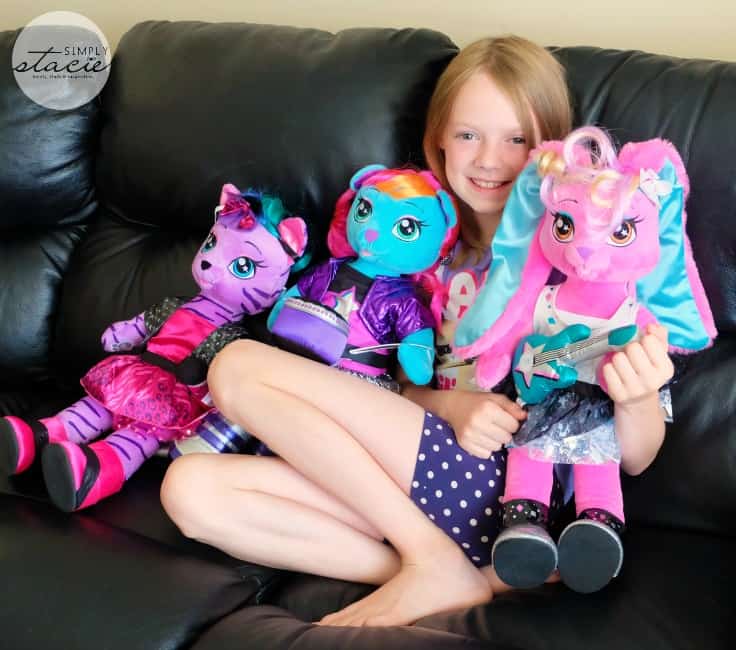 Teegan, Risa and Viv all have their own original song in addition to their group debut song, "Everything is Better". It's a catchy tune, don't you think?
Enhance the interaction with the Honey Girls by using their exclusive Honey Girls Studio App, available on iTunes and Google Play. Through this free app, kids can meet the band, listen to their songs, make music videos, take selfies and play games. They'll also have the ability to unlock special features.
Ready to rock with the Honey Girls? They are now available both online and in-store at Build-A-Bear Workshops for a retail price of $30. They come dressed in their brightly coloured unique outfits and accessories pictured here. You can also buy more outfits and accessories separately too. Each Honey Girl will travel home from the store in a specially designed condo that also converts into a stage for performances.
A certain orange mister is also enjoying the Honey Girls and their music. Little Reggie wants to be in the band too!
Join the Honey Girls conversation by tagging @BuildABear in your tweets or shares. Do you have a child who would like the Honey Girls?
Disclosure: I was compensated for this post. All opinions expressed are 100% my own.