10 YA Books Even Adults Will Enjoy
Though a young adult is defined as a person between the ages 12 to 18 by the American Library Association, I'm of the belief that you are never too old to enjoy YA (Young Adult) fiction. I'm in my mid-30s now and my 16 year old daughter and I often swap books. I'm glad I gave these books a chance and looked beyond the label. I would have missed out on some really good reads!
According to this article in The Guardian, 55% of readers in the YA and teen markets are actually adults. YA is one of my favourite genres. I read more YA books than I do any other type of genre. That's a big difference from even 10 years ago. The genre has spread in popularity.
Today, I want to share with you my list of 10 YA books even adults will enjoy. These books are ones that I've read and recommend. I've read many YA books, some good, some terrible. These ones get an A or A+ in my books!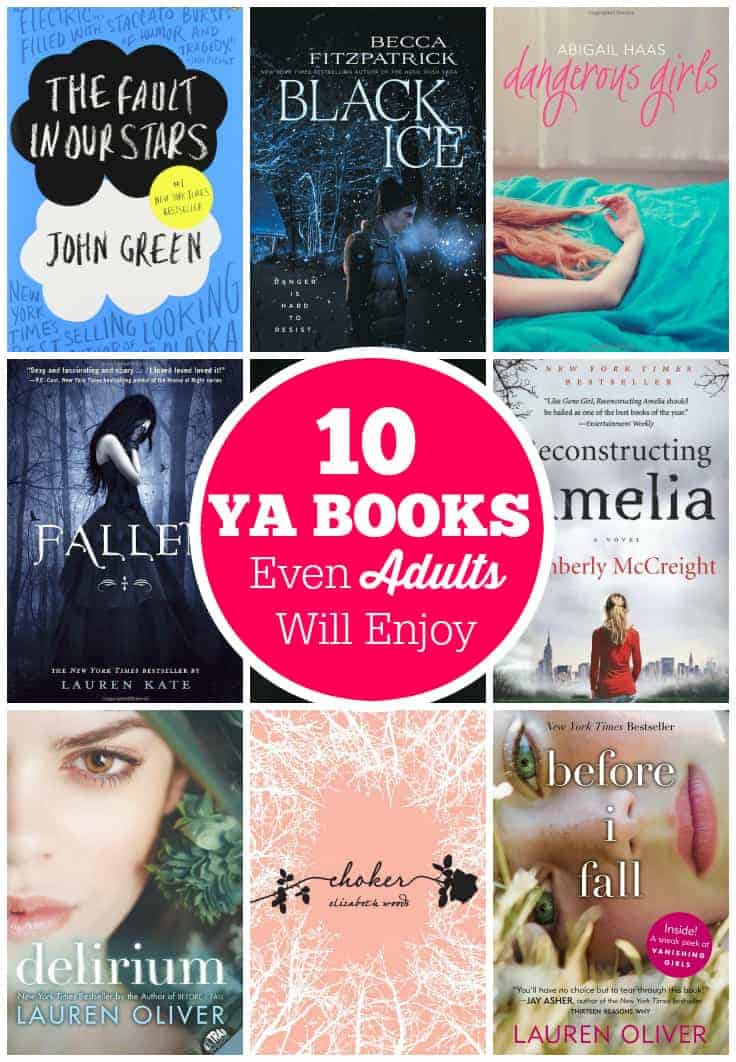 YA Books Even Adults Will Enjoy
This post contains affiliate links.
The Fault in Our Stars by John Green
Black Ice by Becca Fitzpatrick
Evermore by Allyson Noel
Dangerous Girls by Abigail Haas
Fallen by Lauren Kate
Reconstructing Amelia by Kimberly McCreight
Divergent by Veronica Roth
Delirium by Lauren Oliver
Choker by Elizabeth Woods
Before I Fall by Lauren Oliver
You can also find these books on Amazon.ca and Kobo.
If you are new to YA, this list is a fabulous starting point. Try one or two and see what you think. And remember – age is just a number! You are never too old to enjoy YA. Just read 🙂
The first YA book I read as an adult was Harry Potter in my early 20's. Then I moved on to Twilight and all the books that followed. The rest is history.
Do you read YA? If so, what was the last YA book you read?