Subscription Boxes for Men
This post contains affiliate links.
Father's Day is June 21st this year and I've been racking my brain trying to decide what to get my dad. He's not the easiest to person to buy for! I never have this hard of a time with my mom because I know what she likes and dislikes. My dad, on the other hand, is a whole different ballgame.
For Christmas, I bought my mom and oldest daughter a subscription box. I thought my dad would probably enjoy one too. My mom and daughter always look forward to their monthly shipment of goodies. I did a little research online and discovered a slew of subscription boxes for men. I had to dig a little further to make sure they shipped to Canada. Good news! Many do 🙂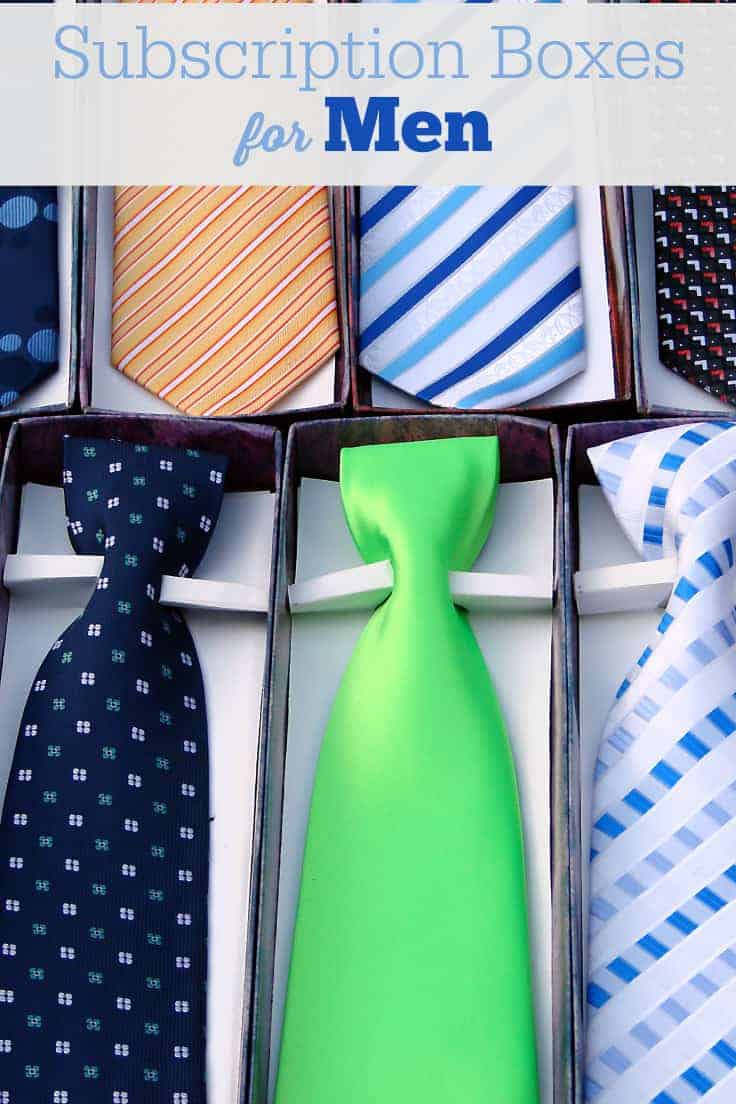 © Delphotostock / Dollar Photo Club
I liked the variety I found with subscription boxes covering many interests including attire, fishing, cologne, golf and shaving, to me a few. I think my dad would like the subscription boxes for golfers and ties. He has a golf membership at the local club and also wears ties to work. I'm not sure when he plans to retire so I think ties would still be a good idea!
Check out these 18 subscription boxes for men that are Canada-friendly with a few being Canada-based!
1. Frank & Oak ($6 CAD shipping): Modern menswear.
2. Scent Trunk ($15/month, Free shipping): 3 fragrance miniatures.
3. Wet Shave Club ($29 USD/month, $5.99 shipping). Wet shaving items.


4. Five Four Club ($85 USD/month, $25 shipping). Clothing according to your style profile and preferences.
5. Tackle Grab ($15 USD/month, free shipping): High quality bait.
6. Bespoke Post ($45 USD/month, $10-15 shipping): Limited edition products curated around the theme of your choice.
7. Mystery Tackle Box ($15 USD/month, free shipping): Variety of quality fishing products.
8. Dollar Shave Club: ($3.50 to $9.50 CAD/month, free shipping): Razor blades.
9. Manpacks: (Price varies depending on selection, free shipping over $49 USD):  Socks, underwear, razors, and toiletries delivered every three months.
10. Razor Blade Club ($5 CAD/month $1.99 shipping): 3 Blade Razors.
11. Birdie Box ($46.33+/month, $29.95 shipping): Golf, lifestyle and nutritional products.
12. Black Box Tie: ($35 USD/month, free shipping): Luxury ties.
13. Gizmo Crate ($59 USD/month, $16.50 shipping): Gadgets and foodie items.
14. Kinderbox ($35 USD/month, $7.99 shipping): Five items from different categories such as food, clothes, everyday carry items, tech gadgets, survival tools, etc.
15. Men's Accessories Box ($30.97 USD/month, free shipping): Unique accessories ranging from cufflinks, ties, tie bars, money clips, lapel pins and more vintage men's accessories tailored to your personal style.
16. SprezzaBox ($34 USD/month, free shipping): 3 to 4 lifestyle items, a grooming product, discount codes, etc. Use the coupon code SIMPLYSTACIE to save 10% off your first box (monthly and prepaid subscriptions) and entire store orders.
17. Root Bizzle ($25 USD/month, shipping cost determined at checkout): Ties and socks.
18. Club Evoq ($49 CAD/month, free shipping): Premium men's accessories. Use coupon code SIMPLYSTACIE to save 15%.
For more posts about subscription boxes, check out Pet Subscription Boxes for Canadians, Coffee Subscription Boxes for Canadians and Beauty Subscription Boxes for Canadians.
Don't get stressed out about buying a Father's Day gift this year. Give that special man in your life one of these subscription boxes. It will be a unique gift that I'm sure he will love getting every month!
Disclosure: This post contains affiliate links.