Read Anywhere with the Kobo Glo HD
I cherish those quiet moments I spend reading. It's the best feeling when I'm swept away by a story and characters. I'm not sure how to describe it except as a comforting feeling in my soul. I've been reading since I was three years old and during that time, have had many books bring me to that special place. When I start to read a new book, I always wonder if it will be one to remember. Thankfully, many are and I'm always grateful for that experience.
As much as I love books, I don't love the clutter! My old home in Nova Scotia had built-in bookcases all over the place. They were packed full with my collection. I realized when we moved to our new home in Ontario that I just didn't have the space. I had to whittle down my collection and keep only the books that I truly loved.
Disclosure: I am part of the PTPA Brand Ambassador Program with Kobo and I received compensation as part of my affiliation with this group. The opinions on this blog are my own. This post contains affiliate links.
I was recently introduced to the Kobo Glo HD and challenged to try it out instead of reading my normal print books. It came at just the perfect time because I had just finished up my book and was looking for a new read.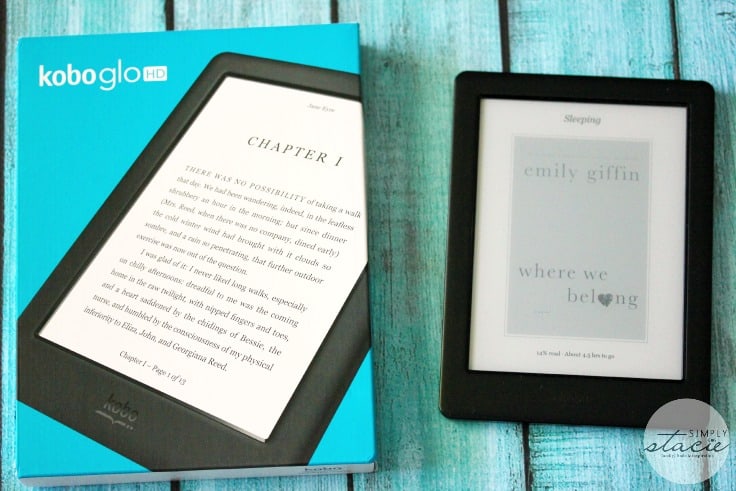 The Kobo Glo HD has three important features; it offers comfort, convenience and customization.
In terms of comfort, this 6 inch eReader fit perfectly into my hands. I appreciated that it wasn't cumbersome or heavy to hold. I read in bed so I want something that will be easier for me to hold and allow me to relax and drift away into the story. I was surprised that I actually preferred reading in bed with the Kobo Glo HD than a regular book. I often turn on my side to read and with some print books, it's awkward to try and turn the pages. I'm constantly shifting as I try to get comfortable which annoys John! I noticed I can stay in one comfortable position in bed reading. Turning the pages requires a quick finger touch to the HD Carta E Ink touchscreen.
I also appreciated the convenience the Kobo Glo HD offered. As I mentioned it's lightweight and it's also portable. I can easily fit it in my purse and can't even tell it is there. Normally a book would weigh the purse down.
The battery life is up to 2 months allowing you to read an entire eBook on one single charge! It's nice to not have to charge it daily like my smartphone.
You can carry your entire library with you! It stores up to 3,000 eBooks. I know what I'm bringing with me the next time we travel! It will be so much easier than carrying several books with me, at the rate I fly through books.
I love knowing that I'll never run out of books to read and don't even have to leave my house to get the latest book from my favourite author. A few years back, I was in the middle of reading the Twilight series. I read the first two books and couldn't find the third one anywhere in my hometown. I drove to multiple stores and was wondering if I would have to drive to Ottawa (150 km drive one way) to find it. I was willing to do that because I had to read it now. I was seriously in a panic!
I smile knowing that I'll never have to suffer book withdrawal like that again! If I want a book, I simply access the Kobo eBookstore through Wi-Fi and find what I need. They have millions of eBooks at your fingertips….literally!
Let's talk customization. In the past, I've been known to turn away a potential book to read simply because I didn't like the font. I'm picky! The wrong font or font size can be enough to make me not want to read a book. The Kobo Glo HD allows you to customize your reading experience. You can pick from 48 font sizes and 11 different font types. It even lets you adjust the margins, highlight your favourite passages and write notes. The built-in dictionary is great if you aren't sure what a word means (it happens sometimes!).
I can't wait to get into some beach reading this summer. The anti-glare screen makes it easy to read in direct sunlight. On the other hand, you can also read in the dark with its built-in adjustable ComfortLight. The ComfortLight has come in handy! I can stay up late reading without disturbing John. He complains if I leave the light on too long and he can't sleep.
Not sure what to read next? The Kobo ebookstore also gives you personalized recommendations, free previews and reviews! My TBR (To Be Read) list has grown probably exponentially! You'll never hear me use the excuse that I have nothing to read.
Right now, I'm reading Where We Belong by Emily Giffin. I've read all of her other books and have been wanting to read this one for awhile. I love her writing and find it easy to immerse myself into her books. This one is no different. I read every night before bed like always. I wish I had more time in the day to read more! Once I'm finished this book, I'm moving on to The Castaways by Elin Hilderbrand, another author I enjoy. It's already waiting for me in my Kobo library.
Kobo App
Get the free Kobo app and you can pick up where you left off on other devices. If I'm running out the door to shuttle Bridget to one of her lessons and forgot to bring my Kobo Glo HD, I can still read my book on my smartphone.  Instead of playing mindless games on my phone, I'm catching up on my reading. My mom would be so proud.
I signed in on the app and there was my book at the spot I left off. Her half hour piano lesson flew by this time around!
When I was ready to resume reading on my Kobo Glo HD at home, the device recognized that I had made progress in the book and updated me to the spot where I left off after piano lessons. Easy!
You can also connect to your Facebook profile if you want to share with friends what you are reading.
The Kobo app is available on multiple devices including iPhone, iPad, Android, Blackberry 10, Windows 8 and Windows 8 Phone.
Buy a Kobo Glo HD
Pick up your own Kobo Glo HD for $129.99 and join me in my reading adventure! I can't wait to fill with my Kobo library with more books from my favourite authors.
Do you think you would enjoy reading on a Kobo Glo HD?