Idiot's Guides Organizing Your Life
I received a copy of this book for review, but was not compensated financially in any way. The opinions expressed are my own and are based solely on my experiences while reading this book.
Title: Idiot's Guides: Organizing Your Life
Author: Cyndy Aldred
About the Book
Getting organized starts with approaching your home and your stuff differently, with a creative mind-set, arranging what you want to keep in a better way, and passing along what you really don't need anymore. With inspirational and instructional colour photos to show you the way, this guide helps you clear away the clutter – for good. In it, you get:
Easy ideas for organizing your kitchen and pantry
Guidance on getting your bedrooms and closets in shape
Smart strategies for clearing and organizing bathrooms and laundry rooms
Tips on tackling tools, sporting equipment, and other potential garage clutter
Simple solutions for sorting your office and important paperwork
My Thoughts
My mind is full of creative organizing projects I'd like to tackle after reading Idiots Guides Organizing Your Life! As someone who enjoys cleaning, organizing and DIY, this is my kind of book. It's full of ideas on fun and easy ways to simplify your life through an organized home. I cannot stand clutter and love a good organization system that works.
Whether you are already a pretty organized person or someone who needs some serious clutter control, this book is a good way to start. My home is somewhat organized, depending on where you look. However, there's always room for improvement. My front entry hall is a disaster and needs some serious TLC. I'm planning to apply a couple of the ideas I learned in this book to make that space more usable.
The book has sections for the various rooms in your home like your kitchen, dining room, bathrooms, bedrooms, garage, etc. Within each section are DIY project ideas with lots of photos and step-by-step instructions. The author also provides a list of quick tricks with simple ways to improve each space. At the end of the section is a handy checklist to summarize what you've learned.
I've found SO many projects that I want to do. My pantry is done, but I haven't done anything with my fridge. I plan to apply the tips I learned in this book to whip it into shape. The ideas in this book will keep me busy for awhile.
If you could use a little more organization in your home and want some simple solutions to get control of clutter, check out this book. It's easy to read and most of all, useful, with practical tips you can start to apply today.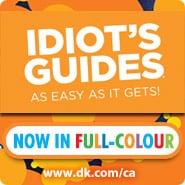 Check out Idiot's Guides Organizing Your Life from DK Canada and also have a peek at their other Idiot's Guides! Also, find the book on Amazon.ca.