10 Easy Ways to Earn Cash & Gift Cards
Free cash and gift cards are out there if you know where to look! This post today shares 10 easy ways to earn cash and gift cards. Some of the ones I listed I've been doing for years like Swagbucks and credit card rewards. Others are still fairly new to me like Ebates and the grocery apps. I only wish I had learned about the sooner because I lost out on all that potential money! Better late than never so they say, right?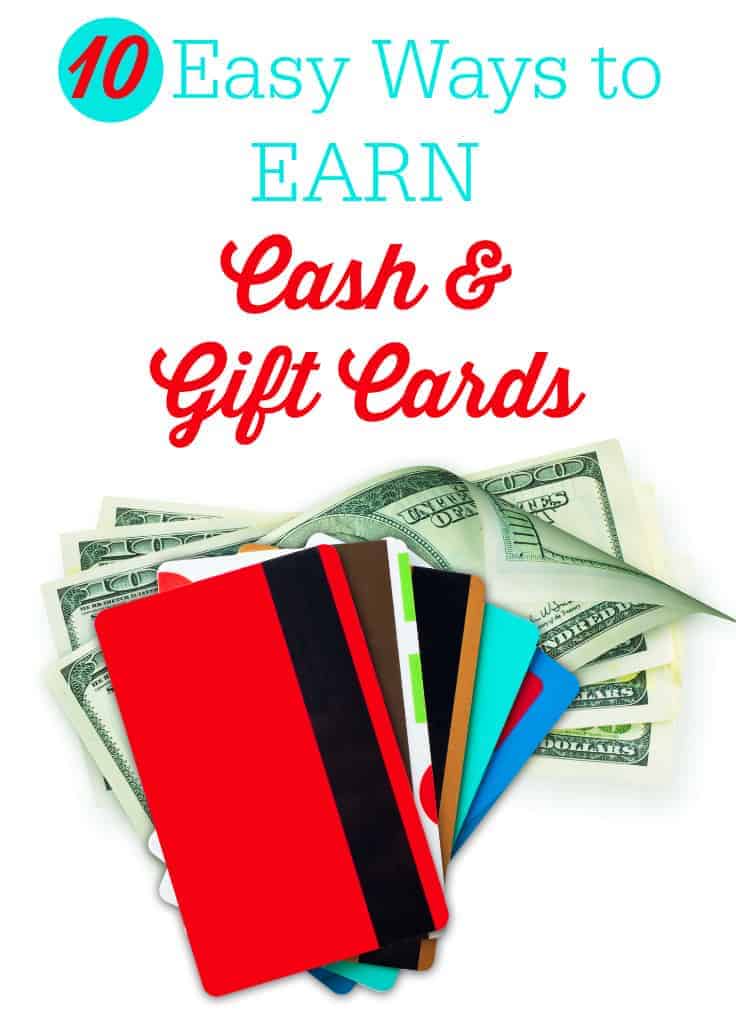 If I had to pick a favourite from all these programs, I'd go with Ebates and grocery apps. I use Ebates for all my online shopping and the grocery apps every week. I think of them as extra perks for buying items I was going to purchase anyways.
This post contains affiliate links.
1. Swagbucks. I know some people rock Swagbucks and earn tons there! I'm more of a "slow and steady wins the race" type of person on Swagbucks. I don't have the app (I don't think it's in Canada) nor do I use the Swagbucks search engine. The only thing I do every day is take the daily poll. The Swagbucks page automatically opens when I launch Google Chrome so I quickly do the poll and earn 1 Swagbuck. They also sent me 50 Swagbucks on my birthday. How nice! I save my Swagbucks for Paypal cash and redeem as soon as I have enough in my account.
2. Ebates. If you are shopping online, please listen up! Go to Ebates first and click through their site. You'll earn money back on your purchase! I've been on there a few months and already earned over $80. Payment comes every few months and it is legit! Have a look through the huge list of merchants and you can see what each one is offering in terms of cashback. I bought makeup over the weekend at Pur Minerals and earned 10% cashback in my account. Check out my post about Ebates for more details on how it works.
3. AIR MILES. I've been a AIR MILES cardholder since the late 90s when my grandma told me I should sign up. I use my card whenever I can and even signed up with a oil heating company here that gives AIR MILES. When you are paying over $700 a pop, that's a lot of AIR MILES! They add up fast. I have mine set to 100% Cash Balance so I can redeem the eVouchers. I usually choose the ones from Staples or iTunes (when they are available).
4. Grocery Apps. I started using grocery apps to get cashback on my grocery purchases. Since August, I've earned over $150 on items I was planning to buy anyways. I tell everyone who will listen to start using these apps! Every little bit helps. Combined with sales and coupons, you can really save a bundle!
5. Credit Card Rewards. I have to use my credit card every month to keep this blog running! Many of the online merchants I deal with don't accept Paypal, so I have to use my credit card to pay. I'm ok with that as long as I pay my bill off every month (I detest paying interest!) and I also earn rewards on my credit card. RBC Rewards is one example. I think most banks have credit cards with some kind of rewards program though. I use my rewards for gift cards. Just this past week, I redeemed my rewards for a $50 iTunes gift card.
6. Superpoints. I was active on the old Superpoints, but haven't really done much with the new site. You earn points by clicking the Superlucky button, sharing Superpoints, filling out surveys and more and can redeem your points for gift cards and other prizes. I spy Tim Hortons gift cards!
7. CardSwap. There are two ways you can earn cash or gift cards from CardSwap. The first way is selling your unused gift cards for cash. The second way is buying gift cards and earning SwapPoints you can redeem for cash or gift cards. I like buying gift cards as gifts for birthdays and Christmas.
8. Shoppers Optimum. Earn Shoppers Optimum points with every purchase you make at Shoppers Drug Mart. I've been redeeming my points once a year to buy Christmas gifts. They also have a lot of special promotions where you can earn bonus points on specific days and if you buy certain items.
9. MyCTMoney. Canadian Tire now has a card you can use to earn Canadian Tire money instead of keeping a wad of CT bills in your wallet. I much prefer the card! Whenever I shop at Canadian Tire, I scan my card and earn cash back I can use on future purchases. This is another program where I save up and use once a year!
10. PC Plus. Join the program for free and receive personalized offers. Load the offers and buy the products and earn points. You can redeem them to save money on your grocery bill. Sadly, I moved away from stores that accept PC Plus when I moved to Pembroke. I think the closest Superstore is in Ottawa.
Do you use any of these programs from my list? Is there any that you like that I haven't mentioned. Please share!