Calling Maggie May by Anonymous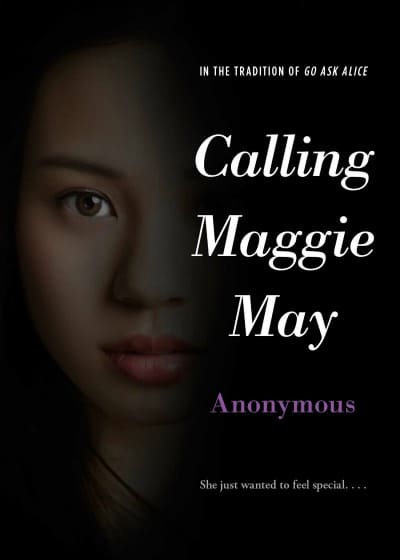 I received a copy of this book for review, but was not compensated financially in any way. The opinions expressed are my own and are based solely on my experiences while reading this book. This post contains affiliate links.
Title: Calling Maggie May
Author: Anonymous
About the Book
A dark and edgy first-person cautionary tale about how one girl's seemingly minor choices quickly spiraled into a life as a sex worker in the tradition of Go Ask Alice and Lucy in the Sky.
She had a normal life, until one small decision changed everything. Suddenly, there were new possibilities and new experiences.
But not all of those experiences were good.
Read her shocking story in the diary she left behind.
My Thoughts
I devoured Calling Maggie May in one sitting. It's rare that ever happens. I literally could not put this book down!
The book is told in the first person, journal-style, by a teen girl who I think was named Maggie May. I don't ever remember it saying in the book what her name was, but that's the title of the book so we'll go with that. Maggie May lives a sheltered life with her parents. She goes to school, studies, swims and hangs out at home. Her life is pretty ordinary and in her mind, boring.
At school, she is entranced by a fellow student named Ada Culver. To Maggie May, Ada has it all. Good looks, nice clothes and a mysterious air about her. She also appears to have money. Ada and Maggie May become friends and it's then that Maggie May learns more about her friend and the secret life she leads. She's a teen prostitute working for a local madam, Miss Irma.
Maggie May becomes involved in this lifestyle along with Ada and that's when her life starts to fall apart. She has money of her own now, but at what cost? She's flunking school and her parents are heartbroken at how much their daughter has changed. It was very easy for her to get caught up in this lifestyle.
I hate to say, but Maggie May was not that bright. I don't mean that because she made a bad decision, but just some of the scenarios in the book and her actions had me shaking my head. I kept thinking to myself that she was seriously thick and extremely naive. Even after working in that life, her street smarts weren't the best and the author proves that over and over in the book. She was a likable character enough, but I just couldn't get over some of the things she did and said.
A series of bad decisions can alter your entire life. I hoped that Maggie May would get back on track again and stop working for Miss Irma for good. I also hoped that she would develop some street smarts and not be manipulated as often as she was.
This book was a quick read like the previous Anonymous books. It's also one of my favourites out of all the ones I've read in the past. I think this one will be going on my Recommended Books to Read list. I'd even read it again in a few months!
Buy Calling Maggie May on Amazon.ca.