Tide HE Turbo Giveaway
Disclosure: I am a P&Gmom/mamanP&G. As part of my affiliation with this group I receive products and special access to P&G events and opportunities. The opinions on this blog are my own.
We aren't ready to purchase a new washing machine just yet, but when we do we'll be buying a high-efficiency washing machine. My mom has one and loves all its bells and whistles. I'm waiting till our current one is dead before I'll splurge on a new one though.
Many Canadians now own or plan to purchase a high-efficiency washing machine. This month, P&G Fabric Care introduced a new industry standard in High Efficiency (HE) Detergents made specifically for these high-efficiency washing machines. The HE-Turbo Seal is now on select Tide products to allow people to easily identify detergents that can be used in their HE washing machines.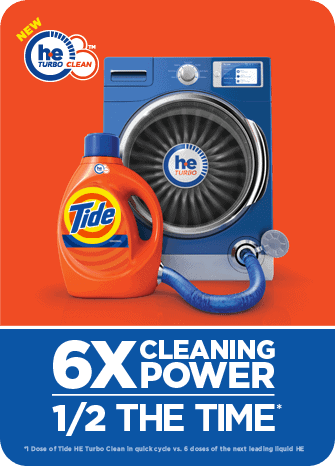 Tide HE Turbo products use the new proprietary quick-collapsing Smart Suds technology. It allows your laundry to rinse clean without sending your HE washer into additional rinse cycles that can add up to 25 minutes to your wash. That saves you time and energy and you won't be wasting up to 10 gallons of water on the extra cycles.
Tide HE Turbo products will work in all washing machines, but are designed to maximize the energy and water saving benefits of HE machines. This product also delivers six times the cleaning power in half the time compared to regular detergents used in an HE washer.
Want to try the new Tide HE Turbo products. Look for them at your local Walmart store!
Do you own an HE washing machine?
Connect with Tide on Twitter.