Celebrate #NationalCerealDay with Nature's Path
Woohoo today is a special day! It's National Cereal Day. Yes, America's (and I think Canada too) favourite breakfast has its own holiday. I hope you'll eat some cereal today to celebrate.
Cereal has always been one of my go-to breakfasts for feeding my family. Not only is it quick and easy to make, but it's also nutritious! Well, if you buy certain types of cereal it is. Nature's Path is a well-known (and loved) brand in the pantrys of many homes, mine included. Their organic cereals are made with premium quality ingredients with no simulated flavours or preservatives. And they taste great! With all the yummy flavours available, you have lots of choice to suit everyone's tastes.
My kids love the Envirokidz Cereal including Peanut Butter Panda Puffs and Chocolate Koala Crisp.
Other tasty varieties include Whole O's, Mesa Sunrise, Sunrise Crunchy Cinnamon and Sunrise Crunchy Honey. My favourite is the Sunrise Crunchy Honey. It has just the right amount of sweetness and gives me energy to start my busy day.
Get your daily fibre with a bowl of SmartBran. I've tried it also mixed with some plain yogurt.
For a less traditional cereal, try Qi'a™ Superfood – Chia, Buckwheat & Hemp Cereal Cranberry Vanilla. You only need 2 tbsp of the cereal mixed with some milk. I wasn't sure at first because I'd never tried this type of cereal, but was pleasantly surprised that I enjoyed it.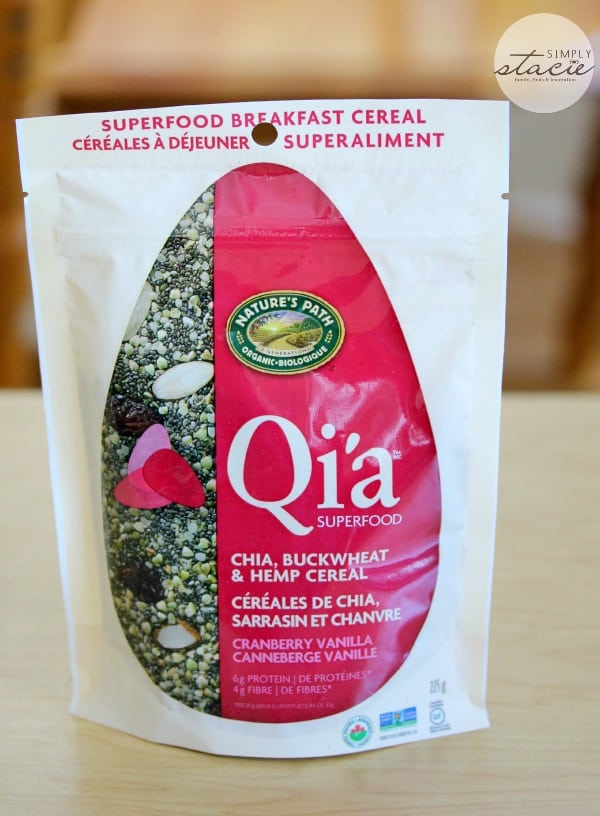 Look for these products and other Nature's Path cereals in a store near you. Check this list to find one in your area.
How often do you eat cereal for breakfast?
Connect with Nature's Path on Facebook, Twitter and Pinterest.