My Little Pony Friendship is Magic Giveaway
Do you have a My Little Pony fan in your home? If so, you will want to check out the newly released DVD, My Little Pony Friendship is Magic: Adventures of the Cutie Mark Crusaders!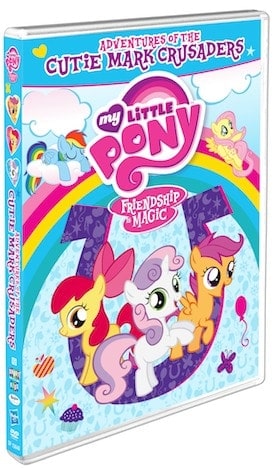 About the DVD
Everypony is unique! If you lived in Equestria, what would your CUTIE MARK be? The Cutie Mark Crusaders can help you find out!
In EQUESTRIA, obtaining a CUTIE MARK is an important coming-of-age moment for a young Pony. After all, Ponies acquire their CUTIE MARKS only after they discover a unique characteristic about themselves, setting them apart from all other Ponies. So when Sweetie Belle, Scootaloo and Apple Bloom meet, they instantly become friends and make it their mission to find their CUTIE MARKS! They are The Cutie Mark Crusaders!
Also, the bonus feature is a fun new sing-along and colouring sheets!
The DVD is in stores now and available for purchase.
Check out the trailer!
For even more fun, make sure to check out the new Cutie Pox Storybook App from PlayDate Digital. It's available on iPhone, iPad and iPod touch!
When Apple Bloom becomes impatient waiting for her cutie mark, she decides to take things into her own hooves! In this interactive story book, follow Apple Bloom and the fillies as they learn that taking the easy path toward your goals isn't always the best way. Enter the world of Equestria in this storybook adventure full of excitement, humor and friendship!