Big Hero 6 on Blu-ray + DVD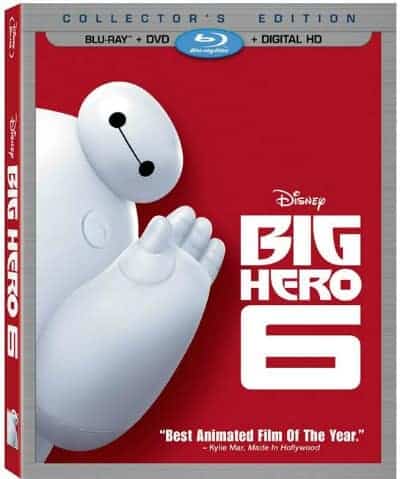 Disclosure: I received a copy of the movie to facilitate this post. Opinions expressed are my own. This post contains affiliate links.
Title: Big Hero 6 (Blu-ray + DVD + Digital HD)
Release Date: February 24, 2015
About the Movie
With all the heart and humor audiences expect from Walt Disney Animation Studios, "Big Hero 6" is an action-packed comedy adventure that introduces Baymax, a lovable, personal companion robot, who forms a special bond with robotics prodigy Hiro Hamada. When a devastating turn of events catapults them into the midst of a dangerous plot unfolding in the streets of San Fransokyo, Hiro turns to Baymax and his diverse group of friends — adrenaline junkie Go Go Tomago, neatnik Wasabi, chemistry whiz Honey Lemon and fanboy Fred — who transform into a band of unlikely heroes. Bring home Disney's "Big Hero 6," featuring comic-book-style action and hilarious, unforgettable characters — it's fun for the whole family!
Bonus Features
Digital HD/3D/SD*, Blu-ray Combo Pack & Disney Movies Anywhere (DMA)
FEAST Theatrical Short
The Origin Story of "Big Hero 6": Hiro's Journey (hosted by Jamie Chung, voice of Go Go Tomago) – Join the team behind the team that brought Big Hero 6 to the big screen as they travel on research trips to Tokyo and San Francisco and go behind the scenes of this epic film. Explore everything comic-book about Big Hero 6, from director Don Hall's passion for comics to the story's roots in a lesser known Marvel property. We'll talk to Marvel's Joe Quesada and Jeph Loeb, who were consultants on the film, to learn what makes a good comic-book story, and how these devices were used to help create Disney's "Big Hero 6."
Big Animator 6: The Characters Behind the Characters – Join the six lead animators of Big Hero 6as they talk about each of the characters and how they came to be the heroes they are now.
Deleted Scenes (intro by Directors Don Hall & Chris Williams) – Includes two alternate openings and more.
Big Hero Secrets (Easter Egg) – The movie is filled with Easter Eggs, and this Buzzfeed-type list piece will give you a sampling of some of the hidden treasures in the film. See if you can find this Easter Egg about Easter Eggs! (BLU-RAY ONLY)
Gag Animations (intro by Directors Don Hall & Chris Williams) – For fun, animators made alternate versions of scenes they were working on and threw them into the mix at review sessions. The directors will present some of these gags for the first time to the public in this piece. (DMA ONLY)
Beatmax – Check out some of Baymax's greatest lines auto-tuned like you've never heard before. (DMA ONLY)
DVD
Big Animator 6: The Characters Behind the Characters
"Big Hero 6" Theatrical Teaser
My Review
After watching Big Hero 6, I can certainly see why it won the Oscar for Best Animated Feature. My whole family loved it! This is a movie that hooks you right from the beginning. It captured my interest from the very first scene and I found myself immersed in the story and the characters. I also didn't expect to be touched emotionally and I actually cried in two parts in the movie – once at the beginning and again towards the end. Even Bridget remarked how sad it was and I could see her eyes glistening too. I think that is part of the charm of the movie though. It captures your emotions.
Expect to be captivated by lots of futuristic robotics and suspenseful moments. My favourite parts, however, were the scenes between Hiro and Baymax. Baymax was an invention of Hiro's late brother. Even though he is a robot, I felt that there was a bond between Hiro and Baymax and could see it bloom and grow as the story progressed.
Big Hero 6 made laugh, cry and hold my breath during a few tense scenes. This is a movie for the whole family to watch together. In fact, we've already watched it a few times! My 10 year old likes to watch movies over and over if she considers them "a good one".
I hope they'll be more Big Hero 6 movies and I'm thinking that there may be based on the way it ended. I can't wait to see what else is in store for Hiro, Baymax and the rest of the Big Hero 6 gang.