Homemade Coffee Sugar Scrub
You've had a long day and you want to relax and have some quiet time. There is nothing better than a warm shower or a hot bath filled with the aroma of your favorite scent. I am a huge lover of anything coffee so when I got the idea to make a coffee scrub I was in love! Just imagine coffee grounds, sugar and some silky coconut oil, how great does that sound? This body scrub is gentle on your skin, will leave the aroma of fresh coffee and you'll be glowing from head to toe all day long. This scrub is perfect for your own personal use and would make an excellent gift for a loved one.
Homemade Coffee Sugar Scrub
Ingredients:
This post contains affiliate links.
½ cup sugar
½ cup ground coffee
2 tbsp coconut oil
½ pint Mason jar for storing
Directions:
Grab a small mixing bowl and place your coconut oil into the bowl. The coconut oil will be in solid form so we need to put it in the microwave for 30 seconds to turn it into liquid.
Once it's been melted pour in you sugar and coffee grounds and start mixing well.
I mixed the ingredients together and then I folded them together to make sure everything was mixed in well.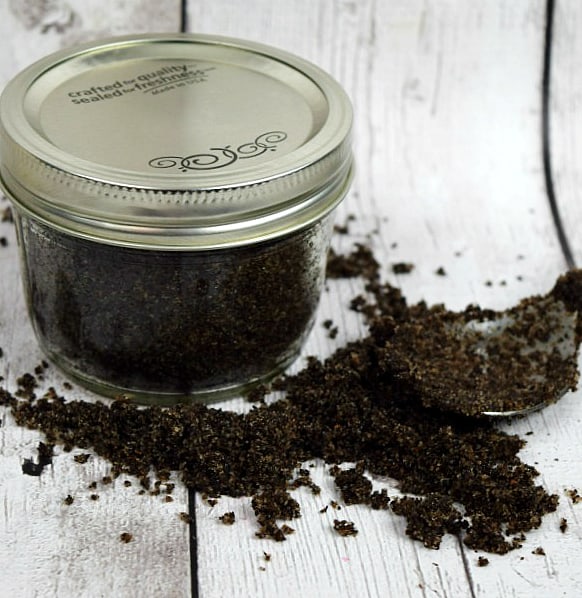 That's it. This body scrub is fantastic and ready to use right away. If you're going to save some for later or gift it, be sure to store it in a ½ pint Mason jar to keep it fresh. This will stay fresh for up to 6 months and can be stored in your bathroom.
Enjoy.
The very talented Brittany blogs over at A Spark of Creativity where she focuses on DIY crafts, home décor projects, recipes and more!
You Will Also Love
If you liked this post, you will also love these ones!