Do You Love Nature?
TV just got a whole lot better! Blue Ant Media recently launched a brand new nature and wildlife channel, Love Nature. They are airing a national free preview to more than 6 million homes across the country.
As a teen, I subscribed to National Geographic that I paid for myself with my babysitting money. I've always been fascinated with science, geography and have a deep love for animals of all kinds. Love Nature sounds exactly like the type of channel I want to watch myself and that I think both my daughters would enjoy. My 10 year old daughter has followed in mommy's footsteps with her love of animals. I wouldn't also be surprised if my cats took an interest in the animal shows. They have been known to sit and watch TV.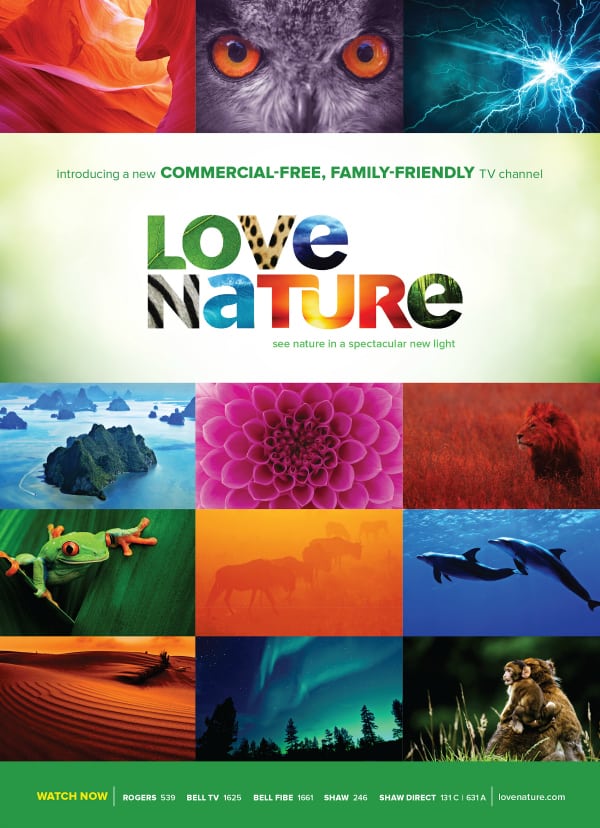 Love Nature will showcase animals, landscapes and other wonders of the world in a commerical free format perfect for family viewing. Their focus is on delivering high quality content that will blow you away.
It's not something you see everyday right? How awesome was that video? That's just a small taste of what you can expect from Love Nature.
I've also got some info on several series that will air on Love Nature. Check out the deets below!
Zoo Juniors: Based in Berlin, this family series discovers what it takes to be a zoo baby in a modern zoo. From regular weight checks to inoculations and first trips outside, Zoo Juniors experiences all these firsts and many more as we observe the animals in Berlin in their first days of life through to animal toddlerdom. You'll learn why panthers and a snow leopard can share a cage when they're young; why tapirs should enjoy bathing, and why elephants understand English and Indian, but no other languages.
A Park For All Seasons: Go behind the scenes of some of the most spectacular National Parks with A Park For All Seasons. Learn the history, explore the diversity and soak in the beauty of some of the planet's most compelling natural playgrounds. Follow us to the most remote corners of the parks to uncover both the iconic and the obscure and see how park authorities sustain several million acres of wilderness for adventure seekers.
City Wildlife Rescue: City Wildlife Rescue tells the tale of small animals in the big city. Learn about their daily adventures and struggles—from a mother duck and her ducklings stranded on a rooftop, to an injured turtle in need of surgery. Follow the dedicated crew at the Toronto Wildlife Centre as they help thousands of animals find their way back home.
Great Lakes Wild: Great Lakes Wild tells the stories of the wild animals who make North America's vast Great Lakes their home. Famous for their stunning landscapes, the Great Lakes are also home to a rich ecosystem bursting at the seams with wildlife. From coyotes to muskrats, from moose to wolves, Great Lakes Wild will take you on an adventure of lifetime as it explores what scientists call the 'Canadian Serengeti'.
Cosmic Vistas: Thanks to the invention of spaceflight, the drive to explore is leading us upward and outward, off of our own planet and out into the solar system where a host of alien worlds offer us vast new terrain to uncover. This visually breathtaking series offers a new perspective on our solar system. Through beautiful HD imagery audiences will not only be taken to places they have never been, but they will also be given an immersive tour of places they could never go.
Nomads of the Serengeti: Join veteran safari guide Jean Du Plessis in this stunning series that documents migrating wildebeest on their odyssey across some of Africa's most incredible locales, including the summit of Mt. Kilimanjaro, Katavi and Ruaha National Park.
Roaring with Pride: Alert is a groundbreaking program focused on releasing captive-bred lions into the wild. ROARING WITH PRIDE documents how these extraordinary lions learn to hunt, climb trees, and play tug of war in their natural—yet unfamiliar—habitat. Every episode gives an up-close and personal look at their daily struggles and accomplishments, while providing added insight into the issues affecting the African lion population.
Take a look at the upcoming TV Schedule and start planning what you want to watch. Find your local channel via this handy Channel Finder.
I can't wait to relax this weekend and explore more of what Love Nature has to offer. Will you be checking out Love Nature as well?